GFA BOV GFL Division I
Gozo Stadium
St Lawrence S : 1 (M.S. Telessi 45+1')
E. Fenech, L. Buttigieg, S. Mizzi (J. Micallef), M.S. Telessi, C. Cauchi, J. Grima, J. Portelli (J. Theuma), D. Micallef, C. Mercieca, C. Tabone (M. Mamo), L. Attard.
Gharb R : 3 (O. Farrugia 76', A. Ofulue 86', J. Micallef o.g. 90+1')
D. Spiteri, P.A. Attard, M. Grech (F. Attard), M. Vella, J. Portelli (R. Zammit), J. Azzopardi, Crs. Attard, D. Bellotti, J. Camenzuli (C. Gafa'), O. Farrugia, A. Ofulue.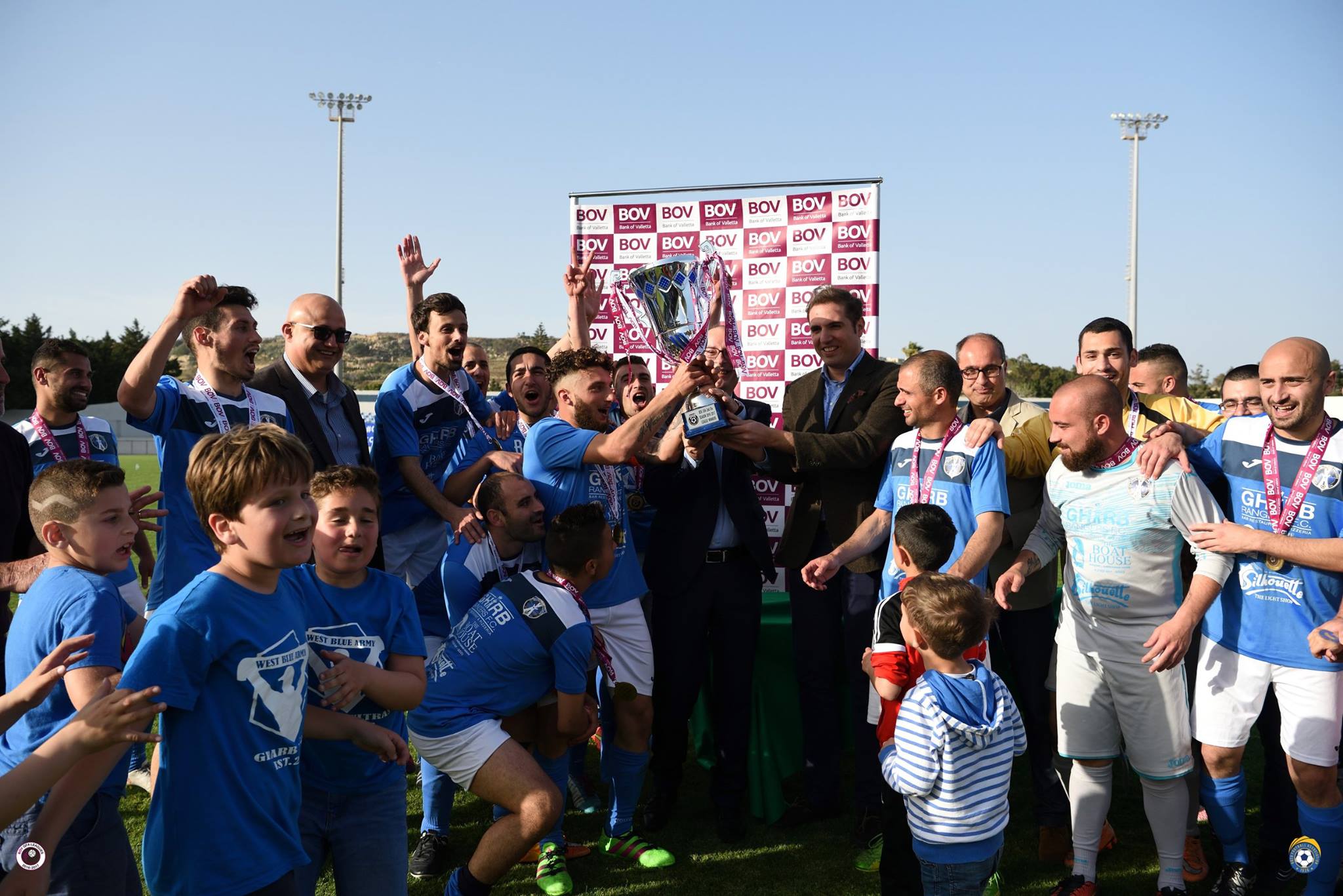 Gharb Rangers were crowned champions of the BOV Gozo Football League for the second division after turning a defeat into a dramatic win with three late goals in the last match of the league against St Lawrence Spurs.  This match was a direct clash for the title and for promotion where St Lawrence could have won the main honour of the category with a draw, while Gharb needed the full points from this match to clinch their ambition.
The match lived up to the expectations as the two sides were well prepared for this event.  It was a match that confirmed the high level of competition of the category this season where the promotion issue was in contention through the campaign.  Both St Lawrence and Gharb were followed by a sizeable crowd that produced a colourful and entertaining atmosphere at the Gozo Stadium.  Gharb were more adventurous in their play as they were determined to obtained the victory while St Lawrence were very prudent in their play and for most of the time they seemed in a position to defend their advantage over their opponents.  However, Gharb's determination was rewarded in the final stages of the match as they scored two decisive goals goal in the dying moments.  This was Gharb's first time that they won the championship of the second division and the victory against St Lawrence shows that they deserved to win the title for the second division.
Gharb showed their intention to put pressure over their opponents in an attempt to win the match from the early stages of the encounter.  In the second minute of play a good shot by Josef Camenzuli was blocked by St Lawrence's defence and on 9 minutes Oliver Farrugia's shot form the edge of the area was weak and goalie Elliott Fenech saved without difficulty.  One minute later the Spurs replied through a free kick by Jason Portelli that was punched away by goalie Daniel Spiteri and on 11 minutes Gharb had a goal by Andrew Ofulue following a corner action that was disallowed for a foul on the goalkeeper.  Gharb were again dangerous through a low shot by Christian Attard that ended wide and on 22 minutes Gharb's Andrew Ofulue had an attempt following a short clearance by St Lawrence's defence that was neutralised by goalie Elliott Fenech.  Gharb had a golden scoring opportunity on 25 minutes to open the score when the referee awarded a penalty for a foul by Christopher Cauchi on Dylan Bellotti but Andrew Ofulue's shot from the spot kick was partially saved by goalie Elliott Fenech and from the rebound Oliver Farrugia's header was blocked to a corner.  Gharb were not demoralised and on the half hour mark Andrew Ofulue entered the area with a personal action but defender Daniel Micallef made an effective intervention to deny the striker from concluding towards goal.  On 36 minutes St Lawrence's goalie Elliott Fenech was at the right place to save a header by Justin Azzopardi following a corner kick by Christian Attard.  St Lawrence managed to operate more breaks within Gharb's area during the last minutes of the first half.  On 42 minutes Mohammed Telessi released Charlon Tabone within Gharb's territory in a counter break, the latter turned around the goalkeeper but his shot was blocked by Gharb's defence.  St Lawrence also managed to open the score in the first minute of stoppage time before half time through a header by Mohammed Senussi Telessi following a cross from long distance by Luke Attard.
After the break Gharb regained their momentum and in the first minute of play of the second period St Lawrence's goalie Elliott Fenech was once again called to make an important intervention to deny Oliver Farrugia from scoring after receiving from Andrew Ofulue.  Two minutes later the same Farrugia almost levelled the score but his header form a corner kick by Christian Attard was cleared off the line by St Lawrence's defenders Louis Buttigieg and James Grima.  The Spurs replied through a header by Charles Mercieca from a free kick by Jason Portelli that ended just wide.  On 55 minutes Gharb had another attempt by Andrew Ofulue that ended wide and the same striker produced a personal action one minute later but skipper Daniel Micallef cleared the danger to a corner with a fine tackle.  For some time the Spurs tried to keep control of play in the midfield and on 66 minutes they went very close to double the score but a header by Charles Mercieca from a cross by Jason Portelli was well saved by goalie Daniel Spiteri.  Gharb replied one minute later through an initiative by Paul Anthony Attard but Andrew Ofulue arrived late to his inviting low cross.  The same Attard had an attempt from close distance on 68 minutes that missed the target and three minutes later Gharb's Andrew Ofulue entered the area with a personal action but had his shot blocked by the defence.  From the resultant prolonged action within St Lawrence's area a shot by Josef Camenzuli was saved by goalie Elliott Fenech.  Gharb re-opened the issue with the equaliser that arrived on 76 minutes through a low shot by Oliver Farrugia that surprised St Lawrence's rear guard.  St Lawrence went close to regain the lead on 79 minutes through a free kick by James Grima that was saved to a corner by goalie Daniel Spiteri.  During the final stages Gharb increased their efforts to take the lead and managed to turn the result in their favour on 86 minutes when Andrew Ofulue unmarked Dylan Bellotti in St Lawrence's area nut the latter had his low shot partially saved by goalie Elliott Fenech and from the rebound Andrew Ofulue placed in goal from close distance were demoralised and in the first minute of stoppage time Gharb sealed the victory with the third goal when Paul Anthony Attard entered St Lawrence's area and defender Jonathan Micallef, who entered the field as a substitute, hit badly in an attempt to clear the danger but ended up committing an own goal.
After the end of the match Mr Horace Laudi, the Regional Manager for Gozo, and GFA officials led by President Dr Samuel Azzopardi, presented the trophy and medals to Gharb's players and officials among the celebrations of the numerous supporters.
Referee: Shaun Calleja