GFA Cup Final
Gozo Stadium
Ghajnsielem : 5 (J. Polo Longarela o.g. 17', E. Bilboa Zarate 36', J. Camilleri 71', 81', C. Camilleri 87')
L. Buttigieg, R.P. Telles, E.P. Lattes (K. Mercieca), J.J. Sandoval Guarin, S. Cassar, D. Hili, F. Apap (J. Attard), A. Tramboo (K. Hili), C. Camilleri, E.D. Bilboa Zarate.
Oratory Y : 0
L. Camilleri, K. Borg, A. Azzoaprdi (D. Azzopardi), J. Polo Longarela, M. Gauci, B. Polo Longarela, B. Perello Palou, A. Debrincat (K. Farrugia), Ju. Attard (P. Said), E. Felipe Da Silva Santos, M. Buttigieg.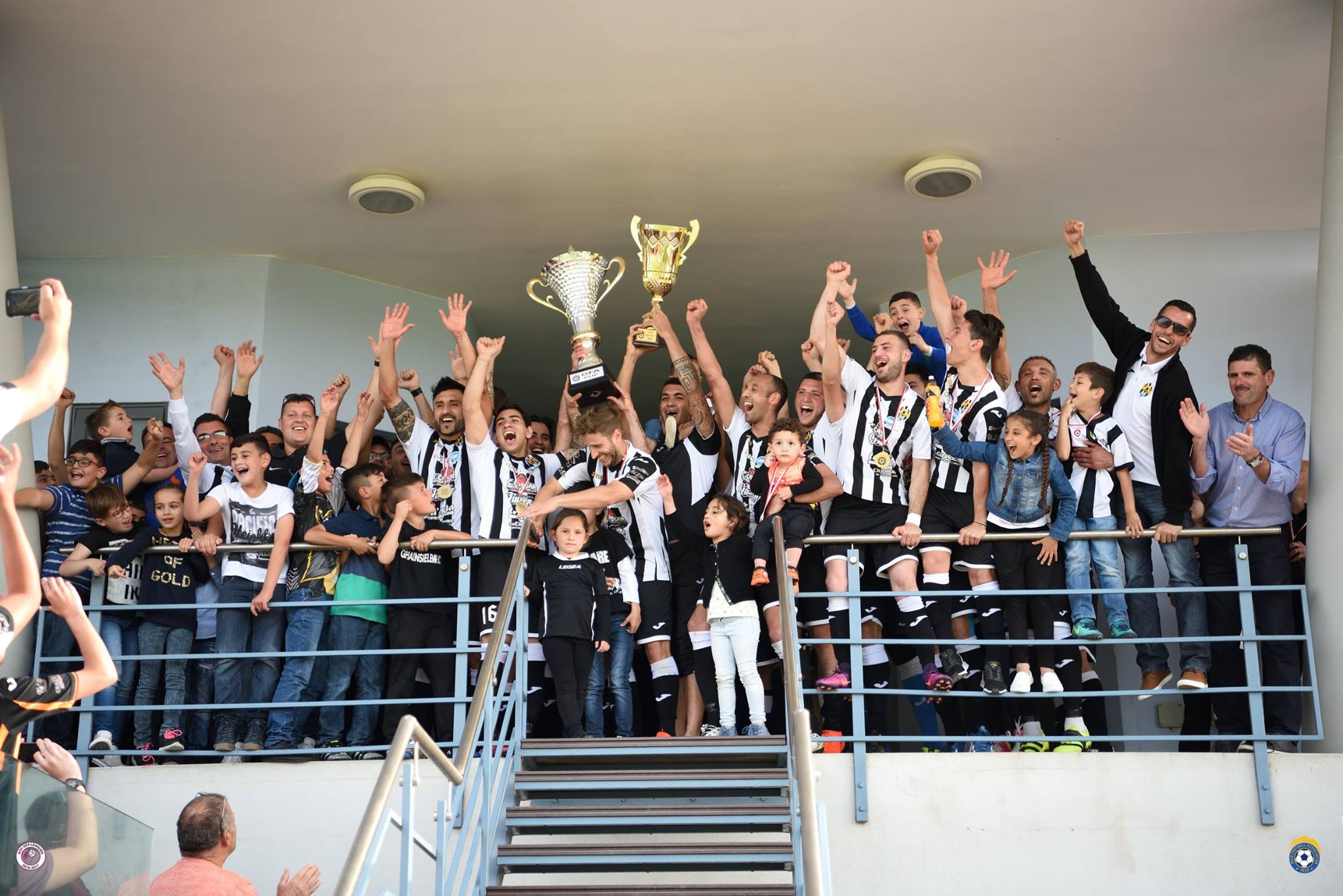 Ghajnsielem obtained a deserved and convincing win over Oratory Youths in the final of the forty fourth edition of the GFA Cup, which was also the last competitive match of the football season in Gozo.  For this match Ghajnsielem were aiming to end the season on a good note after their disappointment in the championship, while Oratory, who were undoubtedly the revelation of the championship and who were contesting the second final of a competition this season, were aiming to win the second most important competition in Gozitan football since the season 1985/1986.  At the end Ghajnsielem's supremacy prevailed as they managed to capitalise from the scoring opportunities while Oratory rarely created serious danger to Ghajnsielem's keeper despite their collective effort.  The Blacks paved the way to the large win with two goals scored during the firsdt half and three moiré goals during the final stages of the encounter.
Oratory almost surprised their more quoted opponents after just forty five seconds of play but a good shot by Andrea Debrincat was partially saved by goalie Luke Buttigieg and the defence cleared the danger from the area into a corner.  Ghajnsielem replied on 8 minutes through a shot by John Camilleri that missed the target.  On 11 minutes Ghajnsielem's Renan Telles had a close ranged attempt form an angled position that was well blocked by goalie Leonard Camilleri.  Ghajnsielem opened the score on 17 minutes through an own goal by Javier Polo Longarela who hit badly, following pressure from Renan Telles, in an attempt to clear the ball from a corner kick by Chris Camilleri.  Two minutes later Ghajnsielem were again dangerous but a low shot by Emiliano Lattes who was released by John Camilleri was well blocked by goalie Leonard Camilleri.  On 20 minutes Ghajnsielem protested for a penalty when Renan Telles ended on the floor in the area following a challenge by Manuel Buttigieg while Oratory could have created more danger on 24 minutes but a direct free kick by Manuel Gauci ended over the crossbar. On 36 minutes Ghajnsielem doubled the score through a header by Edison Bilboa Zarate following a corner kick by Damon Hili.  One minute later Oratory could have re-opened the issue but Bartomeu Perello Palou had a good attempt form an angled position, and with the goalkeeper beaten, that was cleared off the line by central defender Jhon Jairo Sandoval Guarin.  In the third minute of stoppage time before half time Ghajnsielem were again dangerous through an attempt by John Camilleri from a free kick by Chris Camilleri that ended wide.
Oratory tried to increase their efforts after the break but Ghajnsielem were well organised at the defence and managed to keep the danger away from their area for most of the time.  On 57 minutes Ghajnsielem could have added another goal but a strike by Renan Telles was well saved by goalie Leonard Camilleri.  Ghajnsielem however increased their lead on 71 minutes when John Camilleri took the ball at the edge of the areas following some hesitation by Oratory's central defender Javier Polo Longarela and fired in goal as he came face to face with the goalkeeper.  Three minutes later the Youths could have scored a consolation goal but a header by Jurgen Attard following a cross by Borja Polo Longarela ended on the roof of the net.  Minutes later a shot from outside the area by Oratory's substitute Daniel Azzopardi ended wide and on 79 minutes Ghajnsielem's Damon Hili headed over the crossbar from a good position following a cross by Renan Telles.  Ghajnsielem scored their fourth goal on 81 minutes when Oratory's goalie Leonard Camilleri partially saved a shot by Renan Telles and form the rebound John Camilleri pushed the ball into an open goal.  Ghajnsielem sealed the victory with the fifth goal that arrived on 87 minutes through a close ranged shot by Chris Camilleri following a personal action.  In the first minute of stoppage time Oratory's Borja Polo Longarela had a close ranged shot that was saved to a corner by goalie Luke Buttigieg and from the resultant corner action the same strike concluded incredibly high from close distance.  One minute later Oratory's keeper denied Ghajnsielem from scoring another goal when he managed to turn to a corner a close ranged shot by Damon Hili so that the score remained unchanged during he rest of stoppage time.
After the match the president of the Gozo Football Association Dr Samuel Azzopardi presented trophies and medals, including the GFA Cup to Ghajnsielem's skipper Ferdinando Aap, in the presence of other GFA officials and among the celebrations of Ghajnsielem's players, officials and supporters.
Referee: Alan Mario Sant