GFA BOV Gozo Football League Division I
Gozo Stadium
Ghajnsielem FC : 0
J. Grech, An. Xuereb, D. Mercieca, J.J. Sandobal Guarin, K. Mercieca, Al. Xuereb (R. Grima), P. Taylor, S.F. Bajada (A. Tramboo), S. Bajada, O.D. Guerrero Alvaraldo, E.F. Da Silva Santos.
Xewkija T : 3 (C. Antunes 15', 77'; J. Azzopardi 90+2')
F. Vella, J. Cefai (T. Vella), M. Xerri (M. Gauci), M. Hrubsa, G. Hili, J.M. Vella, M. Stojanovic, J.G. Vella (J. Azzopardi), R. Buttigieg, C. Antunes Pavlidis, T. Melo Dos Santos.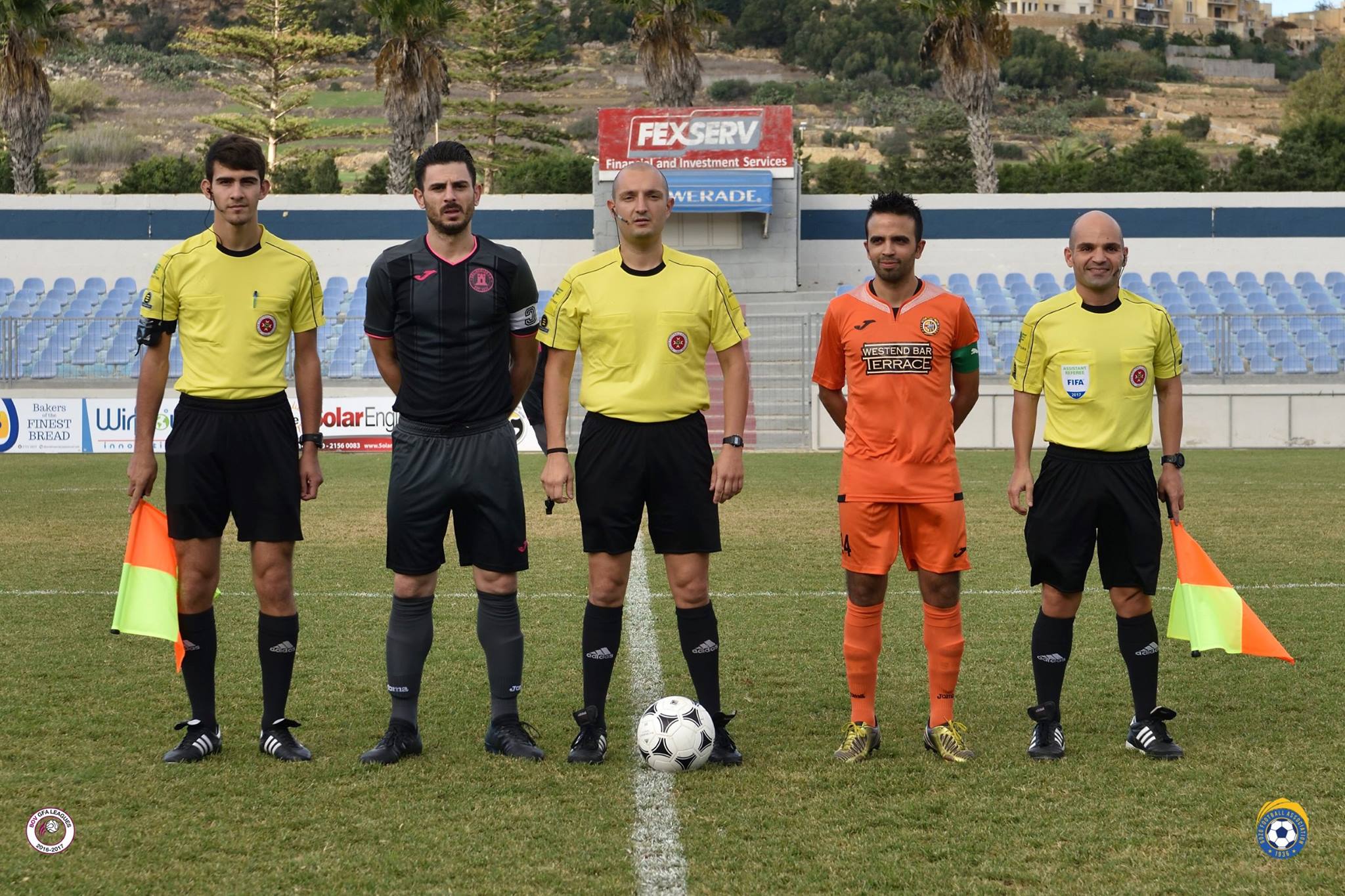 Xewkija Tigers recovered from the defeat conceded in their previous match with a victory over Ghajnsielem in the last match from Match-Day 4 of the championship.  This was Xewkija's second win over Ghajnsielem this season as the two sides contested the Super Cup at the beginning of the football season 2017/2018.  This match from the championship turned out into an interesting and well contested issue as both Ghajnsielem and Xewkija were aiming for the victory.  Xewkija were once again in their typical deployment, with Rodney Buttigieg and Claudio Antunes among the strikers, while Joseph Vella and Gennaro Hili played a key role in the midfield.  On the other hand Ghajnsielem had Oscar Dario Guerrero Alvaraldo who was among the starting line-up after a suspension of two matches, but once again they showed limitations in attack as they did not manage to capitalise from their best scoring opportunities.  Moreover, Xewkija's goalie Franklin Vella was in fine form and made decisive saves to deny the Blacks from obtaining at least a draw from this encounter.  With this result Xewkija managed to remain within the top three teams on the table and therefore they will undoubtedly retain their ambition to be among the main protagonist in the championship.
During the opening minutes of the match Ghajnsielem produced more dangerous actions.  On 7 minutes Xewkija's goalie Franklin Vella made a good save to neutralise a strike by Oscar Guerrero Alvaraldo and on 13 minutes a free kick by Shaun Bajada ended just wide.  Xewkija opened the score in their first serious action within Ghajnsielem's area that arrived on 15 minutes through a direct free kick by Claudio Antunes that ended in the lower corner of goal and out of the reach of the goalkeeper.  The Blacks replied two minutes later through a shot from outside the area by Philip Taylor that ended away from goal and on 18 minutes Xewkija's goalie Franklin Vella was well placed to save a shot by Antonio Xuereb.  Ghajnsielem kept insisting but Xewkija's defence was well organised and very often Martin Hrubsa and his colleagues at the defensive departments kept their area clear from danger.  On 30 minutes Xewkija's keeper saved a header by Everton Felipe Da Silva Santos following a free kick and eight minutes later Xewkija's defender Manwel Xerri risked to commit an own goal when  he headed badly inside the area a cross from the right flank and the ball hit the crossbar with the goalkeeper beaten.  From the resultant corner action Philip Taylor's attempt ended wide.  Xewkija's keeper was again called to make a good intervention on 42 minutes following a free kick by Oscar Guerrero Alvaraldo so that the first half ended with Xewkija enjoying a one-goal lead.
Play continued to be interesting after the break as the score remained uncertain.  On 47 minutes a free kick by Ghajnsielem's Oscar Guerrero Alvaraldo ended high and on 54 minutes Xewkija's Joseph Mario Vella had an attempt that ended just over the crossbar.  Xewkija tried to produce more pressure on Ghajnsielem's defence as time passed by and on 58 minutes skipper Kenneth Mercieca came to the rescue when he cleared off the fatal line an attempt by Thiago Melo Dos Santos.  On 63 minutes Xewkija once again threatened Ghajnsielem's rear guard through a free kick by Joseph Vella that ended just high and on 66 minutes Ghajnsielem had their best opportunity to level the score when Oscar Guerrero Alvaraldo took a ball at the edge of the area and from his low shot Kenneth Mercieca had his attempt saved to a corner by goalie Franklin Vella with the aid of the post.  On 69 minutes the Blacks were reduced to ten players when Antonio Xnuereb was sent off for a second bookable offence but three minutes later they produced a dangerous action within Xewkija's area which ended with protests for a penalty alleging handling as Xewkija's defence cleared the ball from the goalmouth.  Xewkija took advantage of the extra player on the field and dominated play for the remaining minutes of the encounter.  The Tigers doubled the score on 77 minutes through a low shot by Claudio Antunes following a pass by Thiago Melo Dos Santos that surprised goalie Joseph Grech.  On 81 minutes Xewkija's Thiago Melo Dos Santos failed to connect to an inviting low cross by Claudio Antunes and on 86 minutes Ghajnsielem could have re-opened the issue but Kenneth Mercieca concluded incredibly wide from an ideal position after receiving from Everton Felipe Da Silva Santos.  Xewkija sealed the victory with a third goal that arrived in the second minute of stoppage time through an excellent lob from an angled position by substitute Joseph Azzopardi that ended in the far corner of Ghajnsielem's goal.
Referee: Glen Tonna