BOV GFA Cup Rd. 1
Kercem Ajax Stadium
Xaghra U : 0
F. Azzopardi, S. Sultana, M. Galea, J.J. Mercieca, S. Galea, J. Bajada, N. Theuma (O. Pgukay), S. Bonello (E. Xiberras), G. Farrugia (J. Xerri), M.D. Glodi, M. Grima.
Gharb R : 4 (M. Nwankwo 10', 73', 74', 77')
D. Spiteri, A. Sultana, J. Azzopardi, C. Attard, J. Portelli (J.P. Grima), J. Camenzuli (L. Meilak), B. Polo Longarela, P. Dorovic, M. Bezzina, E. Tawiah, M. Nwankwo.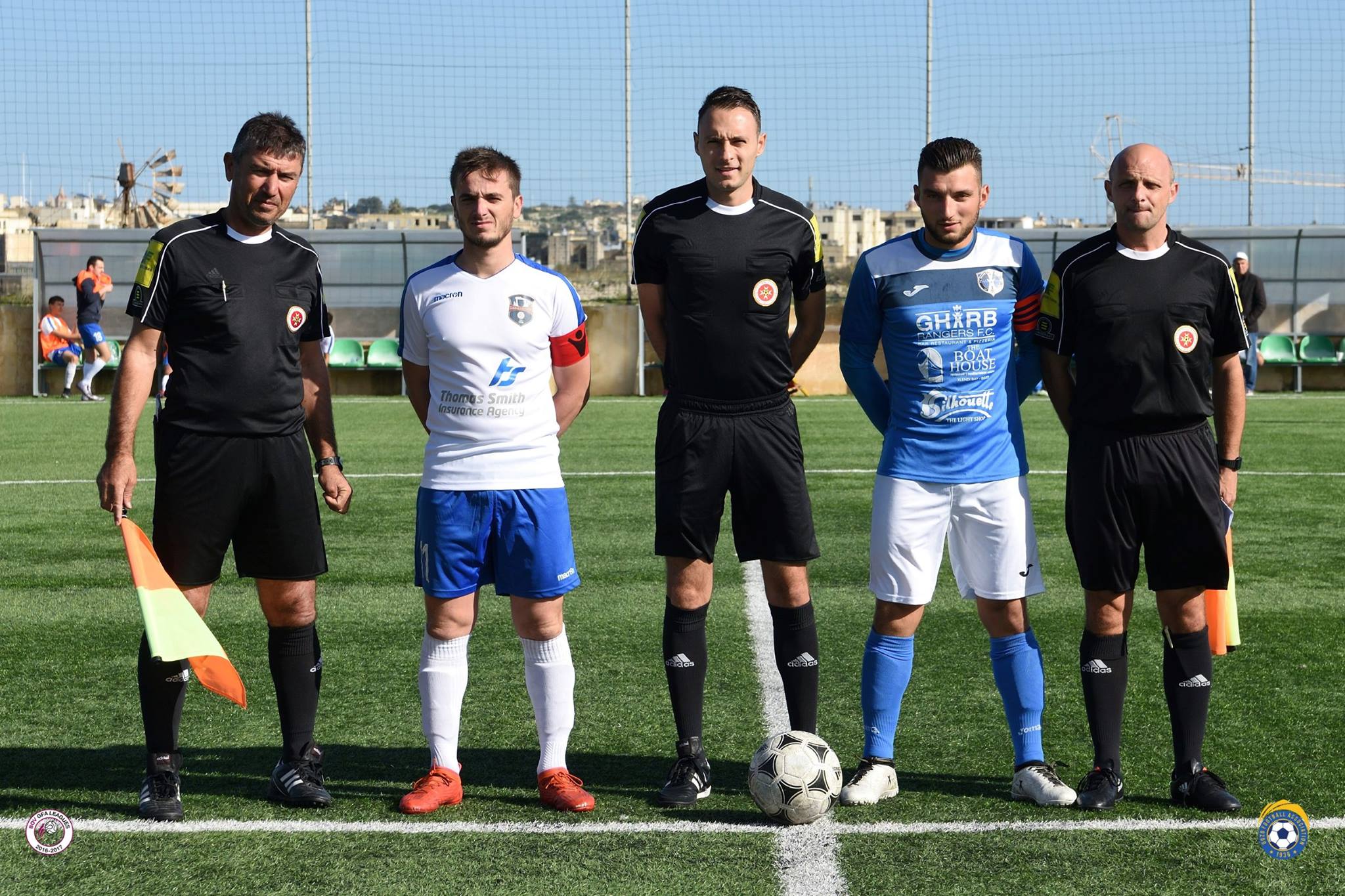 Gharb Rangers registered their first competitive win this season in their match against second division side Xaghra United.  Gharb deserved the victory as they expressed more offensive play.  However, the large margin only materialised with three goals scored in the last part of the encounter.  Xaghra struggled for most of the time to limit the danger inside their territory but as time passed by the difference between the two sides who come from different categories became evident and Gharb took full advantage by winning the qualification at stake.  Gharb's striker Moses Nwankwo distinguished himself in this match by scoring all the four goals of his side.
Xaghra almost surprised their more quoted opponents on 9 minutes but a header by Gabriel Farrugia from a corner action was well saved by goalie Daniel Spiteri.  One minute later Gharb opened the score when Moses Nwankwo won the ball at the edge of Xaghra's area following a counter break, turned around the goalkeeper and the striker placed easily in goal with a low drive.  The same Nwankwo went again close to scoring on 23 minutes but his shot from a good position missed the target.  One minute later Xaghra replied through a lob by Joseph Mercieca from an angled position that ended just high and on 28 minutes Gharb's Christian Attard released Moses Nwankwo inside Xaghra's area but the latter had his that ended on the side of the net.  On 31 minutes Xaghra's keeper Frankie Azzopardi saved with some difficulty to a corner a shot by Michael Bezzina and five minutes later the same Bezzina unmarked Moses Nwankwo but the latter had his low shot well saved by goalie Frankie Azzopardi.  On 44 minutes Gharb had a goal scored by Ezekiel Tawiah, following a free kick by Michael Bezzina that was disallowed for an offside infringement.
In the first minute of play of the secpnd period Xaghra could have created more danger but Daniel Glodi's shot following a personal action ended wide.  On 48 minutes Gharb also lost an opportunity to create danger to Xaghra's rear guard but Christian Attard failed to connect to an inviting cross from the left flank.  The same Attard had a good attempt on 58 minutes that as neutralised by Xaghra's keeper Frankie Azzopardi and on 66 minutes Gharb could have doubled the score but a low shot by Michael Bezzina, who was released by Moses Nwankwo, was stopped by the post with the goalkeeper beaten.  Gharb however managed to increase their lead on 73 minutes through a low shot by Moses Nwankwo following a cross from the left flank by substitute John Paul Grima.  The same Moses Nwankwo added another goal one minute later when he fired in goal with a shot on the run following a cross from the right flank by Borja Polo Longarela.  Gharb scored their fourth goal on 77 minutes through a header from close distance by Moses Nwankwo following another cross from the left flank by John Paul Grima.  Xaghra tried to score a consolation goal during the remaining minutes but on 85 minutes Gharb's keeper Daniel Spiteri left his position in time to clear the ball away from the area before Johann Bajada could conclude towards goal and on 89 minutes a strike by substitute Joseph Xerri was saved by the goalkeeper.  Gharb could have scored the fifth goal in the second minute of stoppage time but substitute Luke Meilak had a strike towards an open goal that was stopped by the crossbar.
Referee: Slobodan Petrovic