GFA BOV Gozo Football League Division I
Gozo Stadium
Xewkija T : 3 (C. Antunes 6', J.G. Vella 40', R. Buttigieg 70')
F. Vella, J. Azzopardi, M. Hrubsa, M. Xerri (M. Gauci), R. Buttigieg, J.M. Vella, M. Stojanovic, G. Hili, J.G. Vella (J. Cefai, T. Vella), T.M. Dos Santos, C. Antunes Pavlidis.
Gharb R : 0
D. Spiteri, M. Grech, D. Stojanovic, J. Azzopardi, L. Meilak (C. Attard), J. Grima, D. Bellotti (J. Camenzuli), J. Portelli (J. Farrugia), B. Polo Longarela, E. Tawiah, M. Nwankwo.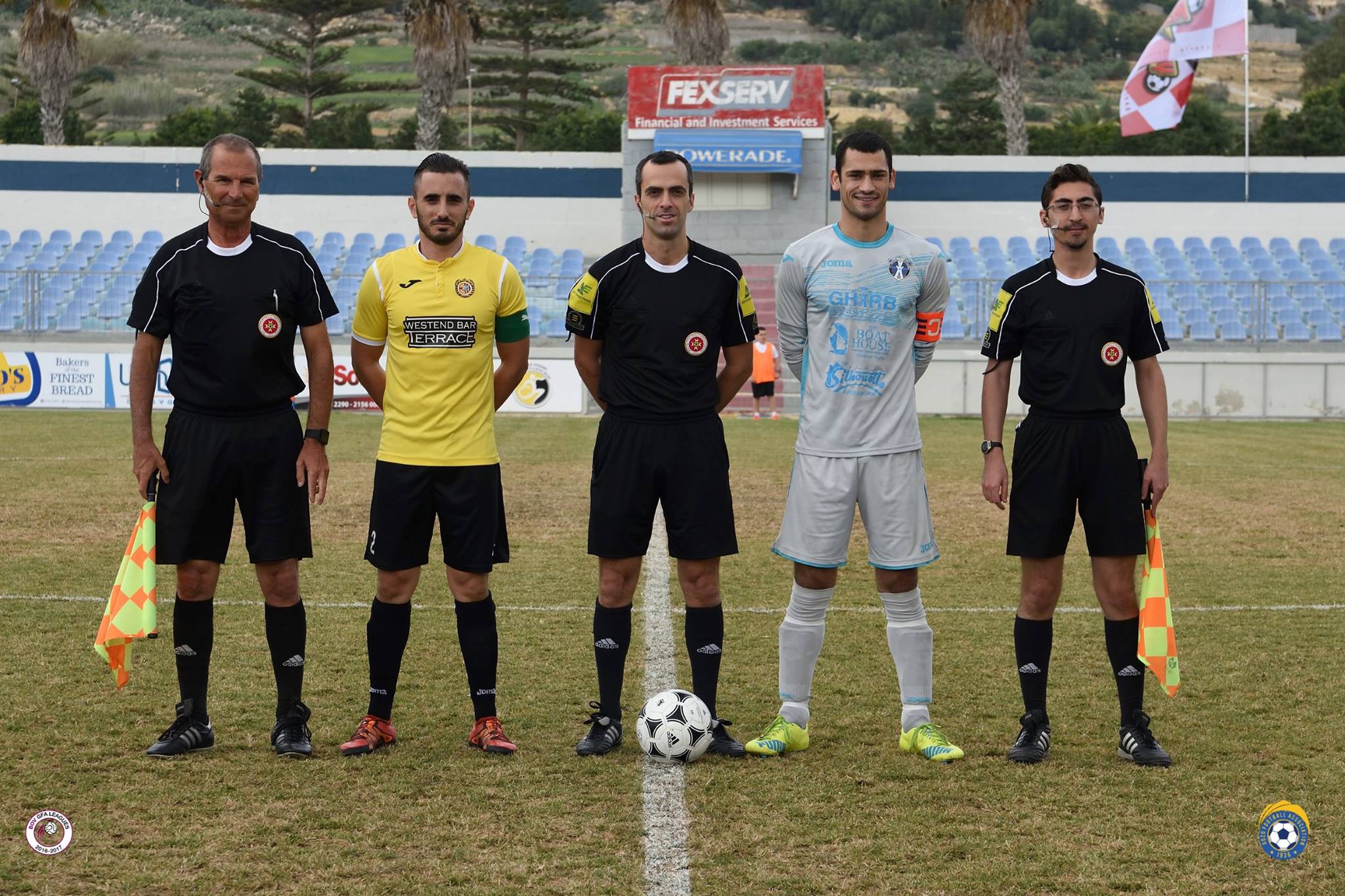 Xewkija Tigers recovered from the defeat conceded in their previous match and earned three important points from a 3-0 win over bottom placed Gharb Rangers.  With this result Xewkija regained their status to be among the serious challengers to win the main honour in Gozitan football for the third consecutive season.  Xewkija produced their best patch of play during the first half where they opened a two goal lead.  Xewkija managed to resist to Gharb's reaction during the opening minutes of the second half, where the Rangers failed to convert a penalty kick, and held full command of play during the final stages where they also sealed the issue with a third goal.
Xewkija had an excellent start and opened the score on 6 minutes through a close ranged deflection by Claudio Antunes following a cross form the right flank by Thiago Melo Dos Santos.  Gharb's reaction arrived on 15 minutes through a free kick by John Paul Grima that was blocked by the wall and two minutes later Gharb's keeper Daniel Spiteri blocked a header by martin Hrubsa following a free kick by Gennaro Hili.  On 25 minutes a header by Xewkija's Rodney Buttigieg from a cross by Thiago Melo Dos Santos ended just high and on 30 minutes, Gharb's defender Justin Azzopardi risked to commit an own goal when he headed badly in an attempt to clear a cross from the right flank, but goalie Daniel Spiteri recovered his position and saved the danger to a corner.  Xewkija could have scored another goal on 38 minutes but Milos Stojanovic's low shot was weak following a corner kick by Gennaro Hili.  The Tigers doubled the score two minutes later when a pass from the goal line by Claudio Antunes was converted from close distance by Joseph George Vella.  Less than a minute later Xewkija's Gennaro Hili had a good shot after receiving from Claudio Antunes that ended just wide and in the second minute of stoppage time before half time an attempt directly from a free kick by Claudio Antunes ended just over Gharb's goal.
Gharb came out in a better shape for the second period and on 58 minutes Xewkija's keeper Franklin Vella had to leave his position to clear the ball from the edge of the area before Moses Nwankwo could meet a through ball from long distance by Dylan Bellotti. One minute later Gharb's Josef Portelli had a direct free kick that ended just high and on 62 minutes the Rangers were awarded a penalty for a foul by Martin Hrubsa on Moses Nwankwo but Dylan Bellotti's shot from the spot kick was saved by goalie Franklin Vella.  Gharb were demoralised and their best scoring opportunity to re-open the issue arrived on 69 minutes through a shot by Moses Nwankwo that ended high.  One minute later Xewkija practically made sure of the victory as Rodney Buttigieg entered Gharb's territory with a personal action and placed in goal with a low drive as the goalkeeper left his position in an attempt to block the danger.  Xewkija could have scored more goals until the end of the encounter.  On 72 minutes a strike by Thiago Melo Dos Santos ended wide and on 75 minutes an attempt by Milos Stojanovic following a low cross by Gennaro Hili hit the side of the net.
Referee: Emanuel Grech