BOV GFA Cup Q/final
Kercem Ajax Stadium
Gharb R : 1 (J. Portelli 56')
D. Spiteri, A. Sultana, J. Azzopardi, D. Stojanovic, M. Grech (J.P. Grima), J. Portelli (L. Meilak), C. Attard, M. Bezzina, P. Dorovic, E. Tawiah, M. Nwankwo.
Xewkija T : 4 (T.M. Dos Santos 72', J.M. Vella 92', R. Buttigieg 96', L. Cilia 119')
F. Vella, R. Buttigieg, M. Gauci, C. Sciberras, J. Azzopardi, T. Bella (G. Hili), J.M. Vella, M. Stojanovic, C. Antunes Pavlidis, J.G. Vella (L. Cilia), T.M. Dos Santos.
(after extra time)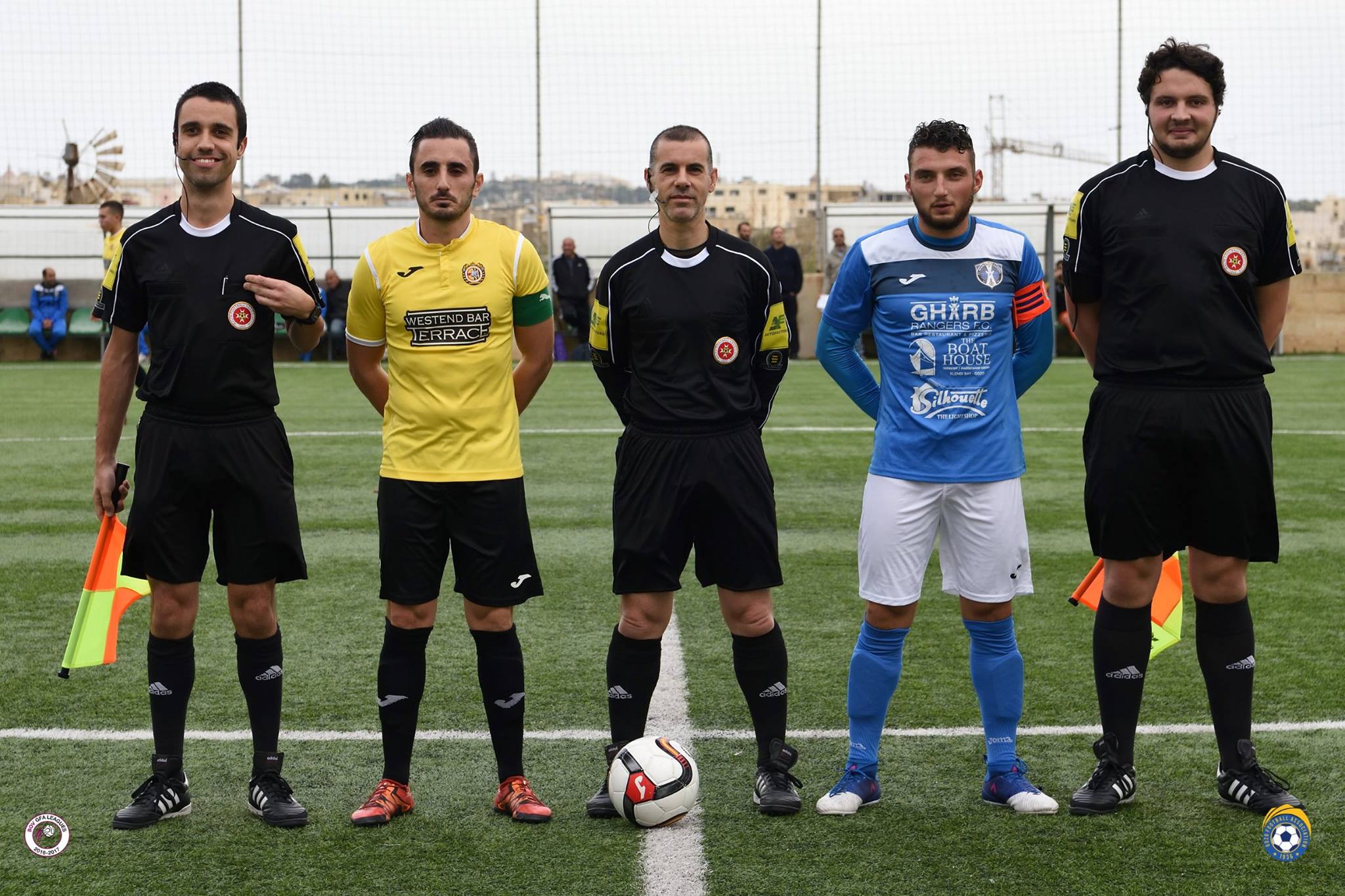 In the last match from the quarter finals of the BOV GFA Cup, reigning champions Xewkija Tigers were forced into extra time by Gharb Rangers, before they managed to impose their superiority on their less quoted opponents.  Xewkija scored three goals during extra time which gave them the win they needed to remain in contention for the second most important honour in Gozitan football.  The match during the ninety minutes was well contested ad Xewkija found it extremely difficult to convert their superiority into scoring opportunities.  Gharb on the other hand were well organised at their defence and also threatened Xewkija's rear guard on more than one occasion.  Gharb also managed to open the score during the early stages of the second period and resisted until the end of the regular time.  During extra time Gharb were surprised by an aggressive start by Xewkija and the qualification was practically decided within the first minutes of play of extra time.
As expected Xewkija came out more aggressive and in the fith minute of play a shot by Milos Stojanovic following a low cross by Claudio Antunes was blocked by the defence.  On 9 minutes Xewkija's Thomas Vella had an attempt form outside the area that was neutralised by Gharb's goalie Daniel Spiteri.  Three minutes later an effort by Thiago Melo Dos Santos was blocked to a corner and form the resultant corner action goalie Daniel Spiteri saved the danger from the goalmouth in two attempts.  Minutes later Gharb's Moses Nwankwo and Josef Portelli both failed to take advantage of a melee inside Xewkija's area so that the defence cleared the danger.  On 16 minutes Xewkija went very close to scoring when Claudio Antunes operated a break from the right flank and from his low cross, Thiago Melo Dos Santos left the ball to Joseph George Vella who had his first timer saved to a corner with difficulty by goalie Daniel Spiteri.  Three minutes later the same goalkeeper left his position in time to take the ball from the Thiago Melo Dos Santos and also denied Rodney Buttigieg from concluding towards goal.  Gharb replied one minute later through a shot by Michael Bezzina following a personal action that was saved to a corner by goalie Franklin Vella.  On 29 minutes a free kick by Xewkija's Joseph George Vella ended just high and six minutes later a strike by Milos Stojanovic when the goalkeeper was out of his position following a prolonged action inside Gharb's area was blocked by central defender Darko Stojanovic.  On 43 minutes a shot by Thiago Melo Dos Santos after receiving from Joseph George Vella ended high and one minute later a free kick by Joseph Mario Vella missed the target.  In the second minute of stoppage time before half time Xewkija's Thiago Melo Dios Santos headed badly from a good position following a cross by Joseph Azzoaprdi so that the ball ended wide.
After the break Gharb seemed more confident and on 52 minutes they were also dangerous when a shot by Michael Bezzina got a deflection inside Xewkija's area and from a short clearance by the defence Moses Nwankwo had his low shot saved by Xewkija's keeper Franklin Vella.  Three minutes later a header by Rodney Buttigieg from a corner kick by Joseph George Vella was saved by gaolie Daniel Spiteri with the aid of the crossbar and from the rebound Milos Stojanovic had his close ranged attempt saved with difficulty to a corner by the same goalkeeper.  Gharb opened the score on 56 minutes when Xewkija administered badly a back pass aimed to the goalkeeper and from the resultant corner action the clearance by the defence arrived to an unmarked Josef Portelli fired in goal with a fine strike from outside the area.  Xewkija seemed shock but managed to recover after some minutes and on 69 minutes Gharb's goalie Daniel Spiteri was again called to make an important intervention to deny Rodney Buttigieg from concluding in goal.  Xewkija managed to level the score on 72 minutes when a strike by Claudio Antunes was partially saved by Gharb's keeper and from the rebound Thiago Melo Dos Santos netted form close distance.  Less than a minute later Gharb could have regained the lead but goalie Franklin Vella left his position up to the edge of the area to save the ball in two attempts before Moses Nwankwo could arrive to hit the target.  On 75 minutes an attempt by Thiago Melo Dos Santos after receiving from Joseph George Vella, and when the goalkeeper was out of his position, was blocked by the defence and four minutes later a shot form an angled position by substitute Gennaro Hili ended just wide.  The score remained unchanged until the end of regular time and the match had to go into the extra time.
Xewkija seemed more determined from the first minutes of extra time and managed to score two goal in the space of four minutes.  On 92 minutes Xewkija turned the result in their favour through a cross shot by Joseph Mario Vella that found the goalkeeper out of his position and the ball ended in goal.  Four minutes later Xewkija added another goal through a header by Rodney Buttigieg following a free kick by Gennaro Hili.  Xewkija kept insisting and on 98 minutes a shot by Joseph Mario Vella following a pass by Joseph George Vella hit the post.  Gharb had a reaction near the end of the first half of extra time.  On 100 minutes a shot by substitute Luke Meilak was saved to a corner by Xewkija's keeper Franklin Vella and three minutes later the same keeper made another good intervention following an attempt by Michael Bezzina.  During the opening minutes of the second period of extra time Xewkija went close to scoring on two separate occasion.  On 107 minutes a shot by Thiago Melo Dos Santos ended just wide and two minutes later an attempt by Joseph George Vellla ended over the crossbar.  Xewkija sealed the victory with the fourth goal that arrived on 119 minutes through a tap-in by substitute Luke Cilia following a low cross by Gennaro Hili.
Referee: Martin Borg