GFA Gozo Football League Division II
Kercem Ajax Stadium
Xaghra U : 1 (M. Galea 90+1'pen.)
F. Azzopardi, S. Sultana (F. Cauchi), J. Xerri (M. Galea), D. Bajada, S. Galea, J. Bajada, A. Xiberras, S. Bonello, G. Farrugia, C. Hili (E. Xiberras), M. Janjus.
St Lawrence S : 3 (M.S. Telessi 35', C. Tabone 67', C. Mifsud 87')
L. Buttigieg, S. Mizzi, K. Hili (S. Cauchi), M.S. Telessi, C. Cauchi, C. Azzopardi, J. Grima, D. Micallef, C. Farrugia (S. Sultana), C. Tabone (C. Mifsud), L. Attard.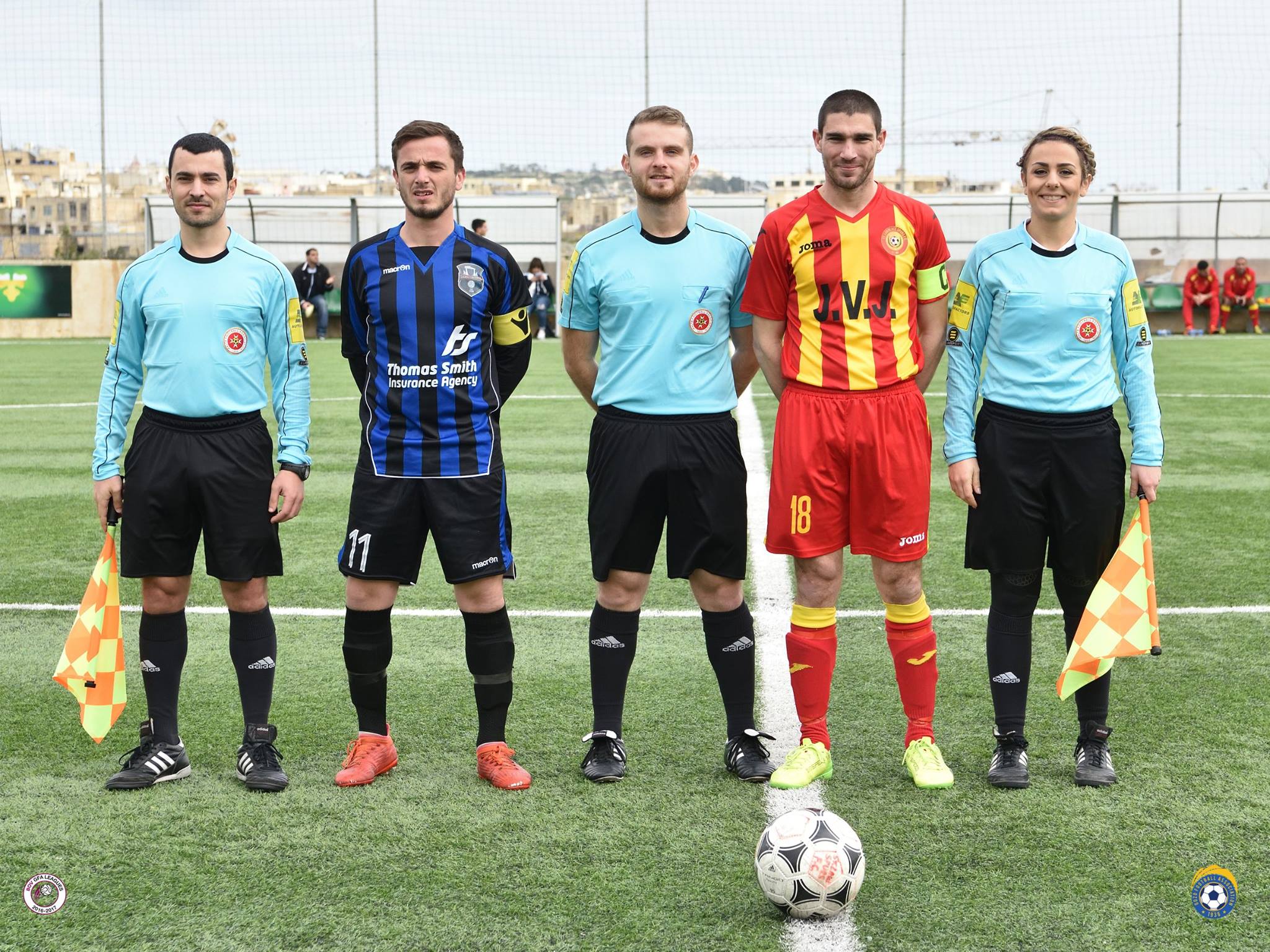 St Lawrence Spurs consolidated their third place on the table with a 3-1 win over bottom placed Xaghra United.  With this result St Lawrence remain seven points away from the leaders at the end of match-day eleven and therefore with a remote possibility to challenge for promotion, but they confirmed that they have the potential to reduce their gap and to improve their position on the standings.  The Spurs held more of the initiative for most of the encounter but Xaghra resisted well for most of the time and as a result the actions at goal were very rare.
Xaghra created the first serious scoring opportunity of the encounter that arrived on 19 minutes through a strike by debutant Milorad Janjus which ended wide.  In the following minutes the Spurs could have opened the score on three separate occasions but Mohammed Senussi Telessi failed to hit the target.  On 23 minutes St Lawrence's striker concluded just wide following some hesitation by Xaghra's rear guard and one minute later the same Libyan striker headed wide an inviting cross by Kenny Hili.  Telessi had his third consecutive scoring opportunity on 26 minutes when his low shot following a cross by Christian Azzopardi missed the target.  Xaghra replied on 33 minutes through an effort by Clayton Hili from an ideal position that ended wide.  St Lawrence managed to open the score on 35 minutes through a low drive by Mohsammed Senussi Telessi following a low cross by Charlon Tabone.
After the break play continued to take place mainly in the midfield.  The Spurs failed to convert their territorial supremacy into dangers action within Xaghra's area and on the other hand Xaghra's counter break rarely created threats to St Lawrence's defence.  The Spurs however doubled the score on 67 minutes through a header form close distance by Charlon Tabone following a cross by James Grima.  Xaghra's best opportunity to re-open the issue arrived two minutes later through a header by Milorad Janjus that was neutralised by goalie Luke Buttigieg.  On 87 minutes St Lawrence practically made sure of the three points when substitute Carlton Mifsud received a ball just outside the area and placed in goal with a low shot.  Xaghra scored their consolation goal in the first minute of stoppage time when the referee awarded a penalty for an intervention by Daniel Micallef on Johann Bajada and substitute Manuel Galea converted with his shot form the spot kick.
Referee: James Muscat