GFA BOV Gozo Football League Division II
Kercem Ajax Stadium – 7th April 2018
MATCH DETAILS
Munxar F : 6 (M. Azzopardi 15', O. Curmi 32', S. Muscat 34', J. Grima 45+1', M.M. Uzor 73', J. Parnis 84')
Xuereb (L. Gatt), C. Gafa, M. Debrincat, C. Bugeja, P. Parnis, M. Azzopardi, S. Muscat, O. Curmi (P. Rapa), M. M. Uzur (N. Attard), J. Parnis, J. Grima.
Zebbug R : 1 (C. Borg 35')
Saliba, G. Portelli, M. Formosa, F. Cini, C. Borg, O. Calleja, C. Vella (J. Muscat), A. Buttigieg, M. Ciangura, C. Farrugia (J. Azzopardi), L. Farrugia (O. Mercieca).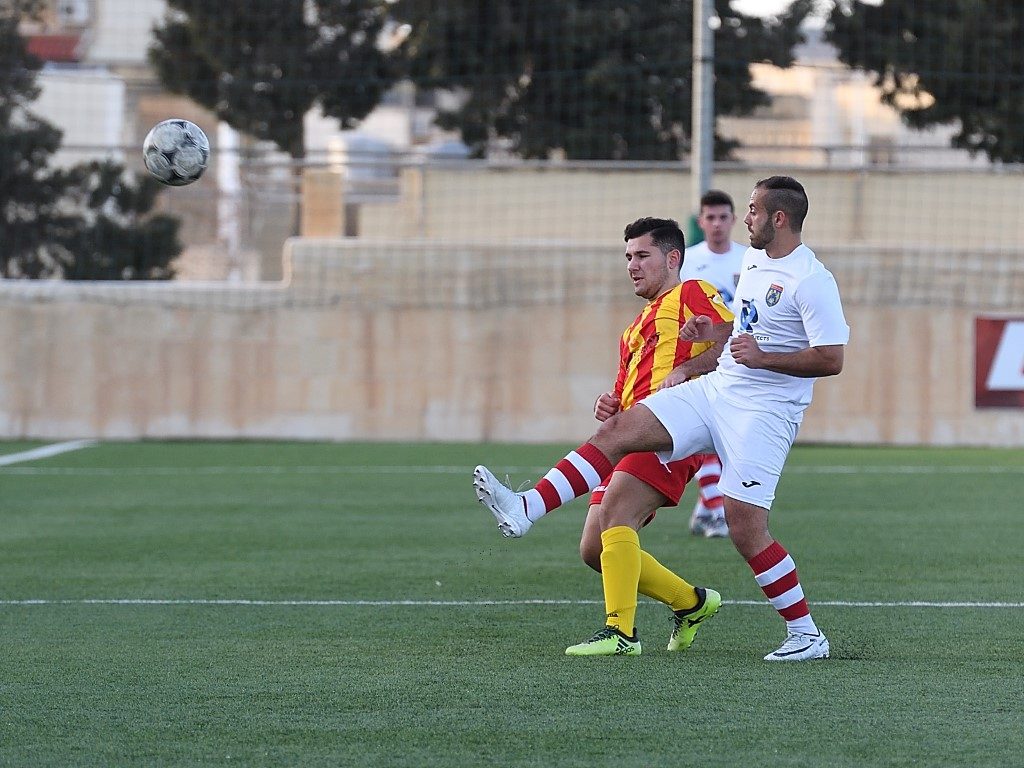 MATCH REPORT
Munxar Falcons obtained three easy points from a large win over Zebbug Rovers so that they retained their one-point lead over their contenders for promotion Sannat Lions.  Munxar paved the way to the victory with four goals scored during the first period and sealed the result with two other goals scored during the final stages of the encounter.  With this result Zebbug compromised their possibility to challenge for the third spot on the table in the final stages of the campaign.
 Zebbug created the first scoring opportunity of the encounter in the fifth minute of play through a free kick by Francesco Cini that was saved with difficulty by goalie Lorjean Xuereb.  Zebbug practically compromised their possibility to be stronger challengers to the leaders of the category on 15 minutes when they were reduced to ten players as Matthion Formosa was sent off for stopping Michael Matthias Uzor from entering the area.  From the resultant free kick taken by Oliver Curmi, Zebbug's goalie Baskal Saliba partially saved on the fatal line and form the rebound Mario Azzopardi arrived in time to place the ball into an open goal.  On 22 minutes Munxar went close to scoring but a shot by Samuel Muscat from the edge of the area hit the crossbar.  In another good action by Junxar few minute later an effort by Jordi Parnis ended just wide. Munxar however scored their second goal on 32 minutes when Paul Parnis prolonged inside the area a corner kick by Jordi Parnis and Oliver Curmi arrived in time to push the ball in goal from close distance.  Two minutes later Munxar scored the third goal that arrived through a first timer by Samuel Muscat following a corner kick by Joseph Grima.  On 35 minutes Zebbug reduced the deficit with a lob from outside the area by Chris Borg that surprised the goalkeeper.  However, Munxar continued to create danger during the final stages of the first half and in the first minute of stoppage time before the break the Falcons scored their fourth goal through a fine shot from outside the area by Joseph Grima that surprised the goalkeeper.
After the resumption Munxar retained command of play but reduced their pressure on Zebbug's defensive department.  Munxar could have scored another goal on 65 minutes but a strike by Christian Bugeja hit the crossbar. Munxar however scored their fifth goal on 68 minutes when Zebbug's goalie tried to block the danger following an initiative by Jordi Parnis but Michael Mattias Uzor toom the ball and placed easily in goal.  On 84 minutes Munxar added another goal, scored by Jordi Parnis following a cross by Christian Bugeja.  Four minutes later Munxar's keeper Liam Gatt made three consecutive intervention to block two consecutive shots by Chris Borg and an attempt by Owen Mercieca and denied Zebbug from scoring their second goal.
Referee: Ryan Caruana