GFA BOV Gozo Football League Division II
Kercem Ajax Stadium – 7th April 2018
MATCH DETAILS
St Lawrence S : 2 (K. Hili 14', J. Theuma 17')
Lu. Buttigieg, S. Mizzi, K. Hili, J. Theuma, D. Radovan, C. Azzopardi, D. Micallef, C. Farrugia (C. Cauchi), L. Pisani (J. Grima), C. Tabone (C. Mifsud), L. Attard.
Xaghra U : 0
Azzopardi, D. Bajada, S. Sultana, S. Galea, J. Xiberras, S. Bonello (P. J. Mifsud), G. Farrugia, J. Bajada (O. Pogukay), A. Xiberras, M. Janius, M. Galea (J. Xerri)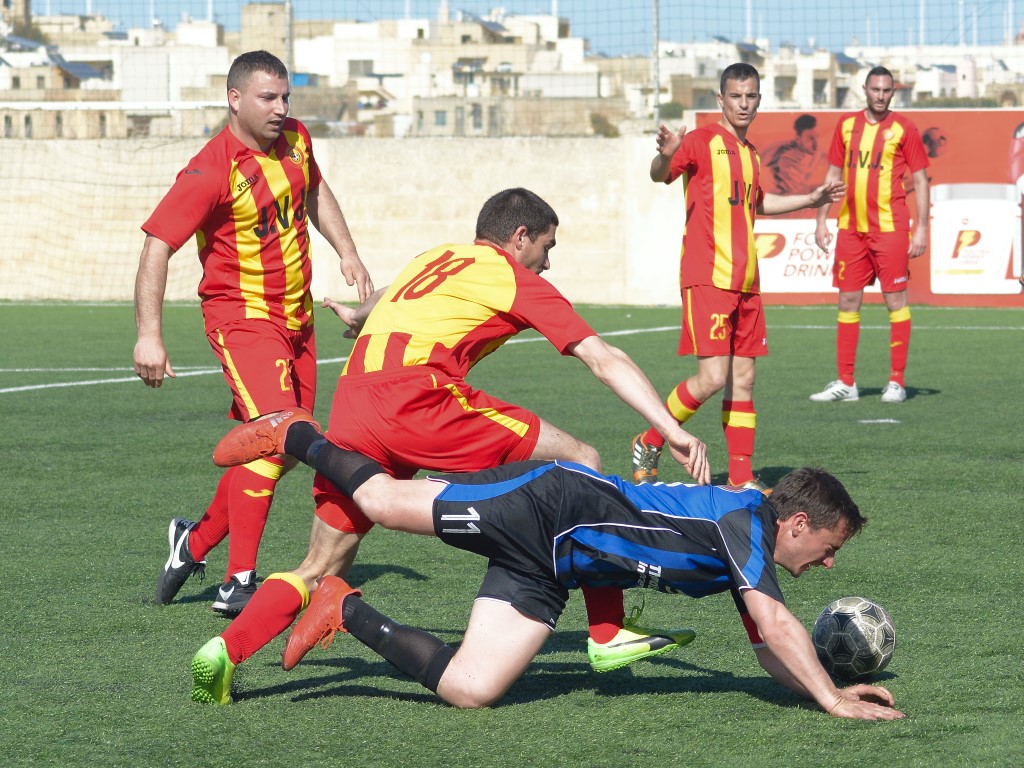 MATCH REPORT
St Lawrence Spurs scored two goals during the first half and earned the full points at stake from their match against Xaghra United.  With the points obtained the Spurs consolidated their third spot on the table. The Spurs deserved the win as they produced the better play during the first period and managed to resist to Xaghra's reaction after the break who could have reopened the issue on more than one occasion.
The first scoring opportunity of the match was created by Xaghra in the second minute of play through a low shot by Milorad Janjus that ended just wide.  The Spurs replied on 14 minutes and opened the score when a cross by Luke Attard arrived to Kenny Hili who concluded in goal with a first timer.  St Lawrence doubled the score three minutes later when Radovan Duric produced a good move inside Xaghra's area and his pass arrived to an unmarked Jason Theuma who guided the ball into an open goal from close distance.  On 29 minutes the Spurs could have scored another goal but a low shot by Radovan Duric was saved to a corner by goalie Frankie Azzopardi.  From the resultant corner action, taken by the same Duric, Shaun Mizzi was unlucky when his attempt was stopped by the post. Xaghra replied on 32 minutes with a fine shot by Luke Attard that was saved to a corner by goalie Luke Buttigieg and the same goalkeeper was at the right place on 36 mints to save with difficulty a shot from an angled position by Milorad Janjus.  The Spurs however regained command of play during the final stages of the first half. On 41 minutes Xaghra's keeper Frankie Azzopardi left his position in time to clear the ball before Charlon Tabone could hit the ball towards an open goal and the same goalkeeper was again called to make a difficult save to neutralise a good shot by Radovan Duric.

For the second period the Spurs tried to maintain their pressure on Xaghra's defence and on 49 minutes an attempt by Charlon Tabone was well saved by goalie Frankie Azzopardi.  Two minutes later the same keeper denied the Spurs form adding another goal with two consecutive saves following shots by Jason Theuma and Charlon Tabone. From the resultant melee St Lawrence's Shaun Mizzi saw his attempt ending wide.  On 57 minutes Xaghra replied with a direct free kick by Gabriel Farrugia that was stopped by the crossbar and in the final minutes Xaghra's keeper was called to make difficult interventions in at least two separate occasions. On 79 minutes goalie Frankie Azzoaprdi save a direct free kick by Radovian Duric and four minutes later the same keeper took the ball from the feet of substitute Carlton Mifsud who entered Xaghra's territory with a solo action. 
Referee: Joe Agius