GFA Gozo Football League Division I
MATCH DETAILS
Gozo Stadium – 21 September 2018
Ghajnsielem FC : 4 (L.A. De Melo Lima 30', N. Damba 43', 60'; C. Hili 77')
Xuereb, J. Tabone (An. Xuereb), J.P. Longarela, A. Oularbi, K. Mercieca, C. Hili, D. Mercieca, A. Camilleri (Al. Xuereb), N. Damba, K. Grima (D. Hili), L.A. De Melo Lima.
Xewkija T FC : 2 (C. Antunes Pavlidis 37', D. Krstic 89')
Camilleri, J. Azzopardi, D. Krstic, C. Bugeja, C. Antunes Pavlidis, G. Hili (T. Vella), O. Spiteri (P.P. Buttigieg), S.P. Bajada, M. Stojanovic, M. Xerri, D. Bogdanovic (M. Tabone).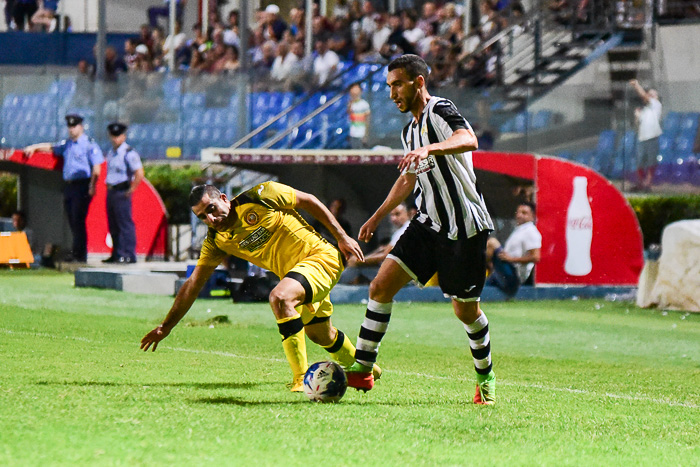 MATCH REPORT
Ghajnsielem registered their first win in the championship form their match against contenders for the title Xewkija Tigers.  Ghajnsielem were coming from a disappointing draw in their previous match while Xewkija were coming from a large win registered in their first match of the championship.  Xewkija entered the field of play as hot favourites for the victory, particularly because Xewkija already defeated Ghajnsielem this season in a match from the first round fo the MFA FA Trophy.  However, on this occasion Ghajnsielem were much more determined and expressed a collective effort where they were very strong at their defense, led by Javier Polo Longarela, hard working in the midfield where Ali Oularbi dictated the rhythm and dangerous in attack through strikers Naby Damba and Luis Andre De Melo Lima.  Ghajnsielem were more dangerous than their opponents throughout the encounter but made sure of the three points with two decisive goals scored during the second period when Xewkija were trying to recover the deficit. In this match Xewkija disappointed as they could not find a way to pass through Ghajnsielem's defense and ended up exposing their rearguard as they pushed more players in attack.
Xewkija tried to take control of play during eh opening stages but they failed to convert their territorial supremacy into good scoring opportunities.  As time passed by, Ghajnsielem gained confidence and started to operate more dangerous attacks. On 10 minutes a shot by Naby Damba form a good position ended just wide and five minutes later the same Damba crossed from the right flank but Luis Andre De Melo Lima headed wide form close distance.  Ghajnsielem went again close to scoring on 17 minutes but a shot by Naby Damba following a short clearance by Xewkija's defense ended just wide. Ghajnsielem took the deserved lead on 30 minutes through a close ranged header by Luis Andre De Melo Lima following a cross from the right flank by Naby Damba.  Xewkija had a good reaction and on 37 minutes they leveled the score through a fine curling shot from the edge of the area by Claudio Antunes Pavlidis following a cross from the right flank by Owen Spiteri.  However, Ghajnsielem regained the lead on 43 minutes when Naby Damba received the ball inside Xewkija's area, passed around three defenders and concluded with a fine strike.
After the restart Xewkija tried to produce a reaction and on 52 minutes they went close to scoring but an attempt by Claudio Antunes following a corner kick by Shaun Bajada ended just over the crossbar.  Ghajnsielem however surprised Xewkija with a fast break on the hour mark when Naby Damba entered Xewkija's territory, turned around the goalkeeper outside the area and placed easily in goal with a low drive.  Xewkija replied two minutes later through a strike by Shaun Bajada that was neutralized by goalie Lorjean Xuereb and on 71 minutes a cross shot by Xewkija's Darko Krstic was well saved by the same goalkeeper.  Two minutes later Ghajnsielem were again dangerous through a shot by substitute Alberto Xuereb that ended just wide and on 77 minutes Ghajnsielem scored their fourth goal through a strike from outside the area by Charles Hili that surprised Xewkija's keeper.  On 83 minutes Xewkija's goalie Leonard Camilleri was well placed to block a low shot by substitute Damon Hili and Xewkija reduced the score with a second goal that arrived on 89 minutes through a shot from the edge of the area by Darko Krstic.  In the third minute of stoppage time Xewkija's goalie Leonard Camilleri made a good save to deny Ghainsielem's Charles Hili from scoring another goal
Referee: Ettienne Mangion