GFA Gozo Football league Division I
MATCH DETAILS
Gozo Stadium – 14 September 2018
Kercem A FC : 1 (F.A. De Oliviera 77')
Muscat, D. Cassar (P. Debono), A. Azzopardi, M. Hrubsa, C. Caruana, E. Vella, N.P.M. Leite Do Canto, A. Komljenovic, J. Grech (F. Attard), J.P. Mizzi, F.A. De Oliviera.
Munxar F FC : 3 (M.M. Uzor 35', L. Garcia Panesso 37'pen., 88')
J.P. Cassar, C. Bugeja, P. Parnis, J. Grima (C. Debono), L. Garcia Panesso, M. Debrincat, M.M. Uzor, J.J. Sandobal Guarin, G. Muscat, S. Muscat, B. Polo Longarela.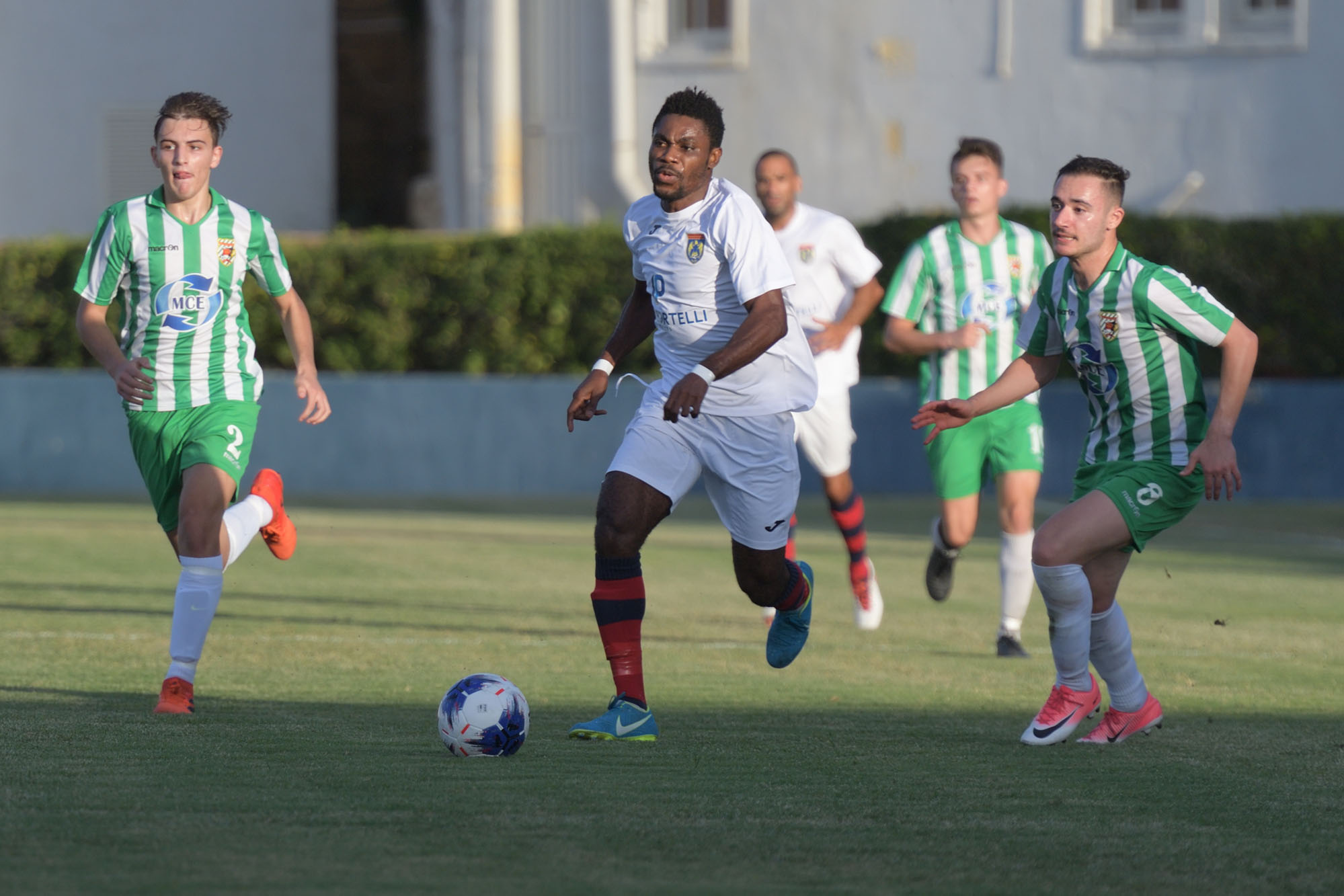 MATCH REPORT
Munxar Falcons, who were making a return in the top flight after winning promotion last season, had an excellent start in the championship s they earned the full points from their match against Kercem Ajax.  This was also the first match of the BOV Gozo Football League Division I 2018/2019, where Munxar and Kercem are aiming to earn points to keep away from the red zone of the table as early as possible. In this match Munxar seemed more organized and motivated.  They opened a two-goal lead during the first half and controlled Kercem's reaction for most of the second period. Munxar also managed to score the third goal minutes from the end of the encounter so that they ended up obtaining a deserved win.
Munxar seemed more adventurous during the opening stages and held command of play in the midfield.  Munxar could have opened the score on 8 minutes but a shot by Borja Polo Longarela ended wide. Two minutes later Munxar's Jhon Jairo Sandobal Guarin had a free kick that was well saved by goalie Charlon Muscat but as time passed by Kercem started to share play.  On 18 minutes Kercem threatened Munxar's rearguard through a strike by Joey Grech that ended just wide and on 20 minutes Kercem's Felipe Auguisto De Oliviera had a good attempt following a personal effort that was stopped by the crossbar. Munxar opened the score on 34 minutes when Kercem's defense failed to clear the ball from the area following a throw in by Borja Polo Longarela and Matthias Michael Uzor took the ball and headed in goal from close distance.  Two minutes later Munxar were awarded a penalty for a foul by Alexandar Komljenovic on Matthias Michael Uzor and Columbian Leiner Garcia Panesso converted from the spot kick.  Kercem went close to reduce the deficit on the stroke of half time when Felipe Augusto De Oliviera entered Munxar's area but had his shot blocked by goalie John Paul Cassar and defender Christian Bugeja cleared the danger from the goalmouth.
Kercem came out determined to produce a reaction after the break but Munxar were well deployed and managed to protect their area.  Munxar also operated with counter breaks and on more than one occasion they put Kercem's defense under pressure. The first serious attempt at goal of the second period arrived on 70 minutes when Neto Pedro Do Canto entered Munxar's territory and from his cross Felipe Augusto De Oliviera headed wide.  Kercem re-opened the issue with a goal that arrived on 77 minutes through a header form close distance by Felipe Augusto De Oliviera following a cross from the right flank.  Munxar replied two minutes later through a direct free kick by Borja Polo Longarela that was neutralized by goalie Charlon Muscat.  On 84 minutes Kercem had a goal by Felipe Augusto De Oliviera following a free kick by Elton Vella that was disallowed for handling by the striker and on 87 minutes a strike form long distance by Martin Hrubsa was neutralized by Munxar's goalie John Paul Cassar.  Munxar practically sealed the victory with a third goal that arrived one minute later when Leiner Garcia Panesso the ball from Kercem's defense and lobbed into an open goal when the goalkeeper was out of his position.
Referee: Joseph Scerri