MATCH DETAILS
GFA BOV Gozo Football League Division II
Kercem Ajax Stadium – 8 December 2018

Sannat L FC : 1 (J. Zammit 90+5'

C. Mercieca, M. Portelli, N. Micallef, F. Camilleri, J. Buttigieg, J. Zammit, E.R. Okpokwu, D. Borg, E. Gauci, C. Tabone (C. Mifsud), F.J. Xuereb.

St Lawrence S : 1 (C. Mercieca 87')

A. Brignoli, R. Zammit, C. Mercieca, S. Sultana, A. Xiberras (L. Attard), J. Theuma, C. Cauchi, D. Micallef, C. Farrugia (S. Sultana), L. Buttigieg, F. Kosova.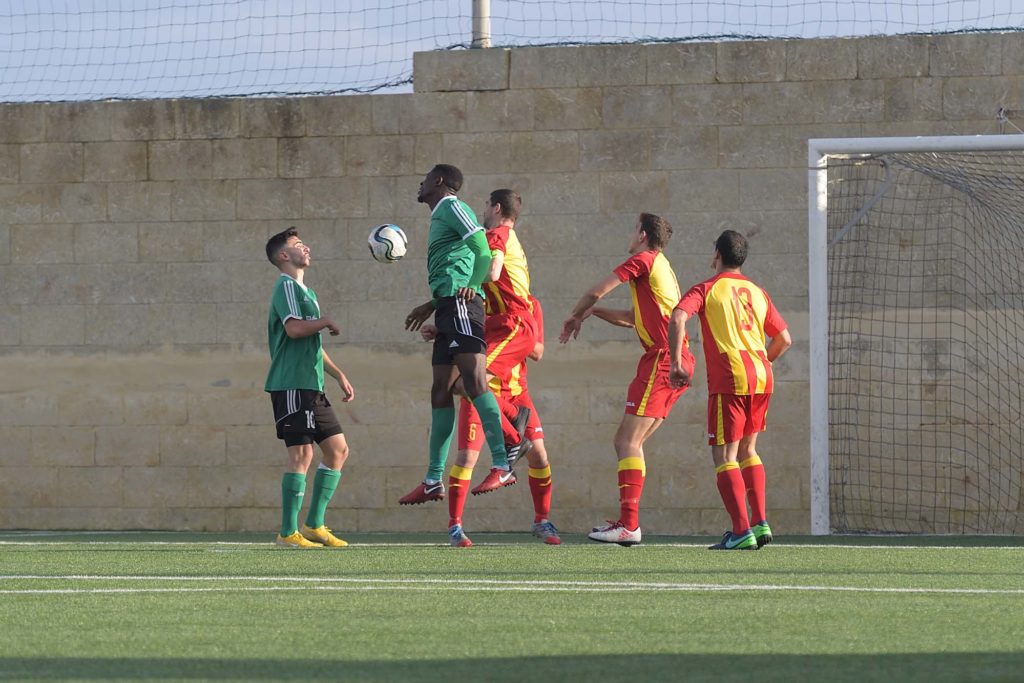 MATCH REPORT
Sannat Lions and St Lawrence Spurs shared the spoils in a draw of two goals so that Sannat took sole leadership on the table with a point more than Xaghra United, the latter however have a game in hand. This was the first match from Match-Day 8 of the campaign and both sides were aiming to earn the full points at stake to take a lead over the direct contenders for promotion. Sannat held territorial supremacy during the first half but the actions at goal were rare, but during the second period the match became much more exciting and it was not surprising that it was decided with two goals that arrived in the final stages of the encounter. The final score was a just result as it rewards the efforts of the two sides and at the same time the match confirmed that the t sides have the potential to be among the challengers for promotion. However, the result of this match left the situation on the table wide open where five of the six teams of the category are all within four points and therefore with practically equal potential to be considered as serious challengers for the main honour.
Sannat were more aggressive during the opening minutes of the match but the Spurs were well deployed in the midfield and goalie Angelo Brignoli was not called to make difficult interventions. On 13 minutes Sannat had a free kick by Charlon Tabone that ended just over the crossbar. Sannat were again dangerous on 20 minutes through a cross-shot by Ebube Ralph Okpokwu that was saved in two attempts by goalie Angelo Brignoli. The same Okpokwu had a strike on 25 minutes following a personal action that ended just high and the Spurs replied on 32 minutes through an effort from an angled position that was neutralised by goalie Courtney Mercieca. Three minutes later Sannat were dangerous through a header by Charlon Tabone from a corner kick by Matthew Portelli that was well saved by goalie Angelo Brignoli.
In the second minute of play of the second period Sannat could have opened the score when the referee awarded a penalty for a foul by goalie Angelo Brignoli on Ebube Ralph Okpokwu, but the same Okpokwu had his shot from the spot kick saved by St Lawrence's keeper. Okpokwu could have made up for the missed scoring opportunity on 53 minutes but his strike following a personal action was stopped by the crossbar. The Spurs replied on 59 minutes through a cross from the left flank by Franci Kosova, Adrian Xiberras headed inside the area and from the resultant melee Jason Theuma's attempt was saved to a corner by goalie Courtney Mercieca. Five minutes later the Spurs had a low shot aimed to the far post by Charlon Farrugia that ended just wide and on 79 minutes St Lawrence's keeper Angelo Brignoli was well placed to neutralised a cross shot by substitute Charlton Mifsud. The match continued to be well contested during the final stages as the two sides tried to obtain the win. On 82 minutes a free kick by St Lawrence's Charlon Farrugia ended just wide and three minutes later the Spurs ended with ten players when Jason Theuma was sent off for a foul away from the action. However, from the resultant free kick on 87 minutes St Lawrence took the lead through a direct kick by Charles Mercieca that ended out of the reach of Sannat's keeper. Sannat saved the result with a goal that arrived in the fifth minute of stoppage time when Joseph Zammit followed a cross from long distance by Frankie Camilleri and the young striker headed in goal before the goalkeeper could try to reach the ball

Referee: Shaun Calleja