GFA BOV Gozo Football League Division II
MATCH DETAILS
Kercem Ajax Stadium – 5 January 2019
Oratory Y FC : 0
Sammut, J. Azzopardi, E. Buttigieg, K. Grima, K. Farrugia, F. Cini (N. Attard), S. Azzopardi, O. Saliba (J. M. Portelli), J. Xerri, S. Curmi, L. C. Carvalho Da Silva (A. Zammit).
Sannat L FC : 3 (J. Zammit 11', 45+2'; E.R. Okpokwu 51')
Mercieca, S. Mizzi, M. Portelli (S. Azzopardi), N. Micallef (M. Mifsud), F. Camilleri, J. Buttigieg, J. Zammit, E. R. Okpokwu, D. Borg, C. Mifsud (A. Azzopardi), E. Gauci.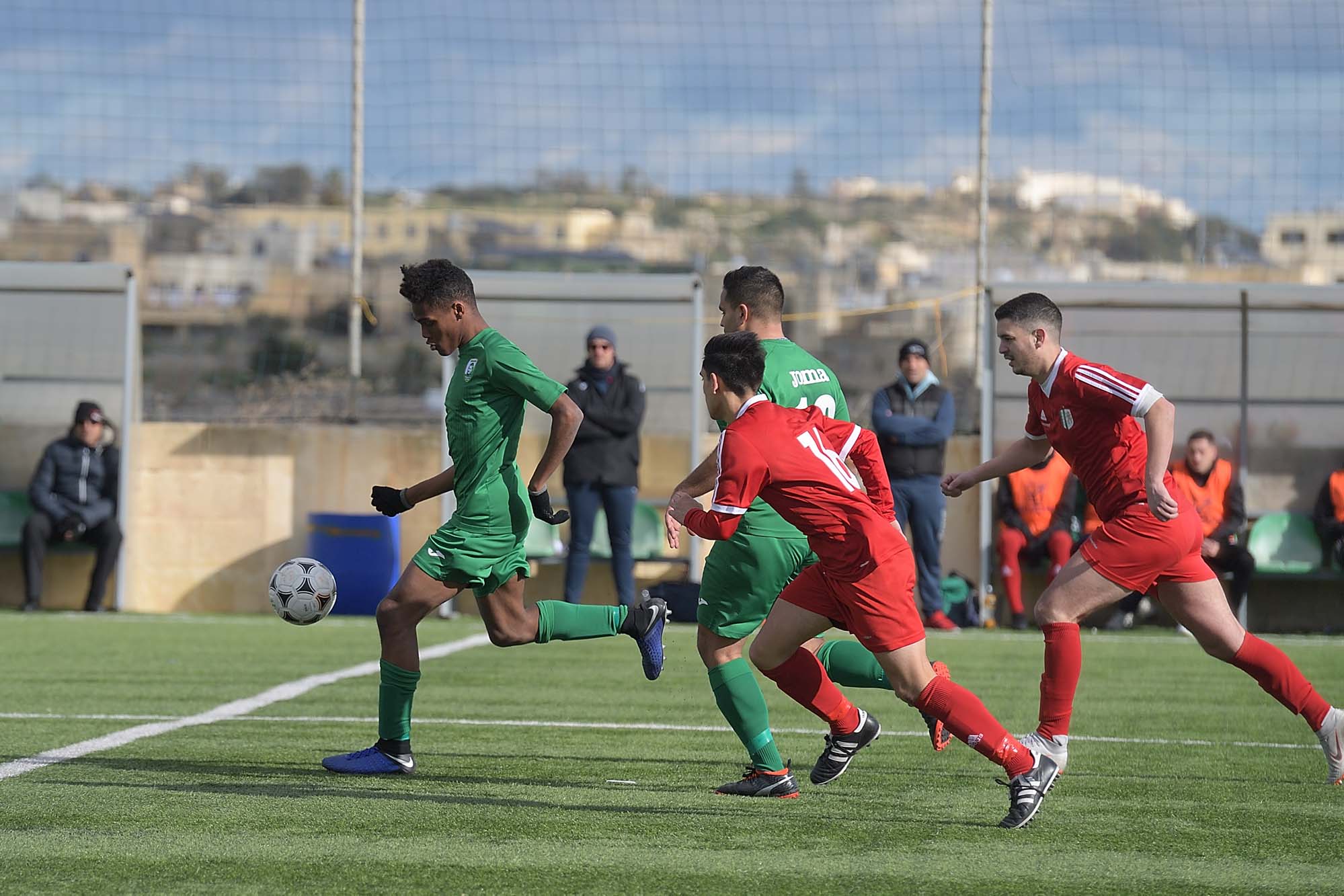 MATCH REPORT
Sannat Lions retained their chances to be serious challengers for promotion with a 3-0 win over Oratory Youths in the last encounter form Match-Day 9 of the campaign.  This was an important match for the two sides who needed a win to keep in touch with Xaghra United at the top of the table. Sannat seemed more motivated in this match and paved the way to a deserved win with two goals scored during the first period.  This was Sannat's first win in the second round of the BOV Gozo Football League and with the points obtained they ended Match-Day 9 co-leaders of the table with Xaghra United while the two teams opened a comfortable four point lead over the same Oratory and Qala Saints who were aiming to be among the challengers for the top positions.
During the opening minutes Sannat took command of play and in the second minute a direct corner kick by Matthew Portelli ended just over the crossbar. On 10 minutes an attempt by Nicholas Micallef following another corner kick by Matthew Portelli was blocked to another corner.  Sannat opened the score from the resultant corner kick by Matthew Portelli as Joseph Zammit surprised Oratory's rear guard and netted with a low shot.  Sannat continued to create danger within Oratory's territory and gain series of corner kicks which piled pressure on the defence.  On 13 minutes Sannat went again close to scoring from a similar action but once again an effort by Nicholas Micallef following a kick by Matthew Portelli just missed the target.  On 27 minutes Sannat's Ebube Ralph Okpokwu had a lob when Oratory's keeper Richard Sammut was out of his position that ended just wide. Six minutes later the same keeper was well placed to neutralise a free kick by Nicolas Micallef.  On 39 minutes Oratory's keeper Richard Sammut made a good save to block a header by Ebube Ralph Okpokwu from a free kick by Nicholas Micallef and the defence cleared the danger form the area with some difficulty. Four minutes later Sannat's Charlton Mifsud had a shot on the run following a pass by Ebube Ralph Okpokwu that missed the target.  Oratory created a good scoring opportunity in the following action but Kersten Grima's header from a good position following a cross by Samuel Azzopardi ended away from goal. Sannat doubled the score in the second minute of stoppage time before half time when Ebube Ralph Okpokwu won a ball from Oratory's defence, had his shot that hit the post and from the rebound Joseph Zammit headed easily in goal.
After the break Oratory failed to produce a reaction and in the initial stages of the second half Sannat's Ebube Ralph Okpokwu was released by Joseph Zammit within Oratory's area and the former turned around two defenders but concluded wide from an ideal position.  In another good action by Sannat Joseph Zammit headed wide following a cross by Shaun Mizzi but on 51 minutes Sannat scored their third goal through a shot form an angled position by Ebube Ralph Okpukwu.  Oratory replied on 67 minutes with an attempt by Kersten Grima that ended high and five minutes later Sannat could have added another goal but a shot by Joseph Zammit after receiving form Ebube Ralph Okpokwu was deflected to a corner.  Oratory continued to find it very difficult to threaten Sannat's defence and on 79 minutes Ebube Ralph Okpokwu entered Oratory's area with a personal action and addressed towards an open goal after turning around the goalkeeper but Sannat's Charlton Mifsud pushed the ball in the net and the goal was disallowed for an offside infringement so that the score remained unchanged until the final whistle.
Referee: Darryl Agius