MATCH DETAILS
GFA BOV Gozo Football League Division I
Gozo Stadium – 22 February 2019
Kercem A FC : 1 (F.A. De Oliviera 45+1')
Dizdarevic, D. Cassar, A. Azzopardi (C. Caruana), A. Debrincat, T. Vella, M. Hrubsa, N. Mercieca, O. Spiteri, J.P. Mizzi, M. Perisic, F.A. De Oliviera.
Gharb R FC : 1 (H. Santa Rosa Cruz 48' pen)
Spiteri, A. Sultana, P.P. Camilleri, M. Gauci (J. Xuereb), C. Attard, J.E. Batista Da Conceicao, O. Xuereb (R. Zammit), D. Azzopardi, P. Nunez Del Castillo, H. Santa Rosa Cruz, L. De Lira Miranda.

MATCH REPORT
Kercem Ajax and Gharb Rangers earned a point each from a draw of two goals in a direct clash from the red zone so that the relegation issue continued to be a close tussle that involves four teams.  With this result, Gharb retained their four-point lead over the same Kercem Ajax, who are currently occupying the bottom place on the table, while the Ajax reduced their gap from the team at the second place form the bottom to just two points.  Kercem were determined to make up for the 2-4 defeat conceded on the match against Gharb of the first round and held the initiative of play for long stretches. However, Kercem missed some good scoring opportunities and also became nervous as time passed by so that they also ended the match with nine players on the field of play.  On the other hand, Gharb managed to share play with their opponents during the first half but they did not manage to take advantage of the extra player on the field of play during most of the second period so that the final result was probably the best that they could have achieved on the day.
During the opening stages, Gharb tried to take command of play but they only created danger on 17 minutes through a free kick by Hugo Santa Rosa Cruz that ended just over the crossbar.  Kercem came out of their defence as time passed by and on 30 minutes they were dangerous through an effort by Owen Spiteri that was blocked by the defence and from the rebound Nathaniel Mercieca's shot ended wide.  Three minutes later Kercem's Andrea Debrincat crossed towards Thomas Vella and the latter prolonged to Nathaniel Mercieca who saw his shot blocked with some difficulty by Gharb's goalie Daniel Spiteri. The Rangers replied on 43 minutes through a header by Omar Xuereb from a free kick by Hugo Santa Rosa Cruz that was saved in two attempts by goalie Vladimir Dizdarevic.  Kercem opened the score in the first minute of stoppage time before half time through a low shot by Felipe Augusto De Oliviera following a personal action.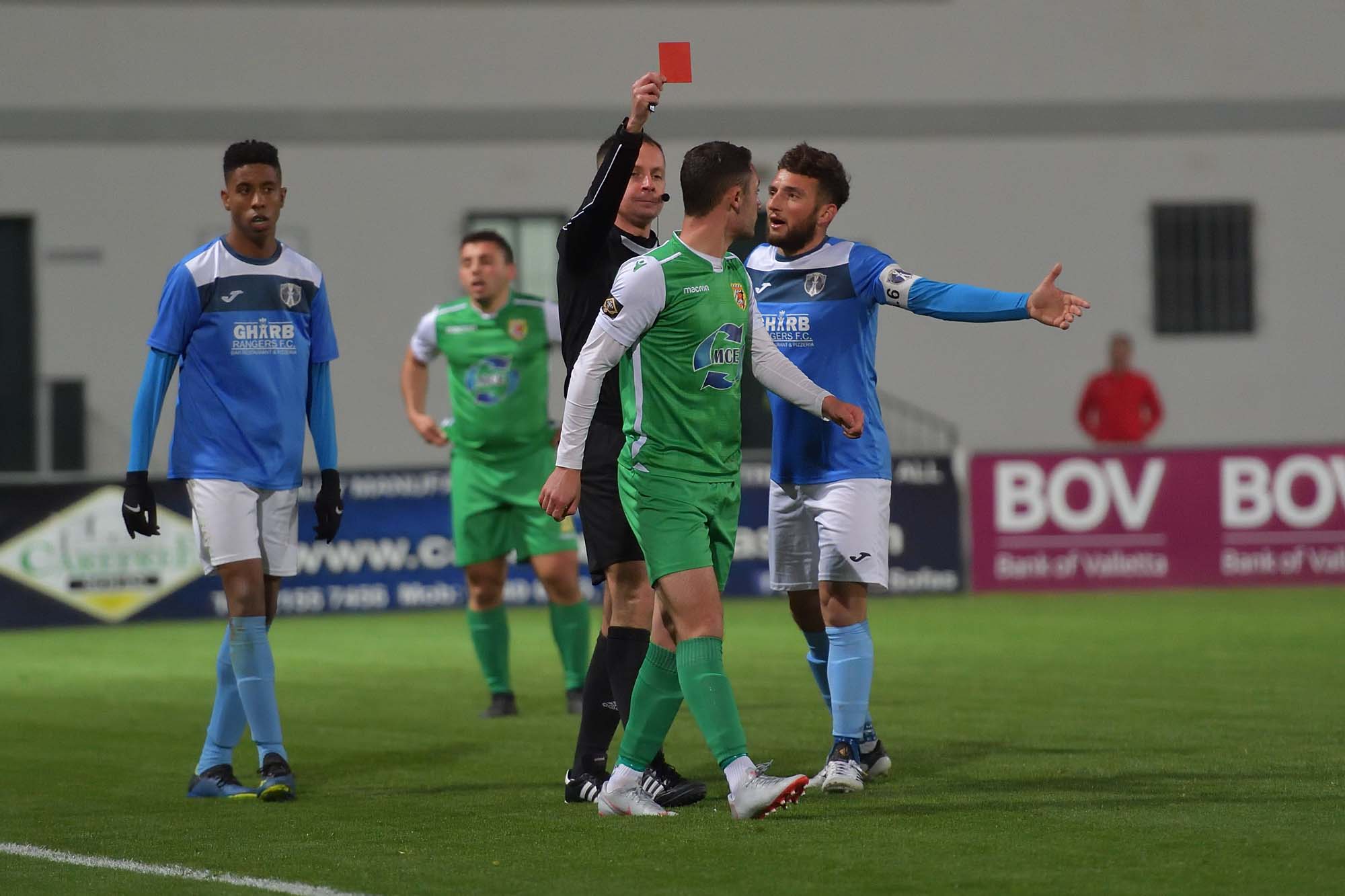 After the break, Gharb had a determined reaction and on 48 minutes they were awarded a penalty for a foul by Martin Hrubsa on Junior Elisio Batista Da Conceicao and Hugo Santa Rosa Cruz converted from the spot to make the score 1-1.  On 54 minutes Kercem replied with a shot from outside the area by Thomas Vella that ended wide and on the hour mark, Kercem were reduced to nine players when substitute Christoph Caruana was sent off for retaliation on Omar Xuereb.  Kercem, however, continued to express more offensive play and on 77 minutes Gharb's keeper Daniel Spiteri was called to make a good save in two attempts following a direct freekick by Milos Perisic. One minute later Kercem's Jean Paul Mizzi produced an inviting cross towards Felipe Augusto De Oliviera but the latter saw his effort blocked to a corner by defender Anthony Sultana.  On 83 minutes Kercem's keeper Vladimir Dizdarevic made an important intervention to turn to a corner a shot from the edge of the area by Leonardo De Lira Miranda and two minutes later it was Gharb's keeper who saved the result for his side with an excellent intervention to block a shot by Felipe Augusto De Oliviera following a pass by Nathaniel Mercieca. In the third minute of stoppage time, Kercem were reduced to nine players when Owen Spiteri was sent off following a second caution received for not following an order by the referee.
Referee: Slawomir Olucha