MATCH DETAILS
GFA BOV Gozo Football League Division II
Gozo Stadium – 19 March 2019
Sannat L FC : 1 (J. Zammit 90')
Mercieca, M. Portelli, N. Micallef, F. Camilleri, J. Buttigieg, J. Zammit, E.R. Okpokwu, D. Borg (C. Mifsud), B. Said, E. Gauci (D. Bellotti), F. Xuereb.
Zebbug R FC : 2 (L. Farrugia 31', M.Peres Vega 42')
Saliba, M. Ciangura, C. Farrugia, O. Calleja, L. Farrugia, M. Peres Vega, A. Buttigieg, J. Grech, R. Meilak, E. Xuereb (M. Formosa), J. Azzopardi.

MATCH REPORT
Zebbug Rovers registered another surprise in the BOV Gozo Football League of the second division when they defeated contenders for promotion Sannat Lions.  Zebbug produced a collective effort as they seemed determined to obtain a positive result against the more quoted opponents in an attempt to move away from the bottom place on the table.  With this result Sannat, who probably compromised the possibility to obtain a win from this match due to overconfidence, also ended a positive run of results which kept them sole leaders for a number of weeks.  This was Zebbug's first win over Sannat in the campaign as they conceded defeats in the previous three matches of the first three rounds.
Sannat Lions tried to take command of play from the opening stages of the encounter and on 13 minutes they could have opened the score but a direct free kick by Ebube Ralph Okpokwu ended high.  Six minutes later Zebbug's goalie Baskal Saliba left his position in time to clear the ball from the area following a cross shot by Joseph Zammit. On 23 minutes Sannat's Brandon Said was released by Joseph Zammit but Zebbug's goalie left his position in time and cleared the danger.  The Rovers replied on 30 minutes through a shot from the edge of the area by Joston Azzopardi but goalie Courtney Mercieca was well placed and saved the danger. One minute later Zebbug opened the score through a close ranged shot by Lucas Farrugia following g a low cross by Marco Ciangura.  Sannat tried to produce an immediate reaction and on 35 minutes they were dangerous through a shot from outside the area by Nicholas Micallef that was well saved by goalie Baskal Saliba.  Four minutes later Ebube Ralph Okpokwu entered Zebbuig's area but goalie Baskal Saliba was well place and neutralised the danger. Zebbug doubled the score on 43 minutes through a direct free kick by Marcos Peres Vega that surprised goalie Courtney Mercieca.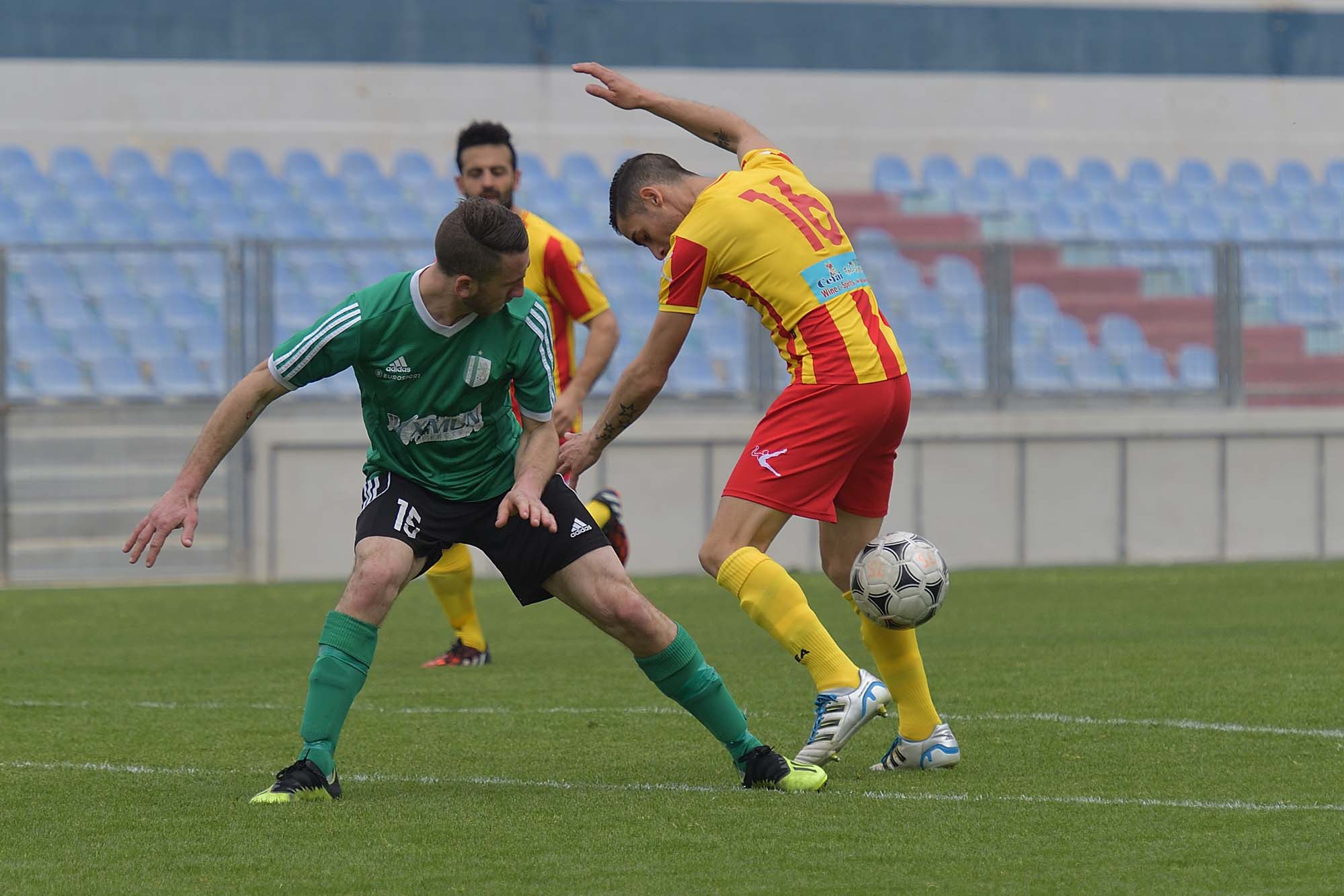 Sannat could have reduced the score after just twenty seconds of play onto the second period but a shot from an angled position by Joseph Zammit after receiving from Ebube Ralph Okpokwu ende just over the crossbar.  On 48 minutes Zebbug were dangerous through a shot by Elijah Xuereb that ended on the side of the net and two minutes later Zebbug's keeper was called to make a difficult save following an attempt by Brandon Said following a personal action.  On 58 minutes Zevbbug's keeper saved a free kick by Sannat's Joseph Zammit and two minutes later the same goalkeeper make another difficult intervention following a curling shot by Matthew Portelli. On 66 minutes Ebube Ralph Okpokwu turned around Zebbug's keeper Baskal Saliba but form his low cross defender Ryan Meilak cleared the ball from the goalmouth to deny Brandon Said from addressing towards goal.  Sannat kept insisting and on 70 minutes a goal by Fabian Xuiereb was disallowed for an offside infringement. On 82 minutes Sannat were also unlucky when a header by Ebube Ralph Okpokwu following a cross by Frankie Camilleri ended on the cross bar and in the following action Zebbug could have added another goal but a shot by Marcos Perses Vega ended wide. On 84 minutes Sannat's goalie turned to a corner with difficult an effort by Elijah Xuereb.  Three minutes later Zebbug were reduced to ten players when Clive Farrugia was sent off for a second bookable offence and on 89 minutes Sannnat lost a golden scoring opportunity but Nicholas Micallef incredibly failed to connect to an inviting low cross from the right flank. Sannat however reduced the deficit on the stroke of regular time through a strike by Joseph Zammit.  In the first minute of stoppage time Zebbug were also unlucky when a cross shot by Marco Ciangura hit the crossbar and in the fifth minute of stoppage time Sannat could have saved the result but a shot on the run  from a good position by Ebube Ralph Okpokwu ended high.
Referee: Andrew James Sammut