Victoria H : 2 (C. Mercieca 45+3', C. Camilleri 79')
A. Parnis, J. Pace, J. Bajada, K. Farrugia (S.F. Bajada), D. Sowatey, F. Apap, C. Mercieca, E. Lattes, E. Da Silva, C. Camilleri, H. Maciel.
Xewkija T : 1 (M. Stojanovic 7')
F. Vella, R. Buttigieg, M. Xerri, M. Bamba, J. Azzopardi (M. Gauci), J.M. Vella, M. Stojanovic, S. Bajada, G. Hili (J.G. Vella), C. Antunes Pavlidis, H.T. Barbosa Honorato.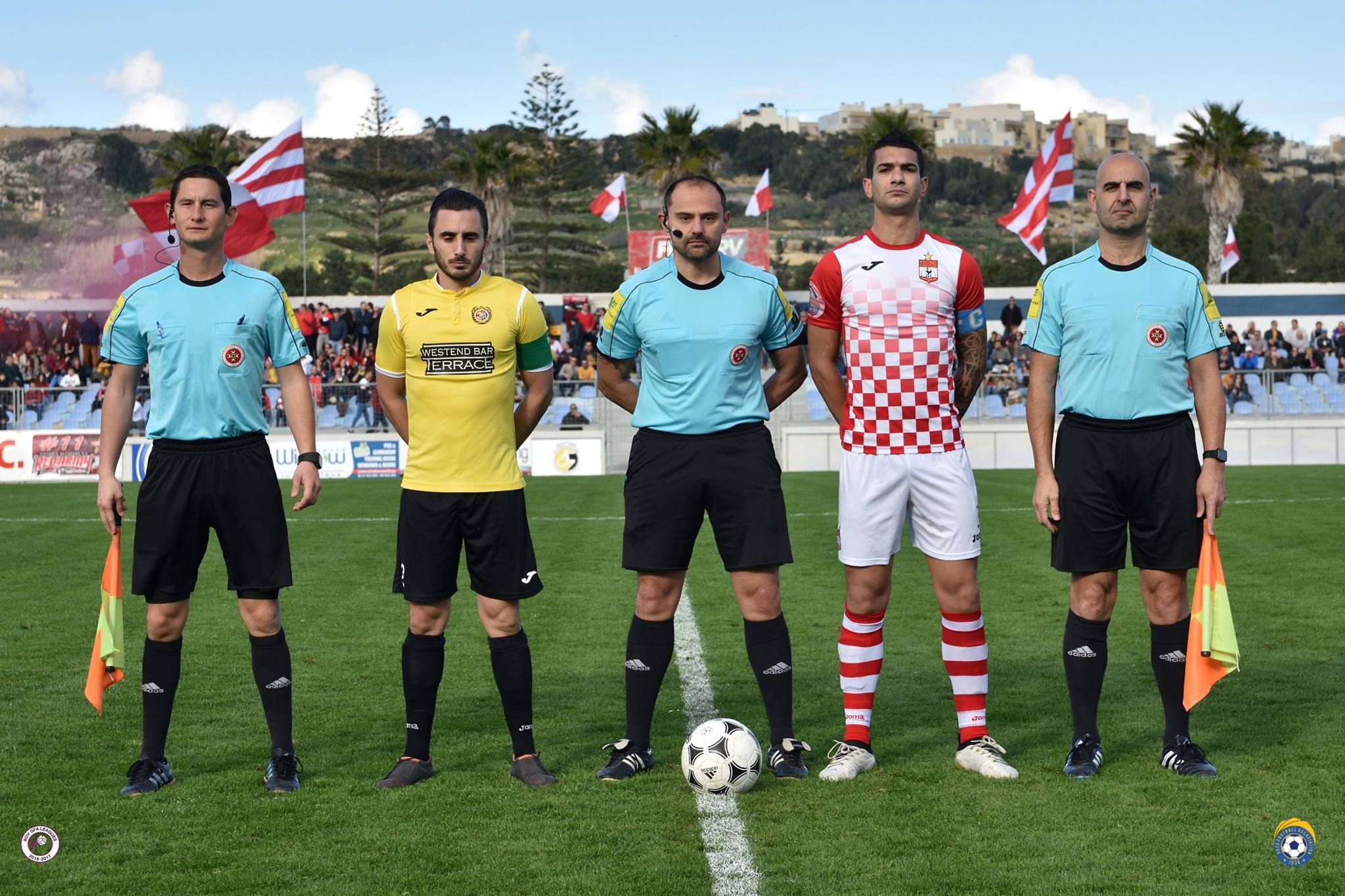 Victoria Hotspurs remained the only undefeated side in the top flight and also confirmed that they are the hot favourites to win the title this season as they earned three deserved points form the direct clash against reigning champions Xewkija Tigers.
The match between the Hotspurs and Xewkija was the main match of match-day 10 of the championship as the former needed a positive result to defend their leadership while Xewkija needed a win to reduce their gap from the Citizens to just one point.  The match lived up to the expectations as it pull a large crowd to the Gozo Stadium and the two sides tried their best to obtain the victory so that the final score remained in contention until the final whistle.  With this result the Hotspurs defended their four point lead over second placed Nadur Youngsters and extended their lead over Xewkija to seven points.  Victoria's win matured through a determined performance where they struggled to recover from Xewkija's early goal, failed to convert a penalty and also ended with a player less just after the hour mark.  The Hotspurs however managed to convert their territorial supremacy into two goals that at the end decided the issue/
Xewkija were in a better shape during the opening minutes and seemed confident that they could inflict the first defeat to their rivals.  In the first minute of play Xewkija's Shaun Bajada entered the area with a personal action but was stooped in time by Victoria's defence.  The Hotspurs replied in the third minute through a free kick by Elton Da Silva that ended wide and on 7 minutes Xrewkija opened the score through a header from close distance by Milos Stojanovic following a cross by Claudio Antunes.  On 22 minutes Victoria's Elton Da Silva had a free kick that ended wide and in another occasion a shot by Henrique Maciel ended wide.  Xewkija replied one minute later through a strike by Shaun Bajada that took a deflection and the ball ended wide and on 31 minutes the Hotspurs had their first serious scoring opportunity when a short clearance by Xewkija's defence arrived to an unmarked Chris Camilleri who crossed toward the far post but Henrique Maciel incredibly concluded wide form an ideal position.  Xewkija also lost a good scoring opportunity on 34 minutes when Claudio Antunes was unmarked in the area following a cross by Shaun Bajada but the former headed badly and the ball ended over the crossbar.  On 35 minutes Victoria's defence almost committed and own goal when a clearance hit the back of defender and took a direction towards the goal but goalie Adrian Parnis recovered his position in time and saved the danger.  On 40 minutes Xewkija's keeper Franklin Vella was called to make a good save to neutralise a low shot by Elton Da Silva and two minutes later the referee awarded a penalty to Victoria for a foul by Xewkija's Moussa Bamba on Henrique Maciel.  However, Victoria's Elton Da Silva had his shot turned to a corner by goalie Franklin Vella.  The Hotspurs were not demoralised but increased their efforts in an attempt to make up for the missed scoring opportunity.  On 45 minutes Victoria's Ferdinando Apap heded wide a free kick by Chris Camilleri but the Hotspurs managed to clinch the equaliser in the third minute of stoppage time before half time when Henrique Maciel released Christian Mercieca inside Xewkija's area and the latter netted with a low drive that ended in goal despite the attempt by Xewkija's defenders to clear the ball off then fatal line.
The Hotspurs maintained their momentum after the break and forced their opponents to adopt a defensive deployment.  On 50 minutes Victoria's Elton Da Silva had a good shot that ended just high.  Xewkija produced a sporadic action on 57 minutes that could have easily ended with the ball in goal as Claudio Antunes was released inside Victoria's territory by substitute Manwel Gauci but the Brazilian striker had his low drive that took a deflection and the ball hit the base of the post before it ended wide.  On 62 minutes the Hotspurs ended with ten players when Daniel Sowatey was sent off for a second bookable offence but Xewkija failed to take advantage and Victoria continued to dictate matter.  On 64 minutes a header by Ferdinando Apap following a free kick by Chris Camilleri ended wide and one minute later Elton Da Silva entered Xewkija's area with a personal action but his shot was weak and the goalkeeper saved the danger.  The Hotspurs were again dangerous on 71 minutes when Henrique Maciel's cross arrived to Elton Da Silva who saw his shot ended wide.  Xewkija lost another good scoring opportunity on 74 minutes when substitute Joseph George Vella won a ball at Victoria's defence and from his pass debutant Thiago Barbosa incredibly concluded wide with an open goal at his mercy.  On 77 minutes Xewkija were also reduced to ten players when Manwel Xerri was shown a second yellow card for a foul on Henrique Maciel and on 79 minutes the Hotspurs scored the goal that decided the issue when Christian Mercieca passed outside the area to Chris Camilleri who surprised the goalkeeper with a fine shot towards the first post.  Xewkija were demoralised and failed to produce dangerous action during the remaining minutes so that the Hotspurs capitalised from the situation and controlled their one goal lead until the final whistle.                                                                                             
Referee: Malcolm Spiteri