GFA BOV GFL Division II                                                                Kercem Ajax Stadium
Gharb R         :           2          (D. Bellotti 16', O. Farrugia 48')
Spiteri, R. Vella (M. Grech), C. Gafa, J. Azzopardi, M. Vella, Crs. Attard (J. Portelli), R. Grech, J. Camenzuli (F. Attard), O. Farrugia, A. Ofulue.
Qala S             :           0
Buttigieg, J. Rapa, G. Sillato, B. Meilak, F. Mumford, S. Sillato, J. Buttigieg, M. Cefai, C. Portelli, C. Caruana (D. Zamora), J. Cutajar (L. Meilak).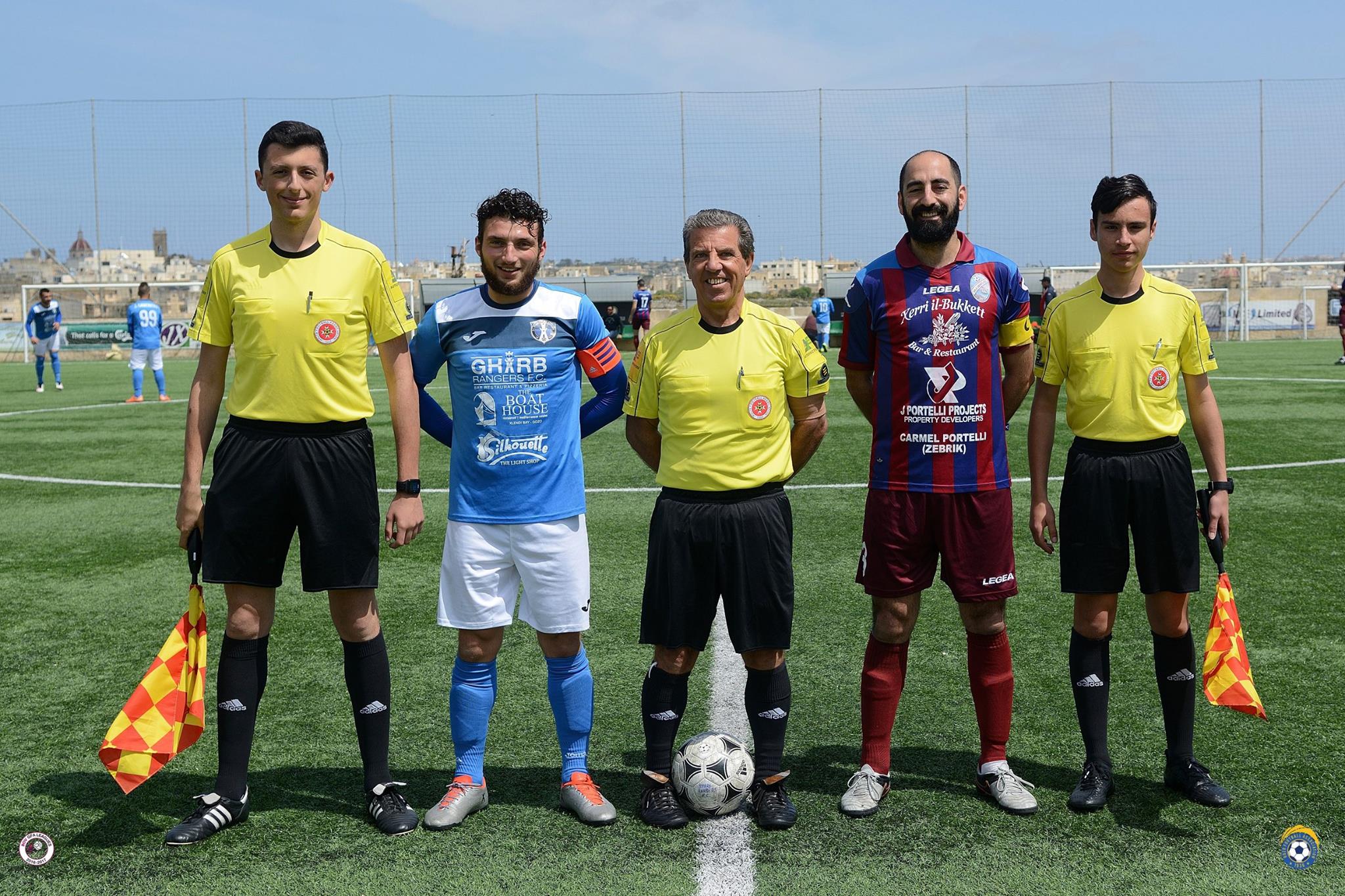 Gharb Rangers obtained their third win over Qala Saints from four matches of the campaign and with the points obtained they remain serious challengers for promotion.  Gharb were the better side and produced more scoring opportunities than their opponents.  Qala tried hard to remain in contention in an attempt to obtain a positive result but at the end they only managed to register a defeat with a respectable score as Gharb obtained the deserved win by scoring one goal in each half.
Gharb came out determined to obtain the victory as they needed to make sure to remain at the top of the table.  In the sixth minute of play Gharb's Josef Camenzuli had a good shot that was saved by goalie Franco Buttigieg.  In another good action by the Rangers on 12 minutes Andrew Ofulue came face to face with Qala's keeper Franco Buttigieg but the latter was well placed and blocked the danger to a corner.  Gharb opened the score on 16 minutes through a header by Dylan Bellotti following a free kick by Ryan Grech.  Qala continued to suffer Gharb's play and two minutes later the Rangers could have added another goal but Andrew Ofulue's shot following a cross by Chris Gafa ended wide.  On 42 minutes Gharb went again close to scoring but Qala's keeper Franco Buttigieg saved to a corner a free kick by Ryan Grech.
The current contenders for promotion Gharb Rangers doubled the score with a goal that arrived in the third minute of play of the second period through Oliver Farrugia's header following a corner kick by Christian Attard.  On 69 minutes Gharb could have score a third goal but Andrew Ofulue's shot from a good position ended high.  Qala's best opportunity to reduce the score arrived two minutes later when Gharb's rear guard failed to clear the danger from their area following a free kick from long distance by Brian Meilak, the ball arrived to substitute Dario Zamora but the latter had his attempt cleared off the fatal line by Gharb's substitute Matthew Grech.  On 83 minutes Gharb's Andrew Ofulue took the ball from Qala's defence but his attempt at goal missed the target and in the second minute of stoppage time Gharb missed another opportunity to seal the victory when Ryan Grech's shot after receiving from Chris Gafa ended wide.
Referee: Joe Mizzi