Frequently Asked Questions
Please find below questions & answers to the most popular questions. Should one not find an answer, you can contact the ticket office at tickets@gozofa.com
Tickets
How can spectators purchase their match tickets?
Match tickets will only be available to be purchased online here. No match tickets will be sold from the stadium ticket booths or outlets on the day.
Will spectators be allowed to watch back-to-back matches?
No, tickets will be sold for individual matches only.
Can spectators purchase a season ticket for the 2021-2022 football season?
Season tickets will NOT be available this season due to the limitations in the capacity of the respective stadia due to Covid-19.
How much does a match ticket cost?
€5 for every ticket. No concession prices for seniors or children due to the limited capacity because of COVID-19. Everyone entering, regardless of age must have their own ticket.
What do spectators require to enter the stadium for football matches?
The printed ticket and ID Card are required for entrance as the certificate will be verified in advance. Once your certificate is verified, as long as it is on file you can buy other tickets and print them straightaway.
Over 12 years:

must present their ticket and matching ID Card.

Under 12 years:

must bring the document verifying age as their ID in addition to the printed ticket
Where are the sides located?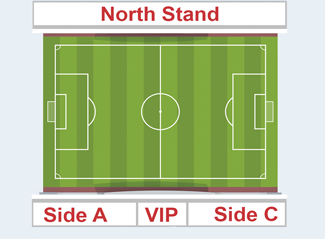 Side A is the side which is closest to Universal Sports Bar
Matchday
What time will the gates open?
Gates open 90 minutes before kick-off
How will I enter the stadium?
You need to present the printed ticket and corresponding ID to a steward at the gate
Do spectators need to wear face masks?
Yes, a face mask is to be worn at all times when attending a match.
Will matches be Live-Streamed?
Yes, all matches will be live-streamed by AMA Livestream on a pay per view basis.
Can members of the same household sit near each other?
Social distancing will be applied in the seating arrangement of every stadium. At the moment, all attendees must respect such a seating arrangement.
I am buying a ticket for children under 12 years. What do I need to do?
Children under 12 years are exempted from the obligation to show the vaccination certificate. The document uploaded on the ticketing platform needs to be one that shows the age of the child in question (e.g. birth certificate, passport).
Buying Tickets Online
What information do I need to give when buying a ticket online?
To buy tickets online you need to register via gozofa.com/tickets. You will need to provide an email address where a validation code will be sent. You will then be asked to enter your name, surname, Identity Card number, and contact number.
When buying a ticket you will be asked to upload your vaccination certificate. Please ensure that you have it on the device you are using on a .pdf file not larger than 750kb
I cannot upload my vaccination certificate?
Please ensure that you have it on the device you are using as .pdf file not larger than 750kb.
I cannot buy tickets in the sector desired. Why?
Due to limitations in the maximum capacity of stadia, it could be that the sector is sold out. Alternatively, it could be that the sector is being sold online through the website of one of the clubs playing.
I bought the ticket, but I still cannot print/download it. Why?
Once you upload your vaccination certificate, this would have to be approved manually before you can print or download your ticket. Until the certificate is verified, you will see the following message:
Once the vaccination certificate is verified, the grey boxes would appear in red, meaning you can print or download your ticket. Once you do this, the box will turn green.
AFTER your certificate has been approved with your first ticket purchase, you can then buy tickets for future matches and print them straight away. The approval process is a first-time one.
How many tickets can I buy?
You can add 'Guests' under your account. Your list of guests can be seen from the menu under 'My Guests' and you can add up to 9 guests.
What are guests?
These are other members of your household or close friends you are also buying tickets for other than yourself. You can have no more than 9 Guests.
Can I change which guest will be attending?
Once you buy a ticket for a specific person, you can NOT change who is allowed to use that ticket! Each ticket is linked with the vaccine certificate for that person.
Will I need to verify the vaccine certificate with every purchase?
No, the vaccine certificate is verified once during the first purchase.
Contact Ticket Office
Please be sure that your query is not already answered above in the FAQ.
Email: tickets@gozofa.com