GFA Cup Semi-final
Gozo Stadium
Kercem A : 2 (G. Franca Amadio 20', 89')
F. Vella, M. Tabone, P. Kyumyurdzhiev, M. Mifsud, L. Grima, P. Taylor, J.P. Mizzi, A. Mizzi, O. Spiteri (J. Buttigieg), T. Grozev, G. Franca Amadio.
Ghajnsielem : 5 (R. Telles 10', F. Apap 60', E.P. Lattes 91', C. Camilleri 103', K. Mercieca 120')
L. Buttigieg, R.P. Telles, J.J. Sandoval Guarin, S. Cassar, D. Hili (Al. Xuereb), F. Apap, A. Tramboo (K. Hili), C. Camilleri, E.D. Bilboa Zarate, J. Camilleri (K. Mercieca).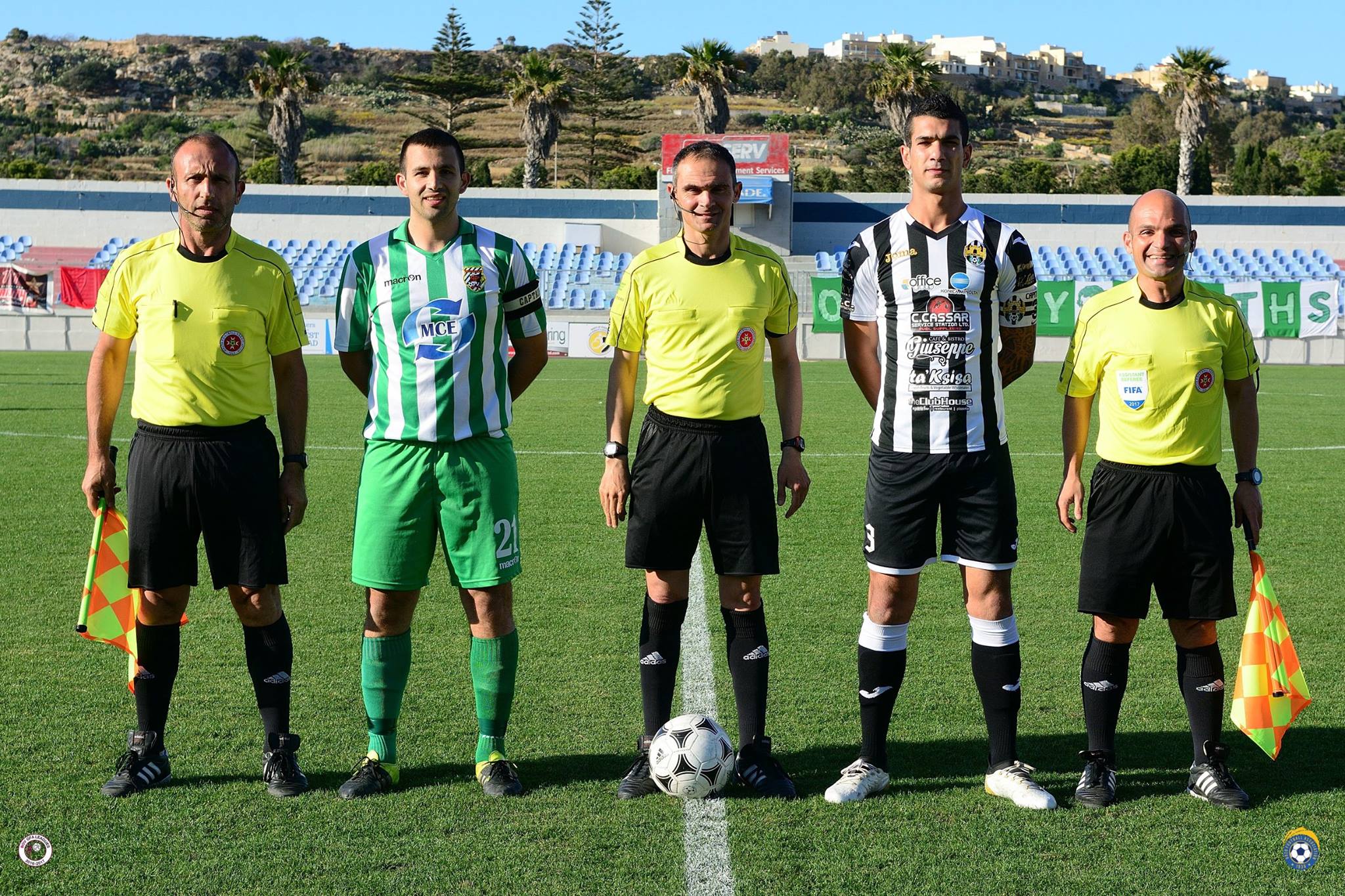 Ghajnsielem maintained their ambition to make up for a disappointing championship by winning the first semi-final match of the GFA Cup against Kercem Ajax.  Ghajnsielem's win was well deserved as they held command of play for most of the second period and throughout the half hour of play of extra time.  The Blacks seemed heading towards a close win during the regular time but Kercem, who remained in contentions mainly due to some very important interventions by goalie Franklin Vella, had a good reaction during the dying moments, scored the second equaliser and forced extra time.  Ghajnsielem however regained composure during the extra time and scored three goals to make sure of qualification.
Play during the first period was quite balanced with good scoring opportunities at the two ends of the field.  On 5 minutes Ghajnsielem's central defender Ferdinando Apap cleared off the goalmouth a shot by Gustavo Franca Amadio following a short clearance by the defence.  One minute later Ghajnsielem protested for a penalty when Renan Telles ended on the floor in the area following a counter break and on 7 minutes Kercem's Trayo Grozev had a close ranged attempt following a low cross by Andrew Mizzi that was blocked to a corner by Ferdinando Apap.  Ghajnsielem opened the score three minutes later when John Camilleri's header form a cross by Chris Camilleri was partially saved by goalie Franklin Vella and form the rebound Renan Telles pushed the ball into an open goal.  Kercem had an immediate reaction and on 13 minutes Trayo Grozev failed to connect to an inviting cross by Gustavo Franca Amadio.  From the same action the ball arrived to Andrew Mizzi who had his cleared off the fatal line by Ferdinando Apap.  Kercem scored the equaliser on 20 minutes when Owen Spiteri released Gustavo Franca Amadio who entered the area and deposited the ball in goal with a low drive.  Ghajnsielem could have regained the lead on 26 minutes but a strike by Emiliano Lattes was cleared off the goalmouth, with the goalkeeper beaten, by Mario Mifsud so that the score remained unchanged until half time.
The Blacks took full control of play and on 52 minutes they went again close to scoring when Kercem's goalie Franklin Vella saved but did not hold a header by John Camilleri and Mario Mifsud cleared the ball off the fatal line.  The same goalkeeper was again called to make two difficult saves on 57 minutes, on separate occasions, following shots by Chris Camilleri and Renan Telles.  One minute later goalie Franklin Vella was well placed and saved with difficulty a header by Renan Telles following a cross by Emiliano Lattes.  Ghajnsielem's efforts were rewarded on the hour mark when they regained the lead through a fine header by Ferdinando Apap following a corner kick by Chris Camilleri.  Ghajnsielem kept insisting and on 66 minutes Kercem's keeper saved to a corner a good strike by Renan Telles who took the ball from a wrong clearance by Kercem's defence.  On 72 minutes Kercem were dangerous through a direct free kick by Gustavo Franca Amadio that was saved to a corner by goalie Luke Buttigieg and one minute later Kercem's goalie Franklin Vellla was again called to make a difficult intervention to deflect a cross by Renan Telles addressed towards an unmarked John Camilleri.  Goalie Vella continued to be the protagonist of the match and on 79 minutes he headed the ball from outside the area to stop a counter break by the opponents and the same keeper recovered his position in time to clear away a lob form long distance by Chris Camilleri addressed to an open goal.  From the clearance the ball arrived to Damon Hili who had his attempt blocked to a corner by the defence.  During the final stages Kercem regained some courage and increased their efforts to recover the deficit.  The Ajax managed to clinch the equaliser on 89 minutes through a direct free kick by Gustavo Franca Amadio that surprised Ghajnsielem's rear guard so that the match had to be extended to extra time.
Ghajsnielem however came out more determined for the extra time and regained the lead in the first minute of play of the first half of extra time through Emiliano Lattes who had his first attempt form a cross by Stefan Cassar blocked on the fatal line by defender Manuel Tabone but the same Lattes fired in goal from the rebound.  Kercem seemd shocked and on 100 minutes Ghajnsielem went again close to scoring but goalie Franklin Vella saved with difficulty a good shot from close distance by Renan Telles after receiving from substitute Kenneth Mercieca.  The Blacks scored their fourth goal, and practically put their minds at rest form the qualification, on 103 minutes through a tap-in by Chris Camilleri following a low cross by Renan Telles.  Kercem found it very difficult to re-open the issue and the closest that they went to scoring was on 112 minutes through a shot by Andrew Mizzi that ended wide.  Ghajnsielem sealed the victory with the fifth goal that arrived on 120 minutes when Renan Telles entered the area from the left flank following a counter break and Kenneth Mercieca followed the action and deposited the ball into an open goal.
Referee: Sandro Spiteri