GFA BOV Gozo Football League Division I
Gozo Stadium
Gharb R : 1 (D. Stojanovic 45+1')
D. Spiteri, M. Grech (A. Sultana), D. Stojanovic, J.P. Grima, J. Azzoaprdi, D. Bellotti (L. Meilak), B. Polo Longarela, M. Nwankwo, E. Tawiah, J. Portelli (J. Camenzuli), M. Bezzina.
Kercem A : 1 (O. Rolovic 19' pen.)
J.P. Cassar, P. Kyumyurdzhiev, M. Tabone, N. Mercieca, A. Komljenovic, J.P. Mizzi, A. Mizzi, E. Vella, M. Mamo, A. Haska, O. Rolovic.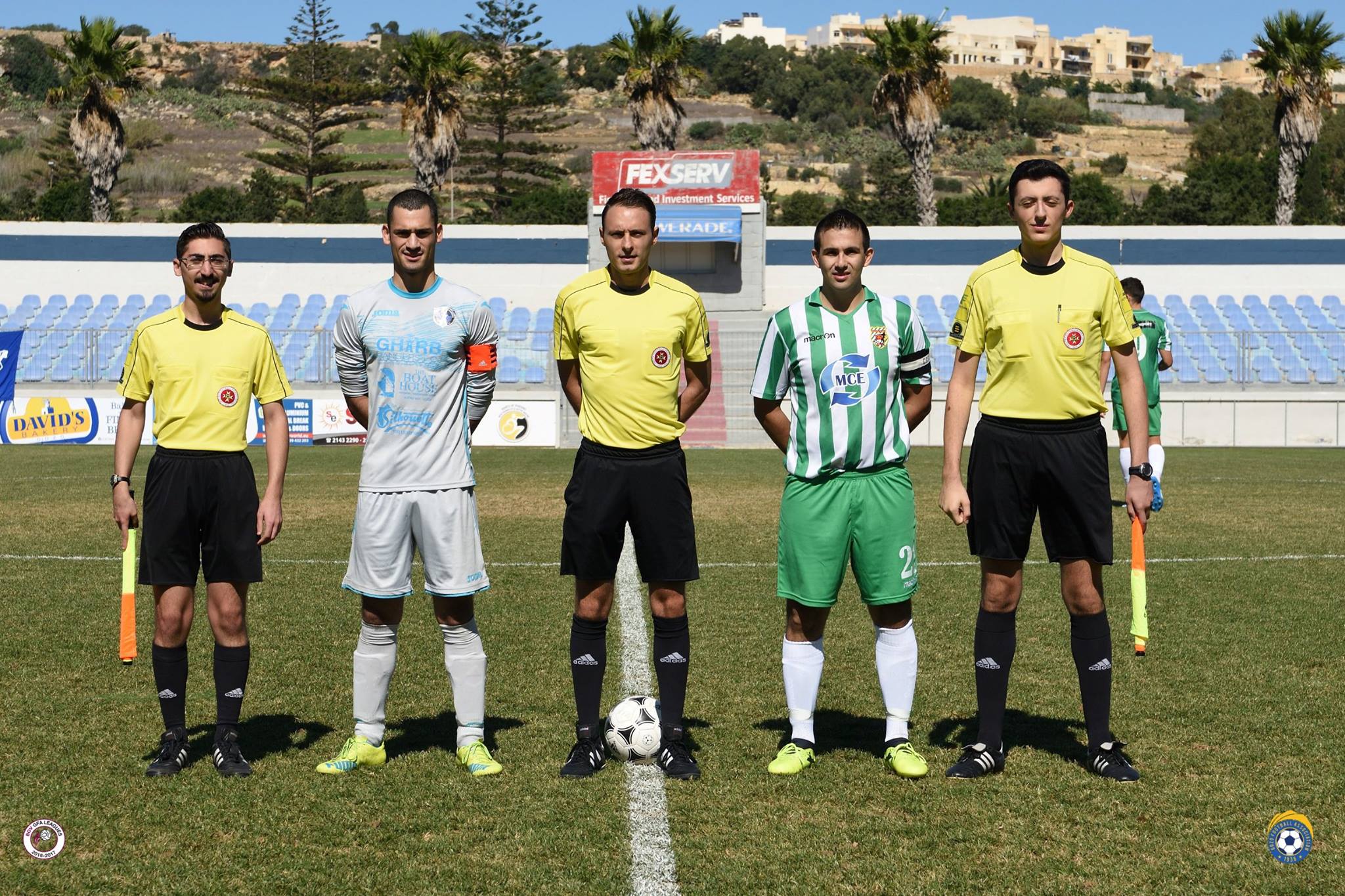 Gharb Rangers registered the second consecutive positive result from a draw of two goals in the match against Kercem Ajax.  The Ajax were coming from a victory in their previous match and started the encounter against Gharb as hot favourites to win the full points at stake.  However, Kercem made some tactical changes from their previous starting line-up and ended up conceding space at their defensive department so that Gharb were very often more dangerous in their play.  Moreover, Kercem's play in attack was sterile as their main striker Ognjen Rolovic was well controlled by Gharb's defenders.  Gharb once again impressed with their determination and this was the third match from four where they could have deserved more points. As happened in previous matches, Gharb compromised the possibility to obtain their first win in the championship due to their weak finishing as they fail to conclude with serious danger their actions against their opponents.  With this result the two sides remain in the lower part of the table which is made up of five teams in the space of two points.
The two teams had an offensive approach as they were both aiming to win the encounter.  As a result the match produced a number of potential dangerous actions but at the same time the two sides exposed they difficulties to convert their respective play into goals.  In the third minute of play Kercem's rear guard failed to clear the danger from the area following a free kick and the ball arrived to an unmarked Borja Polo Longarela but the latter had his attempt stopped by the post.  On 7 minutes Gharb's goalie was well placed to save a shot by Petar Kyumyurdzhiev and one minute later Gharb's striker Moses Nwankwo entered Kercem's territory with a counter break, turned around the goalkeeper but failed to conclude towards goal and defender Nathaniel Mercieca recovered and cleared the danger.  Kercem were awarded a penalty on 18 minutes when a cross by Petar Kyumyurdzhiev was handled by Borja Polo Longarela, following a call by the assistant referee, and Ognjen Rolovic converted from the spot kick.  Gharb were not demoralised and on 25 minutes an overhead kick by Dylan Bellotti ended high while Kercem replied two minutes later through a close ranged attempt by Andrew Mizzi following a cross by Petar Kyumyurdzhiev that ended on the side of the net.  On 29 minutes Gharb operated a counter break, through Dylan Bellotti, that was blocked to a corner by the defence; and from the resultant corner action two consecutive attempts were blocked with some difficulty by Kercem's rear guard. One minutes later Kercem were again dangerous through a cross shot by Elton Vella that ended just high.  Gharb levelled the score in the first minute of stoppage time before the break when Darko Stojanovic pushed the ball in goal from a melee in front of Kercem's goalmouth that was created from a corner action.
The two sides continued to create offensive play after the break and on 48 minutes Gharb's Moses Nwankwo concluded badly from an ideal position following a personal action by Michael Bezzina.  One minute later Gharb's Borja Polo Longarela had a good shot that was well saved by goalie John Paul Cassar and on 51 minutes Kercem replied through an attempt by Alen Haska that ended just wide.  One minute alter Gharb's Borja Polo Longarela had a shot that was deflected to a corner by the defence with the goalkeeper beaten and on 54 minutes, an effort by Michael Bezzina ended high.  Kercem went again close to scoring on 66 minutes through an overhead kick by Andrew Mizzi that missed the target and two minutes later Gharb had two consecutive shots by Borja Polo Longarela and Ezekiel Tawiah that were blocked with some difficulty by Kercem's defence.  Kercem's Ognjem Rolovic had an attempt directly from a free kick on 72 minutes that ended just high and on 88 minutes Gharb ended with ten players as Michael Bezzina was shown a second yellow card for simulation as he was trying to avoid a defender within Kercem's area.  Gharb insisted more during the dying moments and could have earned the victory on 90 minutes but an effort by substitute Josef Camenzuli ended wide.
Referee: Slobodan Petrovic