12 December 2020
GFA BOV Gozo Football League Division II – Match Day 4 Kercem Ajax Stadium
Gharb Rangers FC : 1
Munxar Falcons FC : 1
6' (1-0) Luke Attard
13' (1-1) Steve Dimech
63' (red card) Arthur Farrugia (GR)
67' (penalty missed – high) Luke Attard (GR)
79' (red card) Aaron Buttigieg (MF)
Gharb R:
J.P. Cassar, C. Hili (N. Mercieca), G. Sillato, O. Saliba, P. Djorovic, A. Farrugia, L. Attard, M. Grima (R. Zammit), M. Grech, A. Tabone (L. Dimech), M. Farrugia.
Munxar F:
D. Galea, A. Buttigieg, S. Dimech (D.P. Borg), L. Attard (R. Sammut), L. Meilak, J. Grima, N. Attard (M. Azzopardi), F. Azzopardi (K. Mizzi), A. Carvalho, R. Grima, F. Cini.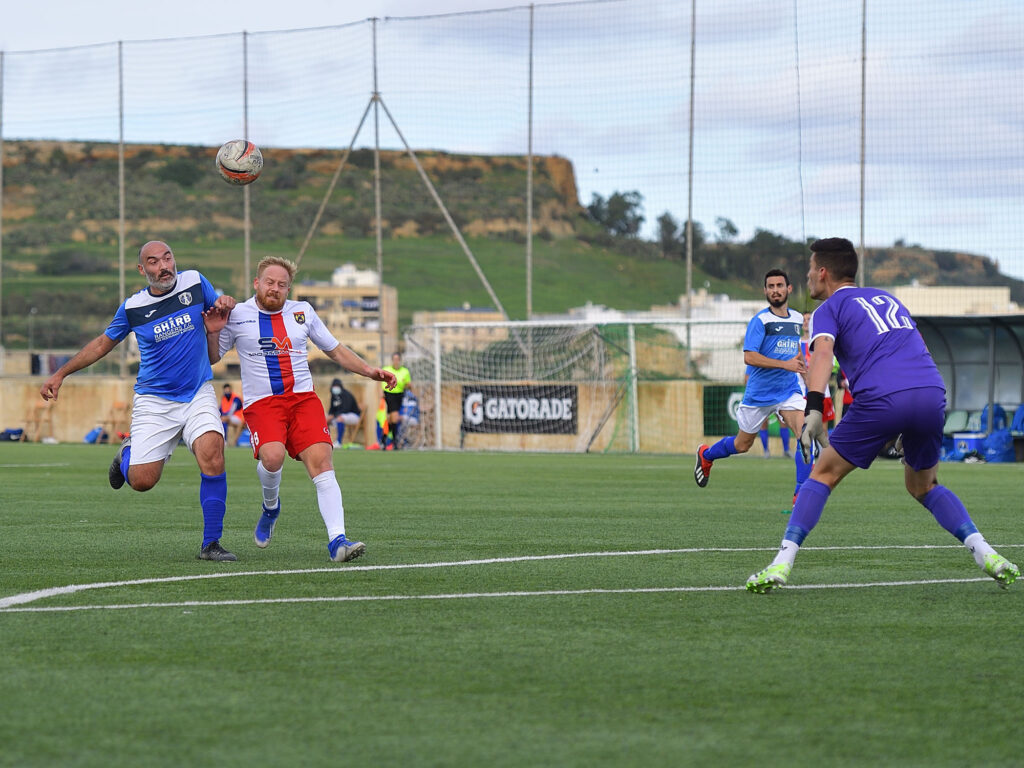 In the main match of the weekend from the BOV Gozo Football League of the second division Gharb Rangers and Munxar Falcons earned a point each from a draw of two goals. The final result matured with goals scored during the opening stages of the match as both Gharb and Munxar were very erratic in their finishing and failed to capitalise from their best scoring opportunities.
For this match Gharb and Munxar were aiming to obtain a win in an attempt to remain close to the current leaders Qala Saints. Gharb had a better start and took the lead by scoring an early goal, but the Falcons staged an immediate reaction and levelled the score after seven minutes. Munxar held territorial supremacy for the rest of the encounter and produced more scoring opportunities. However, Gharb went closets to win the full points when they missed to convert a penalty kick midway through the second period. With this result, Munxar ended their commitments of the first round with just five points from four matches and may have compromised their chances to challenge for promotion. On the other hand Gharb only gained their second positive result from three matches but may remain close to the top spot if they win their last match of the first round.
Timeline
Gharb seemed in a better shape during the opening minutes but Munxar recoeved well and held command of play during the last part of the first half.
4' Gharb had an attempt through an effort by Charles Hili that ended wide.
6' (1-0) Gharb opened the score when Luke Attard received the ball from the midfield, entered Munxar's territory and placed in goal with a low drive.
12' Gharb could have doubled the score but an attempt directly from a free kick by Predrag Djorovic was turned to a corner with difficulty by Munxar's goalie Daniel Galea.
13' (1-1) Gharb were punished for the missed chance as Munxar levelled the score when Ayesller Carvalho passed inside Gharb's area to Steve Dimech who pushed the ball into an open goal from close distance.
18' Munxar could have turned the result in their favour when Ayesller Carvalho released Steve Dimech within Gharb's territory but the goalkeeper left his position in time and managed to block Dimech's attempt towards goal.
23' Munxar were unlucky when a strike from outside the area by Nicholas Attard was stopped by the crossbar.
25' In another dangerous action by Munxar, Ayesller Carvalho lobbed over the goalkeeper who was out of his position, but the ball ended wide.
42' Gharb replied with a shot from outside the area by Charles Hili that was saved in two attempts by goalie Daniel Galea.
44' Munxar once again lost a good scoring opportunity but Steve Dimech's header following a free kick by Luke Meilak ended wide.
HT (1-1)
Munxar continued to produce more offensive play after the break.
2' Ayesller Carvalho passed through Gharb's defence with a personal action but from his low inviting cross, Steve Dimech failed to connect.
4' Munxar's Steve Dimech received the ball when he as alone in the area but the ball was stopped by the post. Munxar's Joseph Grima netted from the rebound but the goal was disallowed for an offside infringement.
18' (red card) Gharb were reduced to ten players when Arthur Farrugia was sent off for a second bookable offence received for a foul in the midfield.
22' (penalty missed – high) Gharb had a golden opportunity to regain the lead when they were awarded a penalty for a foul by Aaron Buttigieg on substitute Lauran Dimech, but the shot from the spot kick by Luke Attard ended over the crossbar.
34' Munxar were also reduced to ten players a Aaron Buttigieg was shown a straight red card for a rough tackle on Gharb's substitute Rueben Zammit in the midfield.
42' Munxar's Ayesller Carvalho had an attempt directly from a free kick that ended high.
45+2' The same Carvalho tried to conclude directly from another free kick but on this occasion the ball ended wide.
FT (GR 1 – MF 1)
Referee: Ryan Caruana