28 February 2021
GFA BOV 2nd Division Cup – Qualifying Round Kercem Ajax Stadium
Zebbug Rovers FC : 0
Munxar Falcons FC : 5
12' (0-1) penalty Ayesller Carvalho
18' (0-2) penalty Ayesller Carvalho
29' (0-3) Ayesller Carvalho
55' (0-4) Steve Dimech
62' (0-5) Ayesller Carvalho
Zebbug R:
L. Gatt, S. Farrugia, C. Gauci, K. Bonnici (A. Touarha), L. Farrugia (O. Mercieca), M.M. Uzor, E. Scerri (J. Bonnici), O. Atzori, J. Azzopardi (P. Spiteri),  M. Formosa, R. Saliba.
Munxar F:
D. Galea (M. Spiteri), C. Gafa (B. Meilak), A. Buttigieg, M. Azzopardi, S. Dimech, L. Meilak, N. Haber, N. Attard, A. Carvalho, R. Sammut (J. Vella), D.P. Borg.
Munxar Falcons recovered from the defeat conceded in their opening match of the competition and obtained a convincing 5-0 win over Zebbug Rovers. With this win Munxar re-opened their chances to clinch a place in the final, while Zebbug practically compromised their hopes of challenging for the second most important honour for the lower category.
Munxar dominated over their opponents throughout the match and practically made sure of the win with three goals scored during the first period. Zebbug never managed to produce a reaction and Munxar's goalie was never called to make any difficult save. The protagonist for Munxar in this match was Ayesller Carvalho who scored four personal goals.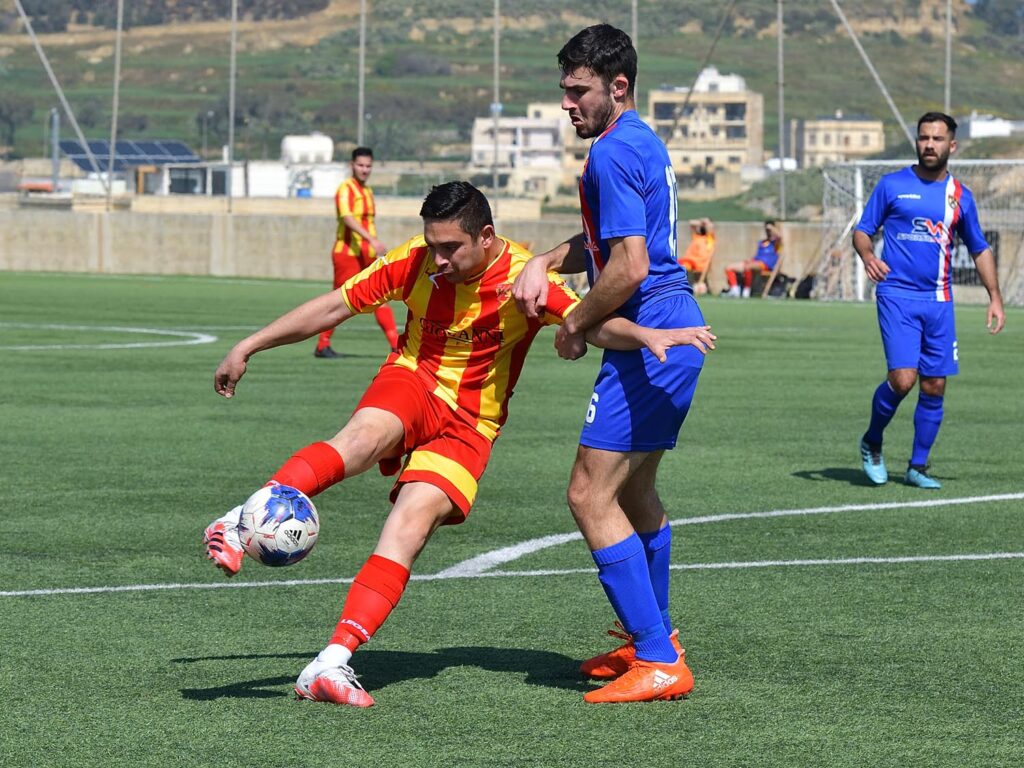 Timeline
During the first minutes of play took place in the midfield as the two sides tried to take the initiative. However, as time passed by Munxar took command of play in the midfield and scored three goals.
12' (0-1) penalty – Munxar opened the score when they were awarded a penalty for a foul by Emmanuel Scerri on Ayesller Carvalho and the same Brazilian striker converted from the spot kick.
18' (0-2) penalty – Munxar were awarded a second penalty following a tackle by Carl Gauci on Ayseller Carvalho and the same striker placed in goal with the shot from the 11 meters
29' (0-3) Munxar's striker Ayesller Carvalho registered his personal hat-trick when he fired in goal from close distance after receiving from Derek Paul Borg.
HT (0-3)
Munxar continued to enjoy supremacy after the break.
9' The Falcons lost a good opportunity to score another goal when Steve Dimech entered the area from the right flank but from his inviting cross Mario Azzopardi failed to conclude from close distance and the defence cleared the danger.
10' (0-4) Munxar increased their lead when Ayesller Carvalho entered the area from the left flank and from his low cross Steve Dimech placed in goal with a tap-in.
13' Munxar could have added another goal but Roberto Sammut saw his shot from a good position, after receiving from Ayesller Carvalho, which ended high.
17' (0-5) Munxar's fifth goal of the encounter arrived following a break by Derek Paul Borg from the right flank and from his low cross Ayesller Carvalho arrived on the ball before his direct opponent and pushed the ball in goal from close distance.
30' Zebbug's goalie Liam Gatt made a good intervention to deflect to a corner a sot from an angled position by Aaron Buttigieg
FT (ZR 0 – MF 5)
Referee: Joseph Agius