1 April 2022
GFA BOV Gozo Football League Division I (MD 18) Gozo Stadium
Sannat Lions FC : 0
Nadur Youngsters FC: 7
6' (0-1) Stefan Cassar
24' (0-2) Lucas Moreira
36' (0-3) Marcelo Junior Barbosa
50' (0-4) Joseph Zammit
52' (0-5) Ederson Bruno Domingos
57' (0-6) Stefan Cassar
80' (0-7) Joseph Xerri
Sannat L:

L. Xuereb, A. Sultana, M. Azzopardi, L.B. Da Silva, N. Grima, M.M. Uzor, M. Mamo (R. Grech), H. Muscat, M. Mifsud, A. Azzopardi, F.J. Xuereb.
Nadur Y:

S. Sultana, M. Tabone,  L. Moreira, J.M. Vella, I. Xuereb (M.P. Camilleri), J. Zammit, M.J. Barbosa, S. Cassar, E. Bruno Domingos (J. Xerri), G. Hili (O.P. Bugeja), J. Parnis (L. Atzori).
Champions Nadur Youngsters registered their second 7-0 win in the championship in their match from Match-Day 18 against relegation strugglers Sannat Lions. The final score indicates the superiority of Nadur over their opponents as the former dominated throughout the ninety minutes and had their minds at rest from the comfortable win before the hour mark of the encounter.
Sannat had Henry Fabian Solis and Daniel Borg missing due to suspension, while midfielders Nebojsa Buciljeciv and Dylan Bellotti were not utilised due to injuries.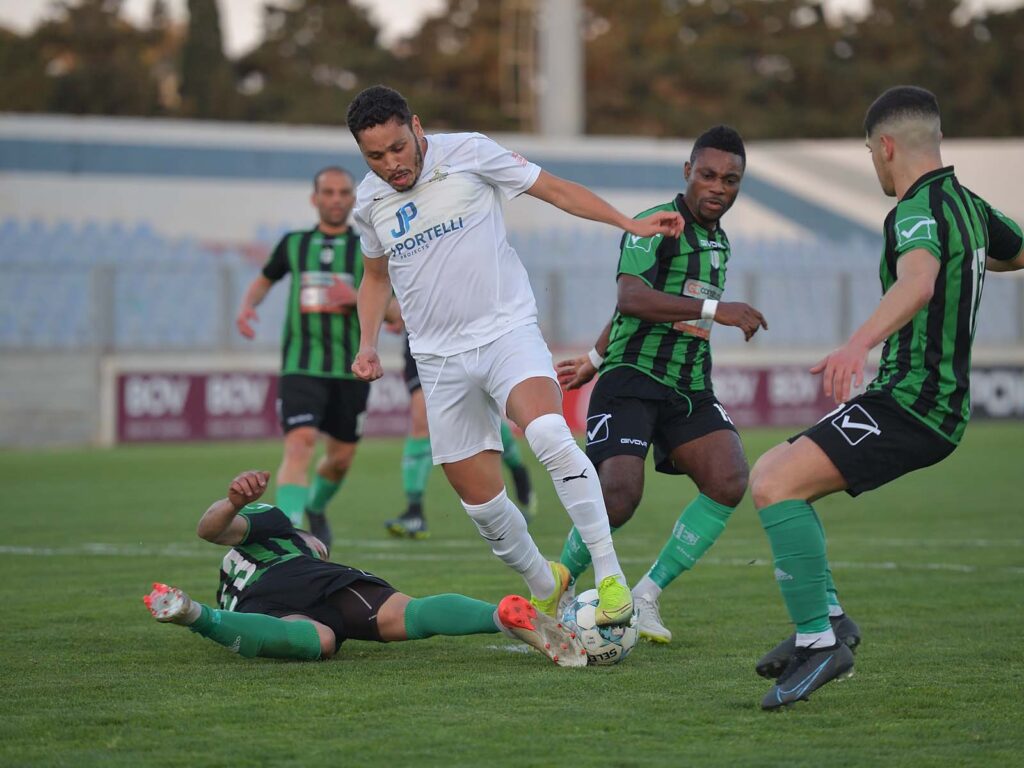 Timeline
Nadur was very aggressive from the opening stages and paved the way to the win by scoring an early goal.  Sannat seemed very weak and was forced to defend with many players for long stretches.
3' Nadur had their first attempt towards a goal that arrived through a shot from outside the area by Joseph Mario Vella that was neutralised by goalie Lorjean Xuereb.
6' (0-1) Nadur opened the score when Marcelo Barbosa delivered a low cross towards the far post and Stefan Cassar followed the action and deposited it easily into an open goal.
24' (0-2) Sannat's goalie made a difficult save to turn to a corner a strike from outside the area by Ederson Bruno Domingos. From the resultant corner action, the same Bruno Domingos exchanged the ball inside the area with Marcelo Barbosa but his low shot was partially saved by the goalkeeper so Lucas Moreira took the rebound and fired in goal from close distance.
30' Nadur were again dangerous but two consecutive attempts by Stefan Cassar were blocked by Sannat's goalie Lorjean Xuereb.
35' Nadur could have added another goal when Marcelo Barbosa passed through Sannat's defence with a personal action but his shot from an ideal position missed the target.
36' (0-3) Marcelo Barbosa made up for his previous mistake as he was unmarked inside Sannat's area with a low through pass by Ederson Bruno Domingos and the former netted with a fine shot as he came face to face with the goalkeeper.
40' In another good action by the Youngsters was dangerous but an effort from close distance by Ederson Bruno Domingos following a low pass by Joseph Mario Vella ended wide.
42' Nadur's Joseph Zammit had a curling shot that just missed the target.
HT (0-3)
Second Half
Nadur continued to dominate over their opponents after the resumption and scored three more goals before the hour mark so that they took their foot off the pedal for the last part of the match where they administered play without giving any opportunity to their opponents to threaten their defence.
3' Nadur's Marcelo Barbosa went very close to increasing the lead for his side but his shot following a personal action ended wide.
5' (0-4) Nadur's Joseph Zammit marked his return to the local championship, after his successful debut with the U/21 National Team by scoring a goal, by adding the lead when he headed out of the reach of the goalkeeper following a cross by Stefan Cassar.
6' (crossbar) Nadur's Marcelo Barbosa had a good header following a cross by Stefan Cassar that was
7' (0-5) Nadur scored another goal when Ederson Bruno Domingos received the ball inside Sannat's area and placed it easily in goal with a low shot.
12' (0-6) Nadur's substitute Lorenzo Atzori was stopped from concluding towards goal by the defence but the ball arrived at an unmarked Stefan Cassar who placed in goal with a shot towards the far corner of the net.
35' (0-7) Nadur scored another goal through a close-range shot by substitute Joseph Xerri after receiving an inviting pass from the other substitute Owen Peter Bugeja.
39' Sannat had their best opportunity to score a consolation goal but a shot from close distance by Lucas Baretto Da Silva was blocked by Nadur's keeper Steve Sultana.
42' Sannat's goalie Lorjean Xuereb denied Nadur from scoring another goal when he saved with the aid of the post a shot by Marcelo Barbosa following a personal action and from the rebound the same goalkeeper saved with difficulty a strike by Stefan Cassar.

FT (SL 0 – NY 7)
Referee: Joseph Scerri