18 September 2022
GFA BOV Gozo Football League Division I (MD 2) Gozo Stadium
Xewkija Tigers FC : 0
Sannat Lions FC: 1
5' (0-1) Sebastien Martinez Turizo
Xewkija T:

K. Attard (N. Kosanin), J. Vella, M. Mercieca, J. Buttigieg, R. Buttigieg, J.A. Hernandez Leal, D Bogdanovic (M. Bonnici), A. Bozovic, D. Merceica, D. Andelovic, C. Abela.
Sannat L:

L. Buttigieg, A. Sultana, R.H. Alves Saldanha, R. Grech (O. Grech), N. Grima (T. Agius), C.A. Sanchez Gonzales, D. Borg, L. Silva Gomes, M. Mifsud, S. Martinez Turizo, A. Azzopardi.
In the last match from Mach Day-2 of the BOV Gozo Football League Division I, Sannat Lions scored an early goal against Xewkija Tigers. They defended the lead until the final whistle so that they also won their first points in the championship.  The match was a direct clash between two sides that suffered a defeat in their respective opening match of the championship and they were both determined to make up for the disappointment.
Sannat's win may seem surprising when considering that they conceded a heavy defeat in their previous match, but the points obtained were deserved as they managed to be very pragmatic against Xewkija by fine-tuning their defensive department and by capitalising from the fact that they managed to score a goal during the opening minutes of the encounter.  Sannat is experienced in playing in such situations and in this match they were never intimidated by Xewkija's eighty-minute long reaction.  These are considered three very precious points as Sannat's main ambition this season is to move away from the red zone at the earliest possible stage of the championship,
On the other hand, Xewkija's defeat practically matured as soon as they conceded the decisive goal that originated from a mistake by their defence.  They seemed shocked and as a result, they did not have the required maturity to regain composure and apply an effective offensive manoeuvre.  As time passed by they became nervous and ended up missing at least two very good open scoring opportunities so that they had to leave the field of play empty-handed for the second time in a row.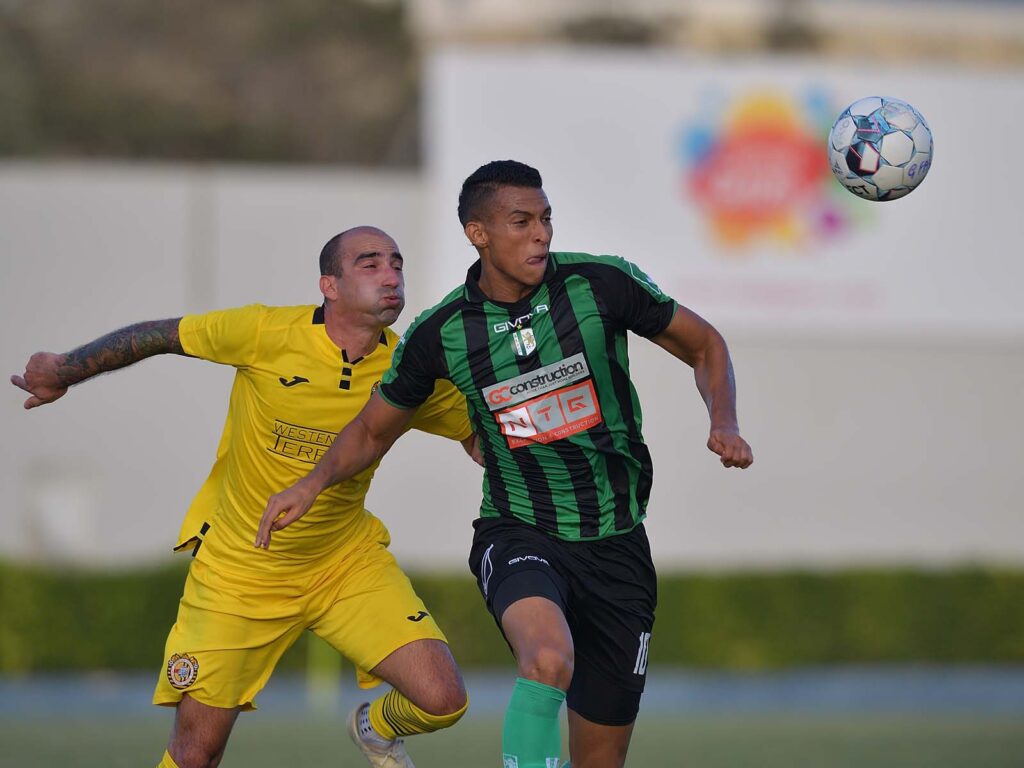 Timeline
Play during the first half was well contested as Xewkija found themselves trailing by one goal after a few minutes and tried to recover the score immediately.  Xewkija held the initiative but was very erratic in their finishing while Sannat continued to surprise the opponents with counter breaks.
2' Xewkija were dangerous through an attempt directly from a free kick by Damir Andelovic but Sannat's keeper Luke Buttigieg saved with difficulty to a corner with the aid of the crossbar.
5' (0-1) Sannat took the lead when Sebastien Martinez Turizo took the ball from Xewkija's defence, avoided his direct opponent and placed it in goal with a curling shot.
10' Xewkija replied with an effort directly from a direct kick by Damir Andelovic that ended just high.
13' Xewkija's Jhanluis Aron Hernandez Leal produced a personal action on the left-hand side of Sannat's area but his attempt was cleared off the goalmouth by defender Mario Mifsud with the goalkeeper beaten.
14' Sannat operated a counter break but the final attempt through a lob by Lucas Silva Gomes was partially saved by goalie Kyle Attard.  From the rebound, Camilo Andres Sanchez Gonzales took the ball but his effort was cleared by the defence.
17' Xewkija missed an open scoring opportunity but a header from an ideal position by Josmar Vella following a corner kick by Damir Andelovic ended incredibly wide.
30' Sannat were again dangerous through a shot by Sebastien Martinez Turizo that was saved in two attempts by goalie Kyle Attard.
40' Sannat went very close to doubling their lead when Lucas Silva Gomes passed inside Xewkija's area from the left flank but his two consecutive attempts were blocked by goalie Kyle Attard and the action ended in a corner.
41' Xewkija's Jhanluis Aron Hernandez Leal had an attempt from an angled position that was blocked by Sannat's goalie and the defence cleared the danger from the area.
HT (0-1)
Second Half
Xewkija came out for the second period determined to recover the deficit and increased their pressure on Sannat's defence. The latter however retained their defensive deployment and continued to threaten Xewkija's rear guard with counter breaks so that the outcome of the encounter remained uncertain.
3' Xewkija missed another open scoring opportunity when Hernandez Leal delivered an inviting cross towards Sannat's goalmouth but Rodney Buttigieg incredibly headed over the crossbar from close distance.
10' In another good action by Xewkija Hernandez Leal had a good shot that was well saved by goalie Luke Buttigieg.
13' Xewkija were again dangerous when Rodney Buttigieg passed to Damir Andelovic outside Sannat's area but the latter had his shot on the run the missed the target.
28' Sannat could have capitalised on an interesting situation and Sebastien Martinez Turizo took the ball from Xewkija's defence and released Lucas Silva Gomes but substitute goalkeeper Nikola Kosanin left his position in time to take the ball before the striker could hit an open goal.
38' Sannat should have made sure of the win when Sebastien Martinez Turizo released Camilo Andres Sanchez Gonzales but the latter saw his low drive aimed towards the far post, when the goalkeeper left his position, that ended wide.
FT (XT 0 – SL 1)
Referee: Slawomir Olucha