15 October 2022
GFA BOV Gozo Football League Division I (MD 7) Gozo Stadium
Ghajnsielem FC : 0
Kercem Ajax FC : 0
Ghajnsielem:

A. Parnis, K.Borg, A. Xuereb, D. Farrugia, M. Bezzina, J.P. Oliveira Santos, S. Attard, K. Farrugia, N.I. Belhadj, K. Grima, C. Camilleri.
Kercem A:

D. Spiteri, D. Cassar, N. Mercieca (A. Zammit), L.H. Santana Motta, J. Theuma, P. Vinicius De Moraes Ferreira, A. Mizzi, G. Cardona (C. Attard), K. Formosa, S. Azzopardi, M.V. Da Costa Soares Da Silva.
In the last match from Match-Day 7 of the GFA BOV Gozo Football League of the first division, Ghajnsielem and Kercem Ajax shared the spoils in a goalless draw so that the two sides lost an opportunity to keep very close to the leaders Nadur Youngsters.  With this result, Nadur Youngsters are mathematically the sole leaders of the championship at the end of the first round.
The match between Ghajnsielem and Kercem Ajax was a direct clash for the top places on the table.  Kercem, who is still undefeated after six matches, needed a win to maintain their runners-up position and to retain the possibility of moving over Nadur when they recover the game that they have in hand.  On the other side, Ghajnsielem were coming from a disappointing defeat and an inconsistent run during the first round, and therefore they needed a win to reduce their gap from the top teams.
Ghajnsielem and Kercem had to play this match without some regular players.  The Blacks had Claudio Henrique Da Silva Barbosa who was suspended, while Patrick Dos Santos Cruz and Valdeci Candido Junior were not on the player's list due to injuries.  On the other hand, Kercem had Bruno Da Cruz who was not available for this match due to an injury.  The match turned out into a well-contested encounter where neither side managed to prevail over the opponent.  Both sides also failed to convert their best chances in front of the goal so the final score was the just result.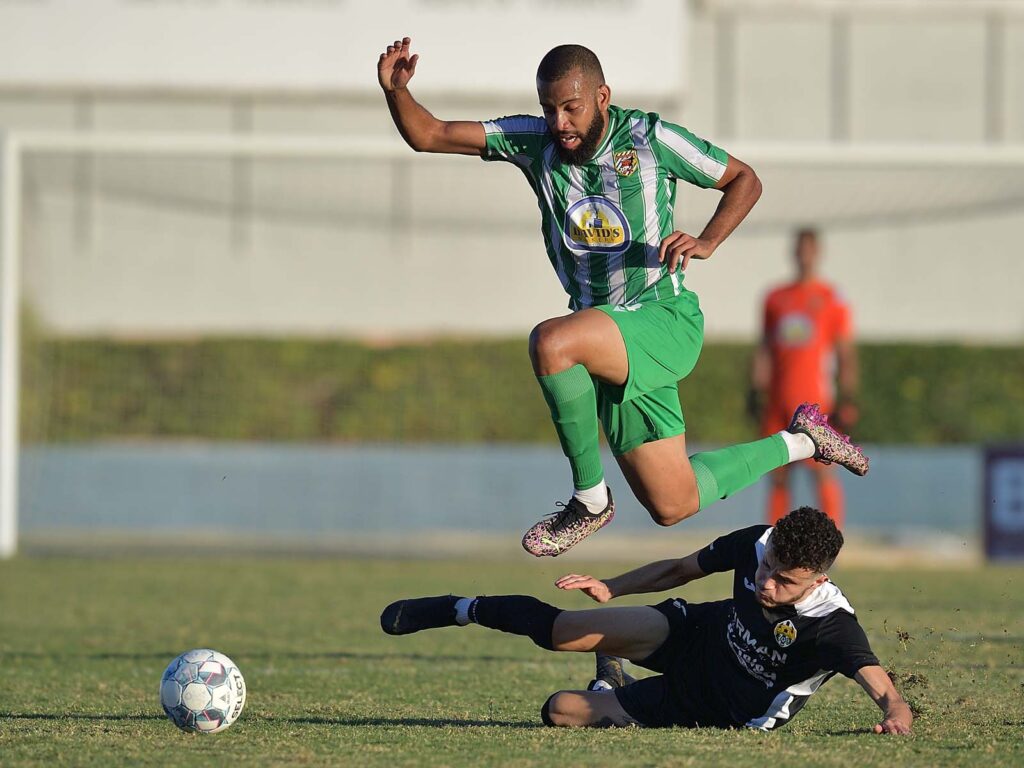 Timeline
The two sides tried to take command of play from the early stages but the two defensive departments were well-organised and neutralised the efforts of the strikers.  As time passed by the match became more contested but with few serious scoring opportunities.
14' Ghajnsielem created the first dangerous action but a curling shot by Shaun Attard was saved with some difficulty by Kercem's keeper Daniel Spiteri.
15' From the resultant corner action Kercem's defence found it difficult to clear the ball from their area and at the end Ghajnsielem protested for a penalty alleging handling by Kercem's Karl Formosa.
17' The Ajax had their first serious attempt towards Ghajnsielem's goal through a strike by Marcos Vinicius Da Costa Soares Da Silva that was well saved by goalie Adrian Parnis.
25' Ghajnsielem should have created more danger when Joao Pedro Oliveira Santos entered Kercem's territory with a personal action but hesitated to conclude or to pass to another striker so that central defender Luiz Henrique Santana Motta recovered in time and ran away with the ball from the danger area.
42' Ghajnsielem's Daniel Farrugia had a header following a corner kick by Chris Camilleri that ended high.
45+2' Kercem were dangerous through an attempt directly from a free kick by Marcos Vinicius Da Costa Soares Da Silva that was blocked by goalie Adrian Parnis.
HT (0-0)
Second Half
Ghajnsielem came out more determined after the break and during the initial stages, they produced some pressure on their opponents.  Kercem managed to resist and recover from the difficult moment and by the hour mark, the match became contested as it was throughout the first half.
3' Ghajnsielem were dangerous through a direct corner kick by Chris Camilleri but Kercem's Marcos Vinicius Da Costa Soares Da Silva headed away from the goalmouth to avoid a certain goal.
9' Kercem's first attempt of the second period arrived through a direct free kick from a long distance by Pablo Vinicius De Moraes Ferreira that ended away from goal.
20' Kercem were again dangerous through a header by Marcos Vinicius Da Costa Soares Da Silva following a cross by Nathaniel Mercieca that ended just wide.
33' Ghajnsielem replied with an attempt directly from a free kick by Chris Camilleri that ended high.
38' Kercem could have created more danger but Andrew Mizzi headed weakly following a cross by Daniel Cassar and goalie Adrian Parnis saved without difficulty.
FT (GHJ 0 – KA 0)
Referee: Sergii Boiko