23 October 2022
BOV GFA Cup (Prel Rd) Kercem Arkafort Stadium
Xewkija Tigers FC : 0
Oratory Youths FC: 1
17' (0-1) Sunday Uforma Ubuwere
Xewkija T:

N. Kosanin, J. Vella, M. Mercieca, J. Buttigieg, R. Buttigieg, D. Bogdanovic, J. Arboleda Valencia, A. Bozovic (S. Xuereb), D. Merceica (M. Bonnici), D. Andelovic, J, Camilleri.
Oratory Y:

R. Sammut (A. Brignoli), J. Tabone, P. Rapa, J. De Sousa Ferreira, H.H. Goncalves Barbosa, I. Belhadj (D. Atzori), A. Azzopardi (M. Zammit), N. Sutic, N. Said (K. Hili), Ju. Attard, S.U. Ubuwere.
Oratory Youths obtained a 1-0 win over Xewkija Tigers and earned qualification to the quarter-final stage of the BOV GFA Cup 2022/2023. The match was well contested as Oratory scored an early goal and for the rest of the encounter Xewkija tried to produce a reaction in an attempt to save the result so that the outcome remained uncertain until the final whistle.
Xewkija were the favourites to win the qualification as they already defeated Oratory in the match from the championship and the latter seemed going through a difficult moment.  However, Oratory came out more determined and expressed an effective defensive deployment that practically neutralised Xewkija's strikers and produced danger with sporadic counterattacks.  The qualification for Oratory was well deserved as they capitalised from the early goal and they rarely seemed at risk of conceding an equaliser.  In the quarter-final, stage Oratory will face Qala Saints.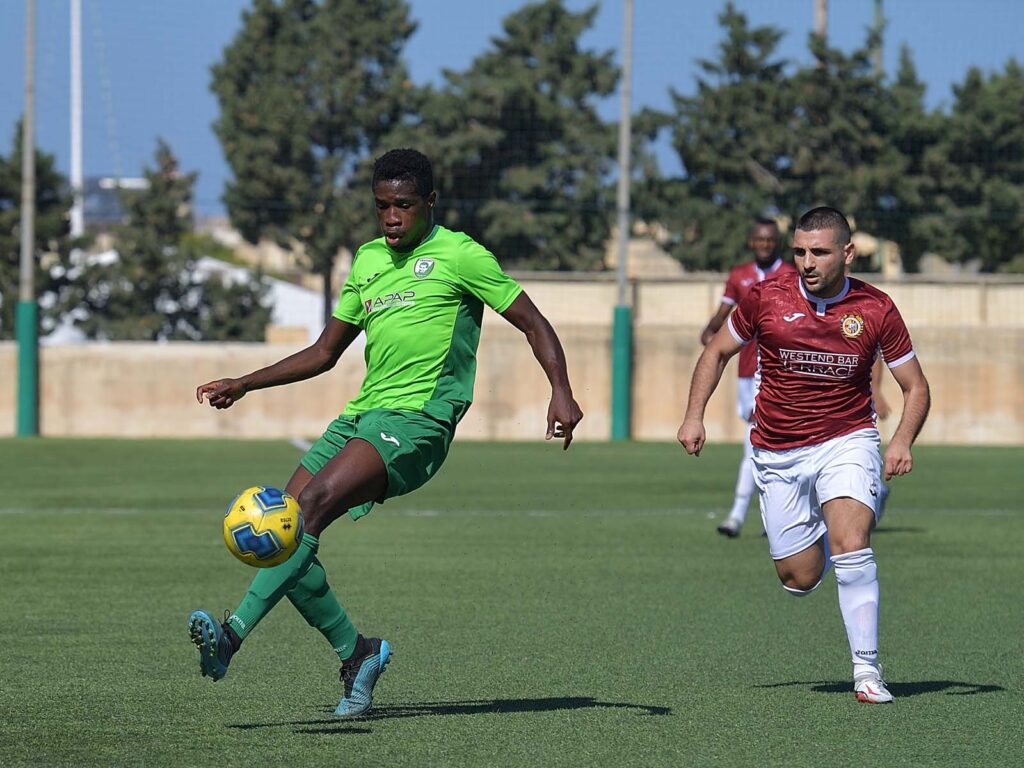 Timeline
Xewkija tried to take command of play from the early stages but they failed to create serious scoring opportunities. Oratory took the lead from their first serious break and took the driving seat so that Xewkija became frustrated and struggled to create a reaction.
15' Xewkija could have created more danger but a shot by Damir Andelovic after receiving from Rodney Buttigieg ended high.
17' (0-1) Oratory broke the deadlock when Haaran Goncalves Barbosa delivered a cross from the left flank and Sunday Uforma Ubuwere controlled well and lobbed over the goalkeeper into the corner of the net.
19' (goal disallowed) Xewkija could have levelled the score when Johnny Camilleri headed in the net a cross by Damir Andelovic bit the goal was disallowed for an offside position.
22' The Tigers were dangerous through a strike by Jhon Arboleda Valencia from a good position that ended wide.
HT (0-1)
Second Half
After the resumption, Xewkija continued to find it difficult to produce danger towards Oratory's goal as the latter maintained composure and neutralised the offensive efforts by their opponents.
9' Xewkija's first attempt arrived through a shot from a long distance by Dejan Bogdanovic that missed the target.
11' The Tigers missed a golden scoring opportunity when Rodney Buttigieg crossed from the right but Johnny Camilleri incredibly headed wide from close distance with an open goal at his mercy.
18' Oratory threatened Xewkija's defence through a strike by substitute Daniel Atzori that was well saved by Xewkija's keeper Nikola Kosanin.
25' Oratory's substitute goalkeeper Angelo Brignoli denied Xewkija from scoring the equaliser when he blocked with difficulty a shot from close distance by Jhon Arboleda Valencia.
29' Xewkija's Dejan Bogdanovic went very close to levelling the score but his header from close distance following a corner kick by Damir Andelovic ended just wide.
41' (protests for penalty) Xewkija protested for a penalty when Jhon Arboleda Valencia tried to pass through Oratory's defence but ended on the floor as he entered the area but the referee did not notice any infringement and the striker was also cautioned for simulation.
45+1' Oratory's central defender James Tabone saved the result for his side when he cleared off the line and avoided a certain goal, a shot by Josmar Vella after receiving an inviting low cross by Johnny Camilleri

FT (XT 0 – OY 1)
Referee: Daniel Casha