6 November 2022
GFA BOV Gozo Football League Division II (MD 2) Kercem Arkafort Stadium
St Lawrence Spurs FC : 0
Gharb Rangers FC : 0
St. Lawrence S:

C. Mercieca, M. Dingli (C. Grima), G. Portelli, A. Haska, L. Cilia, C. Azzopardi (J. Grima), D. Micallef, J.M. Portelli (T. Grech), J. Saliba, W. Hili (V.J. Saliba), J. Axiak.
Gharb R:

J.P. Cassar, S. Farrugia, M. Ciangura, J. Agius, C. Cutajar, C. Cardona, G. Debrincat, J. Buttigieg, O. Calleja, N. Attard, J.P. Soares De Souza (M. Tabone).
In the last match from Match-Day 2 of the BOV Gozo Football League of the second division, Gharb Rangers and St Lawrence Spurs earned a point each from a goalless draw.  The outcome was a just result as each team prevailed over the opponent for half each.
With this result, Gharb registered their second positive result from their first two matches of the campaign while St Lawrence earned their first point after conceding a defeat in their opening match.  Gharb had their best opportunities to score during the first period but at the end, the Spurs almost clinched a win as they created their best scoring opportunities during the dying moments of the encounter.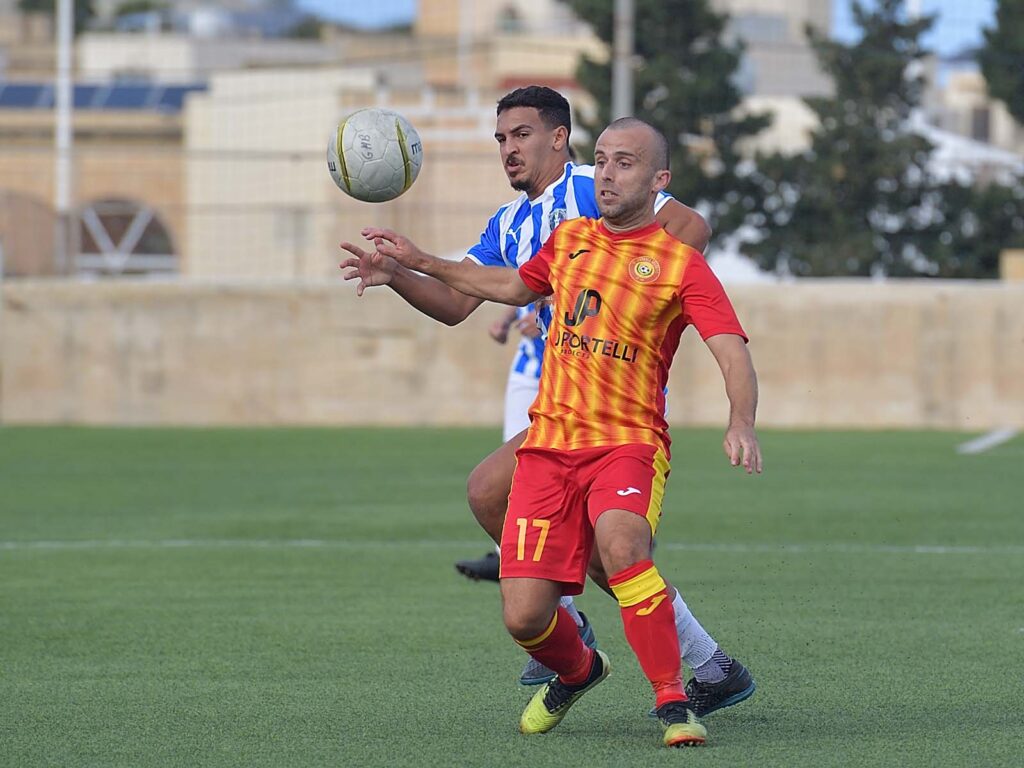 Timeline
The two sides were very aggressive during the opening minutes in an attempt to take the lead. Gharb took some advantage of the wind blowing in their favour and managed to keep more pressure on their opponents. However, the two defensive departments prevailed over the respective strikers and the actions on goal were quite rare.
1' Gharb was dangerous after just 25 seconds of play through a strike by Joao Pablo Soares De Souza that ended just wide.
8' The same Soares De Souza went close to putting Gharb in the lead but his low drive towards the far post following a personal action from the right flank ended just wide.
17' The Spurs had their first attempt towards Gharb's goal through a shot from outside the area by Alen Haska that was well saved by goalie John Paul Cassar.
25' St Lawrence's keeper Courtney Mercieca was called to make an important intervention to block a shot from an angled position by Carlos Cutajar.
HT (0-0)
Second Half
Play continued to be well contested after the break but the strikers continued to find it difficult to create serious scoring opportunities so the outcome of this match remained uncertain.
14' St Lawrence's Alen Haska went very close to scoring but his strike from outside the area ended just over the crossbar.
42' Gharb's goalie John Paul Cassar was well placed and neutralised without much difficulty a free kick from a long distance by Alen Haska.
45+1' The Spurs had the last scoring opportunity of the encounter but a shot from a good position by substitute James Grima ended away from goal.
45+3' St Lawrence had another serious attempt that arrived through a free kick from a long distance by Jake Saliba but the ball ended wide. 

FT (SLS 0 – GR 0)
Referee: Reuben Spiteri Delicata