13 November 2022
BOV GFA Cup (Q/finals) Kercem Arkafort Stadium
Nadur Youngsters FC : 4
Munxar Falcons FC : 0
12' (1-0) Joseph Xerri
27' (2-0) Predrag Dordevic
58' (3-0) Neil Mifsud
74' (4-0) Gabriel Farrugia
Nadur Y:
L. Camilleri (Z. Vella), L.B. Da Silva (J.M. Vella), M. Tabone, I. Xuereb, M.P. Camilleri (P.P. Camilleri), M. Jr. Barbosa, I. Nedeljkovic, G. Hili, J. Xerri (N. Mifsud), G. Muscat (G. Farrugia), P. Dordevic.
Munxar F:
D. Galea, C. Gafa (J.P. Grima), A. Buttigieg, S. Farrugia (J. Sandobal Guarin), H.F. Solis, M. Zerafa, B. Said, G. Sillato, S. Muscat (R. Grima), M. Farrugia, K. Mizzi.
The holders of the BOV GFA Cup Nadur Youngsters scored two goals in each half against second division side Munxar Falcons in the last match from the quarter-finals stage of the competition and will continue to defend the honour by obtaining the qualification to the semi-finals.
Nadur as expected held territorial supremacy throughout the encounter and the qualification was practically decided within the opening half-hour of play. Munxar tried hard to defend their area from danger and overall they managed to leave the pitch with a satisfactory performance as they avoided a defeat with a larger margin.
Nadur will play against Qala Saints in the semi-finals of the BOV GFA Cup.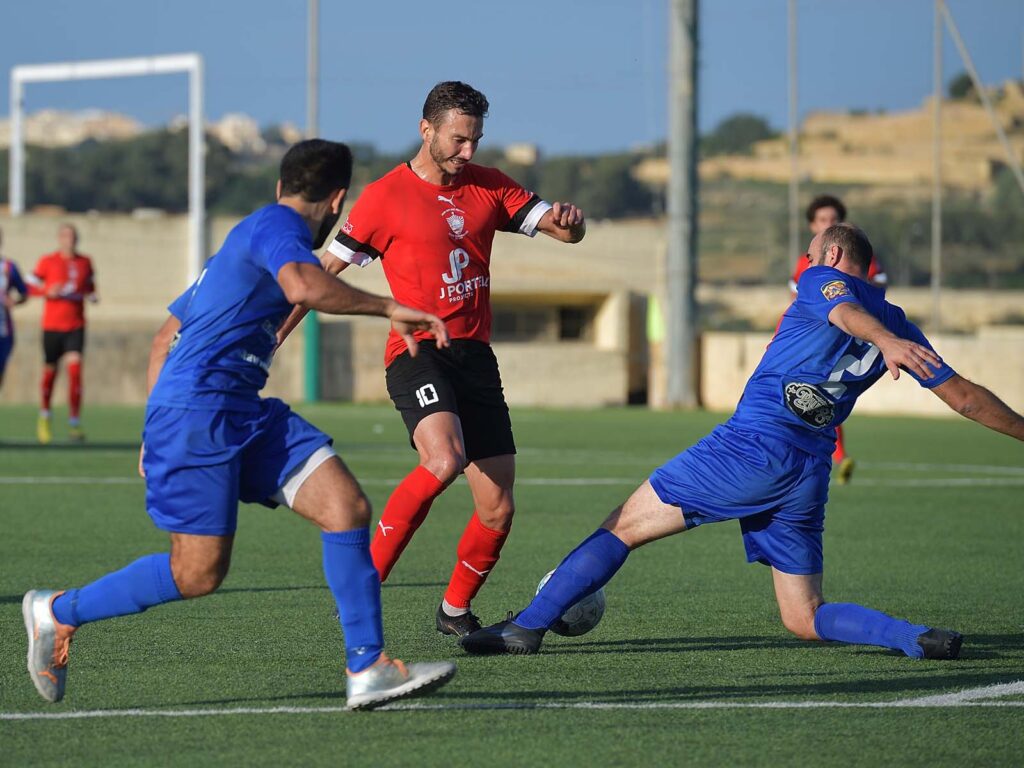 Timeline:
Nadur as expected took command of play from the very beginning as Munxar came out with the intention to defend with many players in an attempt to make it difficult for their opponents to create danger. Nadur however scored an early goal and we were in a better position to dominate their opponents.
12' (1-0) Nadur opened the score when Predrag Dordevic passed inside Munxar's area and from his low shot Joseph Xerri placed in goal with a tap-in.
15' Nadur's Igor Nedeljkovic had an attempt directly from a free kick that ended just wide.
16' The Youngsters went very close to scoring another goal but a header by Lucas Baretto Da Silva following a cross from the left flank was saved well by goalie Daniel Galea.
25' Munxar went close to levelling the score but a header by Brandon Said following a corner kick by Samwel Muscat got a deflection and the ball ended in another corner.
27' (2-0) Nadur punished their opponents for the missed chance and doubled the score through a direct free kick by Predrag Dordevic.
28' An attempt directly from a free kick by Marcelo Barbosa missed the target.
33' Munxar once again threatened Nadur's defence but a strike by Henry Fabian Solis from a good position missed the target.
39' Munxar's goalie Daniel Galea had good timing and left his position in time to take the ball before Igor Neceljkovic could conclude towards goals after receiving from Marcelo Barbosa.
HT (2-0)
Second Half
For the second period, Nadur made some changes in the formation but retained their superiority over Munxar so that the latter rarely threaten Nadur's rear guard.
13' (3-0) Nadur scored their third goal when Marcelo Barbosa delivered a low cross from the right, the defence failed to clear the ball from the goalmouth and substitute Neil Mifsud entered between two opponents and pushed the ball into an open goal.
25' Munxar's keeper Daniel Galea denied Nadur from scoring another goal with a difficult intervention to save a direct free kick by Igor Nedeljkovic.
29' (0-4) The Youngsters added another goal when a strike by Igor Nedeljkovic was partially saved by Munxar's keeper Daniel Galea and from the rebound substitute, Gabriel Farrugia concluded in the net from close distance.
FT (NY 4 – MF 0)
Referee: Joseph Scerri