30 October 2022
GFA BOV Gozo Football League Division II (MD 2) Kercem Arkafort Stadium
Munxar Falcons FC: 1
Xaghra United FC : 3
24' (0-1) Leiner Garcia Panesso
53' (1-1) Henry Fabian Solis
60' (1-2) Luke Meilak
69' (1-3) Luke Meilak
Munxar F:

D. Galea, A. Buttigieg (G. Sillato), R. Meilak (J.P. Grima), M. Debrincat (P. Parnis), S. Farrugia, H.F. Solis, M. Zerafa, B. Said, R. Grima (C. Gafa), S. Muscat, M. Farrugia.
Xaghra U:

L. Xuereb, J. Bajada, S. Galea, C. Debono (E. Galea), L. Meilak (J. Formosa), J. Xuereb (L. Sultana), M. Cordina, S. Sultana, D. Azzopardi, F.J. Xuereb, L.Garcia Panesso.
Xaghra United extended their good moment of form and obtained their second win from the first two matches of the campaign from their match against Munxar Falcons. The match was expected to be a good test for the two sides as Xaghra were coming from a win in their opening match of the second division league, while Munxar had a positive performance against Gharb Rangers where they earned a point.
This match turned out to be quite interesting until the hour mark as Munxar tried to share play with their opponents and recovered a one-goal deficit during the first minutes of play of the second period.  However, Xaghra recovered from the shock, regained the lead and made sure of the win by scoring the third goal.  Xaghra's Luke Meilak turned out to be the protagonist for his side by scoring the two goals that decided the issue.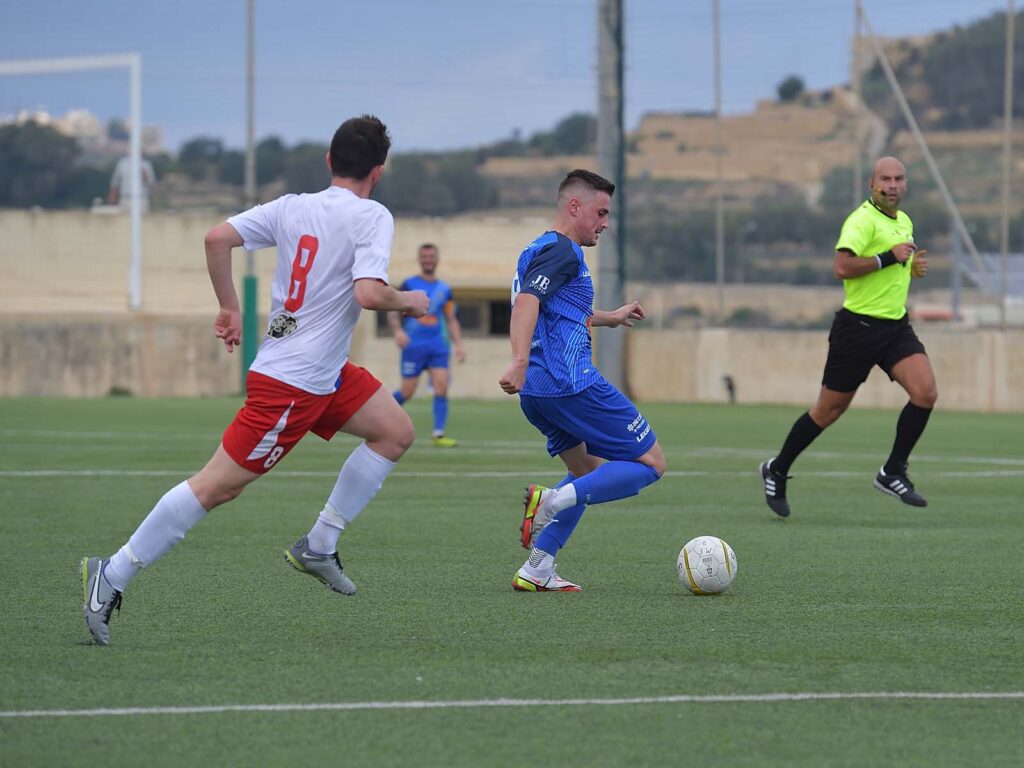 Timeline
Munxar came out more aggressive than their opponents but missed their chances to take the lead.  As time passed by Xaghra gained more hold of the midfield and took the driving seat with a goal that arrived midway through the first half.  Munxar's reaction was sterile so Xaghra justified their advantage until the two sides took a break.
8' Munxar missed a good scoring opportunity when Brandon Said passed inside Xaghra's area and insisted on the personal action instead of passing to an unmarked Samwel Muscat and at the end, the former had his attempt blocked by the defence.
14' Xaghra's goalie Lorjean Xuereb saved without difficulty a free kick from a long distance by Samwel Muscat.
14' Less than a minute later Xaghra replied with an initiative by Joel Xuereb but the striker hit badly and the ball got a deflection by a defender so goalie Daniel Galea saved without difficulty.
24' (0-1) Xaghra opened the score when a header by Daniel Azzopardi following a free kick by Mattias Cordina hit the crossbar and from the rebound, Leiner Garcia Panesso took the ball, avoided his direct opponent and fired in goal from an ideal position.
36' A shot from outside the area by Leiner Garcia Panesso got deflected by Munxar's defence and play resumed with a corner kick.
44' The same Garcia Panesso once again threatened Munxar's defence with a lob from a long distance when Munxar's keeper was outside his position but the ball ended wide.
HT (0-1)
Second Half
Munxar came out more determined for the second period and managed to score the equaliser during the opening stages.  However, Xaghra were not demoralised and regained the lead on the hour mark and continued to express their superiority over their opponents by scoring more goals before the end of the encounter.
8' (1-1) Munxar levelled the score through a header from close distance by Henry Fabian Solis following a free kick from a long distance by Ryan Meilak.
11' Xaghra replied with a shot from a long distance by Mattias Cordina that missed the target.
12' Munxar's Henry Fabian Solis insisted with good action on the left flank but from his cross, Brandon said hit badly and goalie Lorjean Xuereb saved without difficulty.
15' (1-2) Xaghra regained the lead when Joel Xuereb received the ball from Leiner Garcia Panesso and the former released Luke Meilak who concluded in goal from a good position.
24' (1-3) Xaghar increased their lead when Joel Xuereb released Luke Meilak with a good pass and the latter fired in goal with a fine shot as soon as he entered the area.
39' Xaghra could have produced more danger but an effort from outside the area by Mattias Cordina was weak and goalie Daniel Galea saved without difficulty.
40' The same goalkeeper left his position in time and managed to block an almost at the edge of the area an attempt by substitute Justin Formosa.

FT (MF 1 – XU 3)
Referee: Vladimir Rizoski