21 January 2023
GFA BOV Gozo Football League Division II (MD 8) Kercem Arkafort Stadium
Munxar Falcons register double over Zebbug
Munxar Falcons FC: 1
Zebbug Rovers FC : 0
12' (penalty missed – saved) Henry Fabian Solis (MF)
44' (1-0) Henry Fabian Solis
Munxar F:
D. Galea, C. Gafa, A. Buttigieg, R. Meilak (M. Debrincat), S. Farrugia, H.F. Solis, M. Zerafa, G. Sillato, R. Grima, S. Muscat (D.C. Njoku, A. Zammit) M. Farrugia.
Zebbug R:
B. Saliba, P. Spiteri (E. Farhat), M. Formosa, C. Gauci, R. Saliba, L. Atzori, D. Mesa Pineros, C. Cauchi, N.J. Cini (O. Mercieca), P. Muscat, O. Atzori (M. Gauci).
Munxar Falcons stunned challengers for the promotion Zebbug Rovers with a close win so that the falcons moved to the third place on the table.  This was Munxar's second win in the campaign which happened to be also their second win over Zebbug in the league.
Zebbug started this match as favourites as the Rovers not only needed to make up for the deft conceded against Munxar in the match between the two sides of the first round but they were also aiming to consolidate their status as serious contenders for the main honour of the category.  However, Zebbug failed to live up to their expectations as they were very erratic in their finishing and as time passed by they failed to convert their superiority into open-scoring opportunities.  Munxar's win matured with a goal scored just before the break so that for the second period they gained confidence and managed to protect their goal until the final whistle.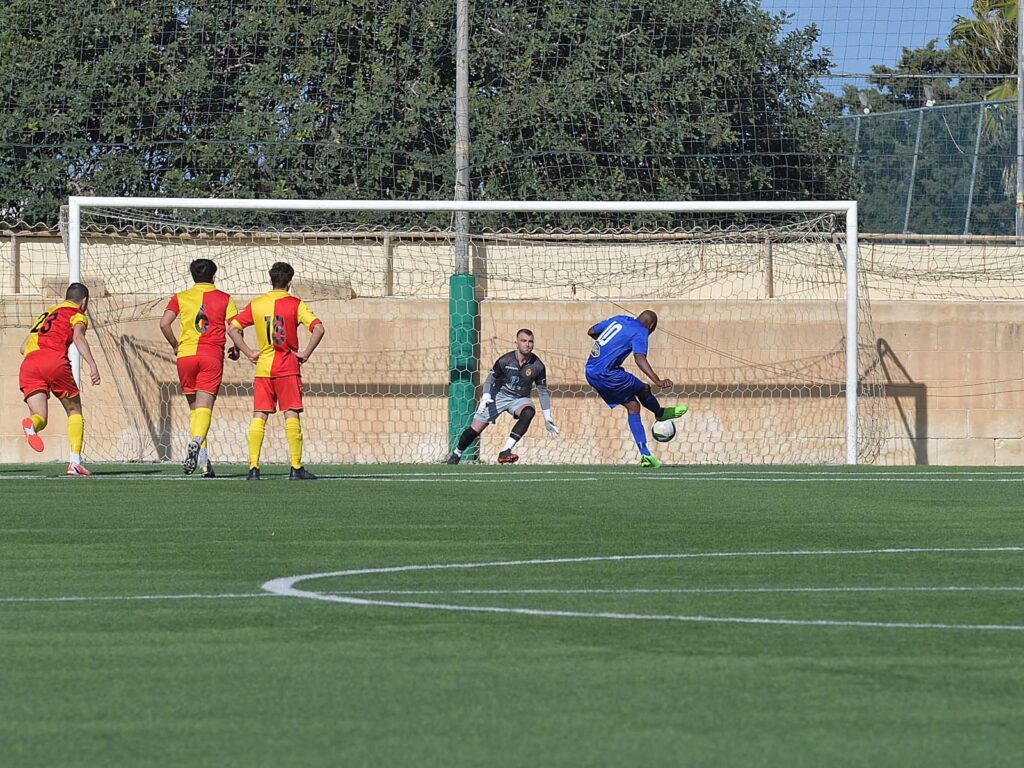 Timeline:
The play was rather balanced during the first period where the two defensive departments managed to neutralise the respective strikers for most of the time.  Munxar almost shocked their opponents during the opening minutes but managed to take the break with a one-goal lead. 
12' (penalty missed – saved) Munxar had a golden opportunity to score an early goal when they were awarded a penalty for handling by Orlando Atzori from a corner action but the shot from the spot kick by Henry Fabian Solis was saved by Zebbug's goalie Baskal Saliba.
17' Zebbug replied through a direct free kick by Daniel Mesa Pineros that ended just high.
37' (post) Zebbug could have opened the score but an effort by Daniel Mesa Pineros was stopped by the post.
44' (1-0) Munxar surprised their opponents with a counter break and from a cross by Ryan Meilak, Henry Fabian Solis addressed the ball towards goal and the ball hit the crossbar, bounced on the goalkeeper and ended into an open goal.
HT (1-0)
Second Half
Zebbug came out determined to recover the deficit but Munxar were well organised at their defence and managed to defend their one-goal lead until the end of the encounter.
23' Zebbug should have capitalised better but an effort by Daniel Mesa Pineros following a personal action missed the target.
32' Munxar's goalie Daniel Galea was well placed and saved with some difficulty an attempt from a good position by Lorenzo Atzori.
FT (MF 1 – ZR 0)
Referee: Wayne Sammut