18 January 2022
GFA BOV Gozo Football League Division I (MD 10) Gozo Stadium
Oratory Youths FC : 0
Kercem Ajax FC: 1
19' (0-1) Ognjen Rolovic
90+2' (red card) Omar Xuereb (OY)
Oratory Y:
A. Brignoli, J. Tabone, J. De Souza Ferreira, H.H. Goncalves Barbosa, O. Curmi, A. Xuereb, A. Azzopardi (O. Xuereb), N. Sutic, N. Said (D. Atzori), H. Muscat (K. Hili), J Mijuskovic.
Kercem A:
D. Spiteri, D. Cassar, L.H. Santana Motta, J. Theuma, B. Da Cruz, O. Rolovic, P. Vinicius De Moraes Ferreira, A. Mizzi, G. Cardona (N. Mercieca), K. Formosa, S. Azzopardi.
Kercem Ajax recovered from a difficult patch in the Gozitan championship and earned three deserved points from a close win over Oratory Youths. Kercem were coming from a convincing 8-2 win over Attard in a match from the MFA Izibet FA Trophy and were therefore aiming to extend their moment of form and reduce their gap from the leaders. With the points obtained Kercem are now five points away from the co-leaders and therefore they are back among the challengers for the main honour.
This was also an important match for Oratory as they were also aiming to obtain a win in their attempt to move away from the red zone. The two sides included a new signing in their respective attack. Kercem had Ognjen Rolovic, who was making a return with the Greens after four seasons, while Oratory gave a debut to Jovan Mijuskovic. The former had a positive return in Gozitan football as he scored the decisive goal of the encounter, while Mijuskovic struggled to get involved in Oratory's manoeuvre.
Kercem's win could have been achieved with a larger margin.  Oratory shared play during the first part of the encounter but as soon as Ajax opened the score the latter took territorial supremacy and created various scoring opportunities.  Kercem however were often erratic in their last pass or in the finishing so Oratory remained in contention and the outcome remained uncertain until the final whistle.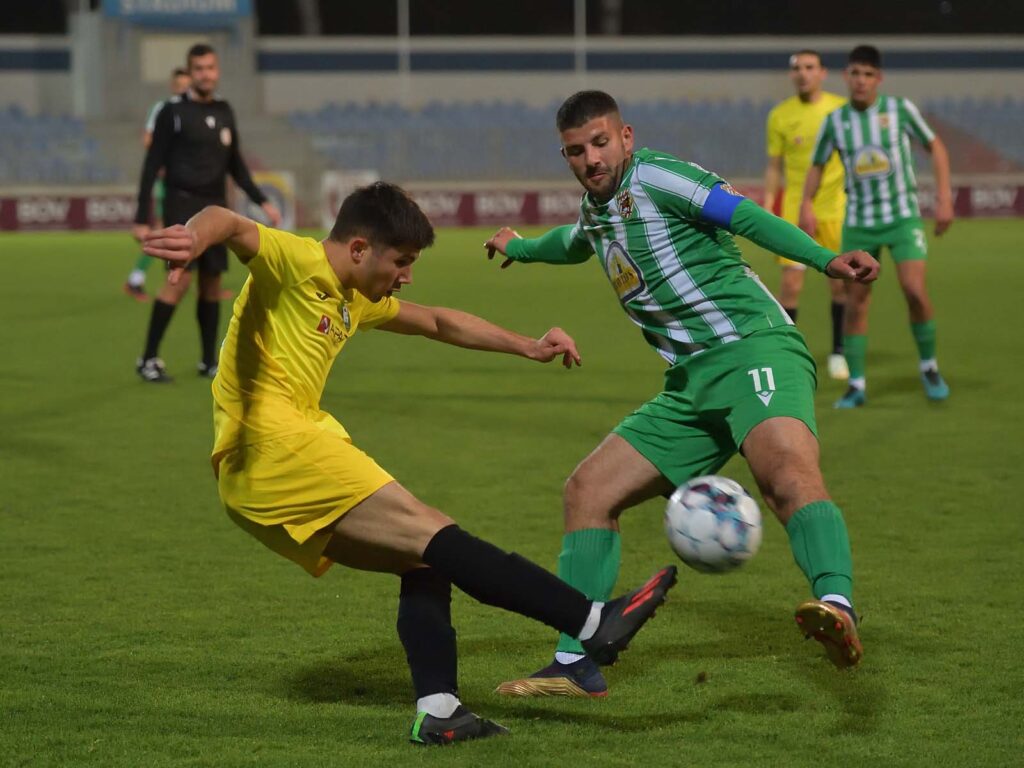 Timeline:
The two sides were motivated to produce a good start and during the opening minutes, both Oratory and Kercem created chances which could have been converted into goals.  However, Kercem managed to take the driving seat when they opened the score but they failed to add another goal so Oratory came out of their defence near the end of the first half so that the match became more interesting.
3' Kercem could have opened the score when Pablo Vinicius Ferreira entered Oratory's area but his shot from an angled position was well saved by goalie Angelo Brignoli.
5' Oratory replied through a cross-shot by Neil Said that ended wide.
11' Oratory's goalie was well placed and neutralised a good effort by Gabriel Cardona.
12' A free kick by Kercem's Bruno Da Cruz got a deflection and play resumed from a corner action.
14' Oratory's Haraan Goncalves Barbosa passed through Kercem's defence with a personal action but his low shot was saved by goalie Daniel Spiteri.
19' (0-1) Kercem opened the score when Oratory's goalie partially saved a direct free kick by Pablo Vinicius Ferreira and from the rebound, Ognjen Rolovic concluded in goal.
24' the Ajax were again dangerous but an effort by Karl Formosa following a corner action ended just wide.
26' A free kick by Kercem's Bruno Da Cruz ended high.
31' Oratory's goalie Angelo Brignoli was again called to make an important intervention to save a low shot by Bruno Da Cruz.
33' The Youths could have capitalised better but a header by Jovan Mijuskovic following a cross by Goncalves Barbosa was well saved by goalie Daniel Spiteri.
39' In another good action by Kercem, Santana Motta released Bruno Da Cruz but the latter had his low shot blocked by goalie Angelo Brignoli.
41' (protests for penalty) Oratory protested for a penalty when Goncalves Barbosa ended up on the floor inside Kercem's area as he tried to pass by two opponents.
HT (0-1)
Second Half
Kercem regained territorial supremacy during the first minutes of play of the second period but they continued to be very erratic in their final passing so Oratory gain some confidence as time passed by although the action on goals at the two ends of the field throughout the second half was quite rare.
3' Kercem missed an open scoring opportunity when Ognjen Rolovic passed inside Oratory's area with a personal action but his low drive aimed towards the far post ended just wide.
6' An attempt by Kercem's Karl Formosa ended high.
11' Oratory replied with a shot by Goncalves Barbosa that was saved by Kercem's goalie Daniel Spiteri.
34' Kercem could have doubled the score but a shot from a good position by Bruno Da Cruz following an initiative by Daniel Cassar ended high.
37' The Ajax were again dangerous through a strike from outside the area by substitute Nathaniel Mercieca but the ball ended wide.
44' Kercem missed another open scoring opportunity when Pablo Vinicius Ferreira released Bruno Da Cruz inside Oratory's area but the latter failed to conclude in goal when he was face to face with the goalkeeper.
45+2' (red card) Oratory was reduced to ten players when substitute Omar Xuereb was sent off for a foul on Pablo Vinicius Ferreira who was heading towards the goal.
45+5' Oratory's goalie Angelo Brignoli denied Kercem from scoring the second goal with a fine save to turn to a corner an attempt from a free kick by Ognjen Rolovic.
FT (OY 0 – KA 1)
Referee: Andrea Sciriha