8 January 2023
GFA BOV GFL 1st Division (MD 10) Gozo Stadium
Ghajnsielem FC: 2
Nadur Youngsters FC : 4
2' (penalty missed – saved) Marcelo Barbosa (NY)
3' (1-0) Claudio Henrique Da Silva Barbosa
27' (1-1) Stefan Cassar
45+2' (red card) Lucas Baretto Da Silva (NY)
45+5' (1-2) o.g. Patrick Dos Santos Cruz
83' (1-3) o.g. Daniel Farrugia
85' (1-4) Igor Nedeljkovic
89' (2-4) Joao Pedro Oliveira Santos
90+1' (red card) Joseph Xerri (NY)
90+1' (red card) Junior Valdeci Candido (GHJ)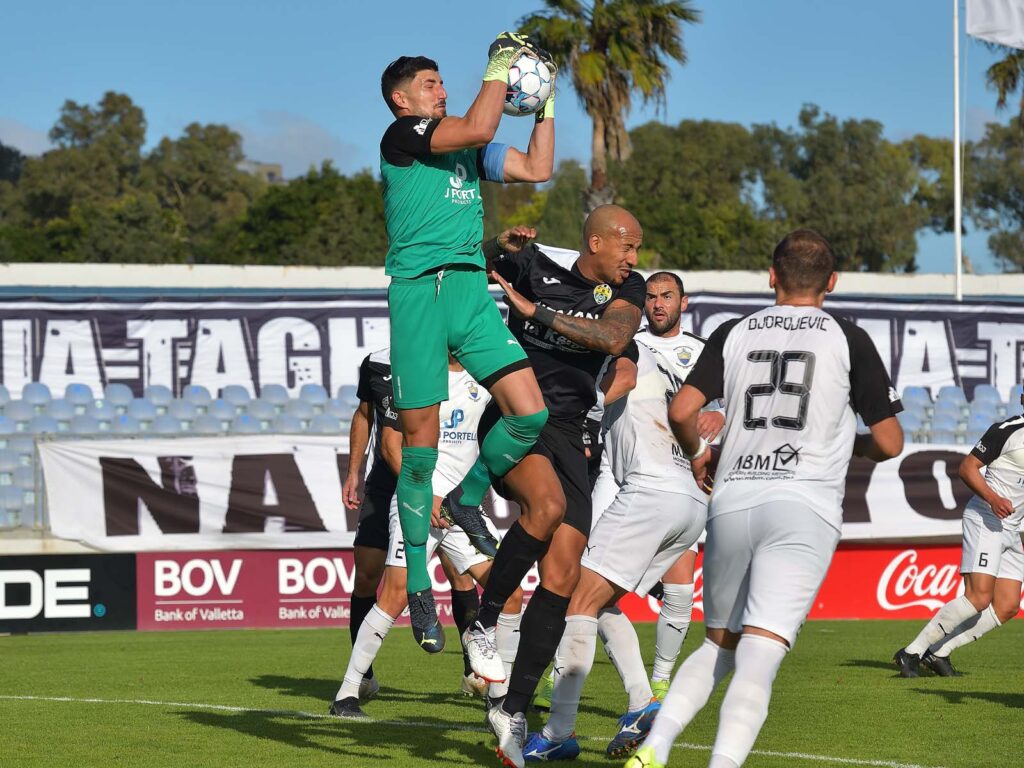 Ghajnsielem:
A. Parnis, K. Borg (P. Vella), A. Xuereb, D. Farrugia, J.P. Oliveira Santos, K. Farrugia (S. Attard), N.I.
Belhadj (M.A. Scicluna), K. Grima, J.V. Candido, C.H. Da Silva Barbosa, P. Dos Santos Cruz.
Nadur Y:
S. Sultana, L.B. Da Silva, M. Tabone, I. Xuereb, J.M. Vella, M. Jr. Barbosa (G. Farrugia), S. Cassar (J.
Xerri), G. Hili, G. Muscat, I. Nedeljkovic, P. Dordevic.
Reigning champions Nadur Youngsters obtained a 4-2 win over Ghajnsielem in the main match from
Match Day 10 of the BOV Gozo Football League of the first division and remain at the top of the table
together with revelation side Qala Saints. This was Nadur's second win over Ghajnsielem in the
championship and with this result, the Blacks practically compromised their possibility to live up to the
expectations and be among the serious challengers for the title. Ghajnsielem's disappointing season so
far saw them losing ground from the top position and they are now at risk to play the second phase of
the championship in the relegation pool.
The match was well contested and the outcome was only decided with decisive goals that arrived at a
late stage of the encounter. Nadur managed to clinch the win despite the fact that they missed a
penalty and conceded a goal during the opening minutes of the, and ended up playing the second
period with a player less on the field. Nadur's win matured through a determined collective performance
as they recovered from a difficult start, levelled the score just before the half-hour mark and turned the
result into a two-goal lead through two own goals committed by Ghajnsielem's defence. Nadur resisted
well to Ghajnsielem's reaction and when they were playing with a player less they managed to be more
dangerous through counter breaks.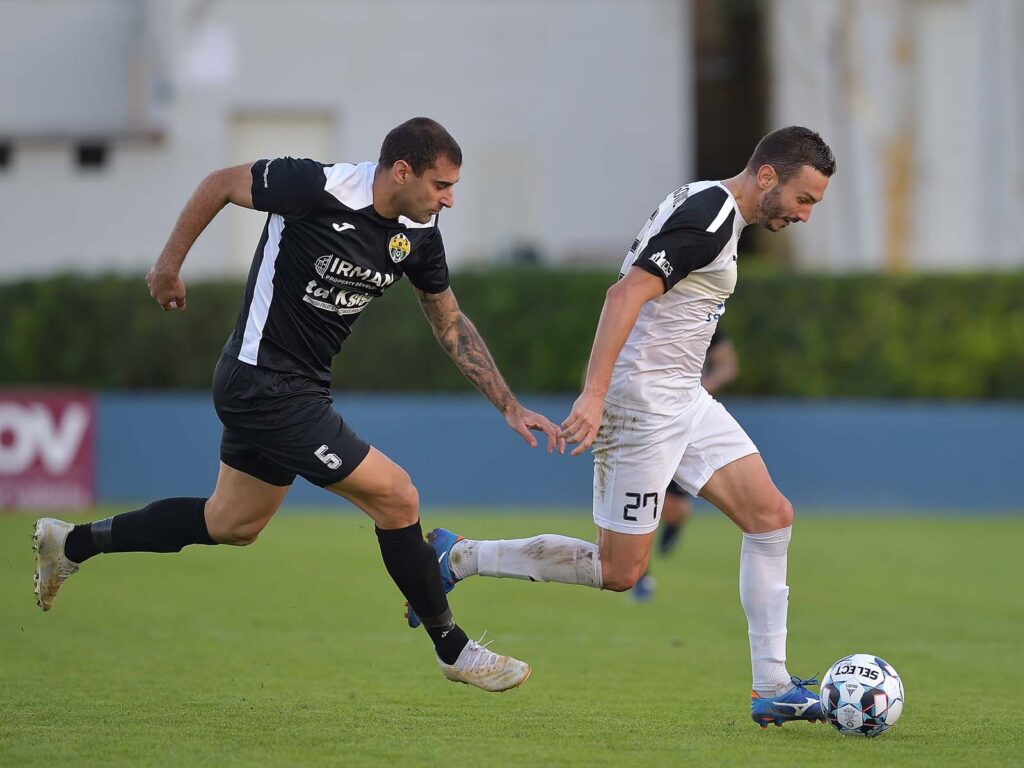 Timeline:
The match had a dramatic start with a penalty miss and a goal within the first three minutes of play so
that the match became more contested than expected from the early stages.
1' (penalty) Nadur produced a dangerous action from the very beginning as Igor Nedeljkovic entered
Ghajnsielem's area from the left flank and won a penalty as he ended on the floor following a challenge
by Daniel Farrugia.
2' (penalty missed – saved) Nadur failed to capitalise from the opportunity as Marcelo Barbosa's shot
from the spot, the kick was saved by Ghajnsielem's keeper Adrian Parnis.
3' (1-0) Ghajnsielem punished their opponents for the missed chance and opened the score in their first
offensive action as Claudio Henrique Da Silva Barbosa won the ball from an exposed Nadur's
the defence entered the area and had his shot that was blocked by goalie Steve Sultana but the same Brazilian
the striker took the rebound and netted with a low shot.
14' Ghajnsielem were again dangerous through a direct free kick by Joao Pedro Oliveira Santos that
was saved with difficulty by Nadur's keeper Steve Sultana.
18' (post) Nadur went very close to level the score when Igor Nedeljkovic delivered a low cross from the
left inside Ghajnsielem's area but the shot on the run by Stefan Cassar, who was making his return in
Gozitan football after a short spell in the Premier League and a subsequent long recovery from an
injury, hit the post and the ball ended wide.
22' Nadur's goalkeeper Steve Sultana kept his side in contention with another important intervention as
he managed to block a close-ranged attempt with a back-heel by Patrick Dos Santos Cruz after
receiving from Da Silva Barbosa.
24' The Blacks were again dangerous through an effort from a long distance by Patrick Dos Santos Cruz
when Nadur's goalie was out of his position but the ball missed the target.
27' (1-1) Nadur levelled the score when a shot by Lucas Baretto Da Silva was cleared badly by
Ghajnsielem's defence and the ball arrived to an unmarked Stefan Cassar who concluded in goal from
close distance.
37' Nadur went again close to scoring when Stefan Cassar unmarked Lucas Baretto Da Silva but the
latter saw his shot that was blocked by Ghajnsielem's goalie Adrian Parnis.
38' Ghajnsielem operated an immediate break where Da Silva Barbosa released Patrick Dos Santos
Cruz but the latter saw his shot that ended away from goal.
39' In the following action Nadur should have capitalised better but an attempt from a good position by
Igor Nedeljkovic missed the target.
45' (post) Nadur were again dangerous through a good shot by Stefan Cassar after receiving from
Marcelo Barbosa was saved to a corner by goalie Adrian Parnis with the aid of the post.
45+1' A close-ranged header by Igor Nedeljkovic following a corner kick by Gennaro Hili ended just over
Ghajnsielem's crossbar.
45+2' (red card) Nadur were reduced to ten players when Lucas Baretto Da Silva was sent off
45+5' (1-2) The Youngsters turned the result in their favour through an own goal by Ghajnsielem's
Patrick Dos Santos Cruz headed in his own goal in an attempt to clear the ball following a free
kick from a long distance by Gennaro Hili.
HT (1-2)
 
Second Half
Ghajnsielem came out for the second period with the intention to produce a reaction and recover the
deficit so that Nadur were forced to defend as they also suffered from the player less on the field of play.
The match, therefore, continued to be quite interesting as the two sides produced some opportunities that
could have been converted into goals.
17' (post) Nadur operated a counter break through Marcelo Barbosa who released Igor Nedeljkovic but
the Serbian striker had his attempt that was stopped by the post and from the rebound the same player
concluded high from a good position.
17' Ghajnsielem were denied from scoring the equaliser by Nadur's goalie Steve Sultana who saved with
difficulty to a corner a good strike from outside the area by Patrick Dos Santos Cruz.
21' (protests for penalty) Ghajnsielem protested for a penalty as Claudio Henrique Da Silva Barbosa
ended on the floor inside Nadur's area following contact with defender Gennaro Hili.
25' The Blacks threatened Nadur's rear guard through a shot by Da Silva Barbosa that ended over the
crossbar.
35' Nadur's Marcelo Barbosa could have added another goal but his attempt from a long distance when
Ghajnsielem's goal was unattended and missed the target.
38' (1-3) Nadur put their minds at rest from the win by scoring the third goal that arrived through another
own goal committed by defender Daniel Farrugia who placed behind his goalkeeper in an attempt to
clear a cross by Marcelo Barbosa.
40' (1-4) Ghajnsielem were demoralised and Nadur increased their lead through a fine shot by Igor
Nedeljkovic after receiving from Marcelo Barbosa.
44' (2-4) Ghajnsielem reduced the deficit through a direct free kick converted by Joao Pedro Oliveira
Santos ended out of the reach of the goalkeeper.
45+1' (red cards) During the dying moments of the encounter the two sides had a player each who was
sent off. Nadur's substitute Joseph Xerri was shown a straight red card for retaliation while Ghajnsielem's
Junior Valdeci Candido was sent off after receiving a second yellow card for protests.
FT (GHJ 2 – NY 4)
Referee: Slobodan Petrovic