24 January 2023
GFA BOV Gozo Football League Division I (MD 11) Kercem Arkafort Stadium
Ghajnsielem FC : 1
Oratory Youths FC : 2
42' (0-1) Neil Said
77' (1-1) Patrick Dos Santos Cruz
82' (1-2) Haraan Hajazan Goncalves Barbosa
Ghajnsielem:
A. Parnis, K. Borg (P. Vella), A. Xuereb, D. Farrugia, J.P. Oliveira Santos, K. Farrugia, N.I. Belhadj, K. Grima, C. Camilleri (M.A. Scicluna), J.V. Candido, C.H. Da Silva Barbosa, P. Dos Santos Cruz.
Oratory Y:
A. Brignoli, J. Tabone, J. De Souza Ferreira, H.H. Goncalves Barbosa, O. Curmi, A. Azzopardi, N. Sutic, N. Said (I. Belhadj), Ju. Attard (K. Farrugia), H. Muscat, J Mijuskovic.
Oratory Youths obtained a 2-1 win over Ghajnsielem and with the points obtained, they moved away from the bottom two places on the table. This was Oratory's second win in the championship which was both obtained from their matches of the first two rounds against Ghajnsielem. With this result, the Blacks remain out of the first four places on the table and may end up playing the second phase of the championship in the relegation pool despite their ambitions to be serious challengers for the title.
The match turned out to be a well-contested encounter as Ghajnsielem were aiming to take revenge for the defeat conceded in the match against Oratory of the first round while Oratory was determined to obtain a positive result in their attempt to move away from the red zone. In the end Oratory's win matured with a goal scored in each half. The Youths went ahead with a goal-scored minute from the end of the first half and scored the decisive goal a few minutes after conceding Ghajnsielem's temporary equaliser. Overall, Oratory was rewarded for their resilience as they maintained composure throughout the ninety minutes. Ghajnsielem struggled to impose their play and became confused when they found themselves trailing their opponents.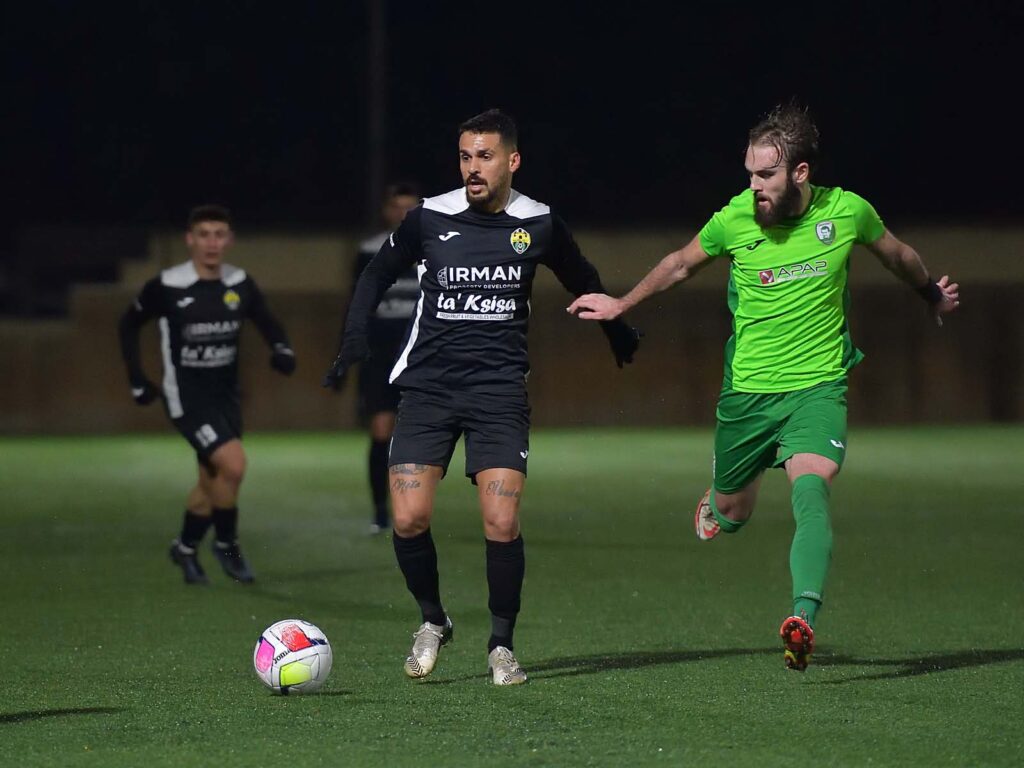 Timeline:
Play during the first half took place mainly in the midfield as the two defensive departments prevailed over the respective strikers so serious actions at the two ends of the field were rare. However, Oratory capitalised from a rebound near the end of the first half and took the break with a one-goal lead.
11' Ghajnsielem created the first serious scoring opportunity but Patrick Dos Santos Cruz headed weakly from a good position following a cross by Naim Ibrahim Belhadj and goalie Angelo Brignoli saved without difficulty.
22' The Youths replied with an effort directly from a free kick by Jovan Mijuskovic that was blocked by Ghajnsielem's goalie Adrian Parnis.
28' Oratory were again dangerous when Haraan Goncalves Barbosa entered Ghajnsielem's territory with a personal action but his low shot ended wide.
33' Ghjansielem's Alberto Xuereb had a shot from an angled position that ended wide.
39' The Blacks had their best opportunity to open the score but a first-timer by Patrick Dos Santos Cruz following a cross from the left flank by Chris Camilleri missed the target.
42' (0-1) Oratory broke the deadlock when Ghajnsielem's goalie Adrian Parnis partially saved a strike by Haraan Goncalves Barbosa and from the rebound, Neil Said placed in goal from close distance.
43' Ghajnsielem had an immediate reply but a free kick by Joao Pedro Oliveira Santos from an angled position ended just wide.
HT (0-1)
Second Half
The Blacks came out determined to produce a reaction after the break and although they held territorial supremacy, they found it extremely difficult to create danger on Oratory's goal. The Youths were very well organised at their defence and went close to adding another goal on more than one occasion through counter breaks.
1' Oratory threatened Ghajnsielem's rear guard after just 20 seconds of play into the second period, but Nikola Sutic's strike ended wide.
4' Ghajnsielem could have capitalised better but a header from close distance by Daniel Farrugia following a prolonged action ended high.
9' Oratory operated a counter break through Jovan Mijuskovic and Haraan Goncalves Barbosa but the shot by the latter ended wide.
20' Ghajnsielem had a good shot from outside the area by Alberto Xuereb that was well saved by goalie Angelo Brignoli.
21' Ghajnsielem's keeper Adrian Parnis was again called to make an important save to block a low shot from outside the area by Nikola Sutic
32' (1-1) Ghajnsielem clinched the equaliser through a header by Patrick Dos Santos Cruz following a corner kick by Joao Pedro Oliveira Santos.
37' (1-2) Oratory regained the lead when Jovan Mijuskovic released Haraaran Hajazan Goncalves Barbosa at the edge of the area and the latter fired in goal with a low shot.

FT (GHJ 1 – OY 2)
Referee: Alex Johnson