3 March 2023
GFA BOV Gozo Football League Division I: T/4 (MD 16) Gozo Stadium
Qala Saints FC : 2
Xewkija Tigers FC : 0
21' (1-0) Rafael Conrado Prudente
42' (2-0) Julian Yoiti Suzuki Bicudo
Qala S:
O. Attard, L. Grima, Jsph. Buttigieg, J.V. Ferrari Silva, J.Y. Suzuki Bicudo (N.C. Njoku), Jsh. Buttigieg (M. Buttigieg), S. Attard, E. Buttigieg, J. Parnis (L. Attard), R.C. Prudente, M. Xerri (J. Xerri).
Xewkija T:
N. Kosanin, J. Vella, M. Mercieca, J. Buttigieg, R. Buttigieg (M. Bonnici), J.A. Hernandez Leal, A. Bozovic, D. Mercieca (S. Xuereb), C. Camilleri, D. Andelovic, J. Camilleri.
Qala Saints returned to winning ways after a long period of disappointing results and registered a 2-0 victory in their match against Xewjija Tigers.  With this result, Qala regained some confidence as they were coming from a difficult period where they saw their hopes to challenge for the title fade away.
In this match, Qala was determined to obtain the win and dominated play throughout the first half.  Qala took a two-goal lead and was therefore in a position to administer Xewkja's reaction throughout the second period.  In this match, Qala's defensive department was once again strong enough to deny their opponents from creating serious danger and the maroons were also effective in attack particularly as their prolific striker Rafael Conrado Prudente was again among the scorers after four matches.  On the other hand, Xewkija once again found it difficult to challenge other teams in the Top 4 and conceded the second defeat from two matches in this phase of the championship.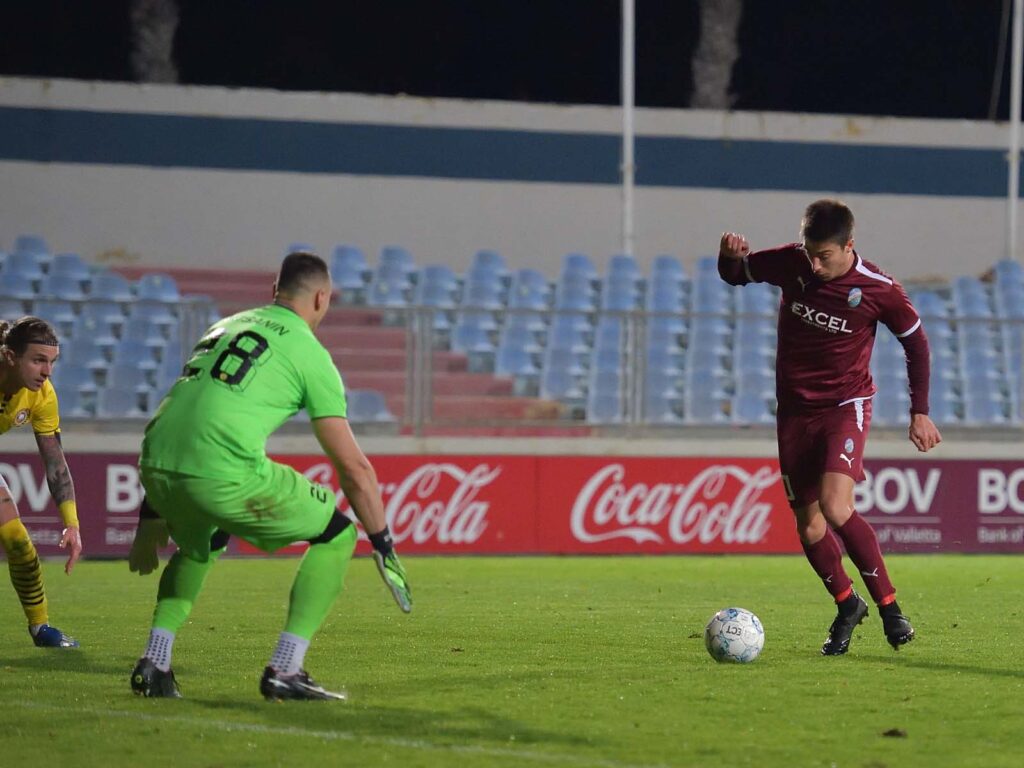 Timeline:
Qala took command of play from the first minutes and for most of the first half they kept the pressure on Xewkija's defence.  The latter tried to threaten their opponents with counter breaks but Qala's defence was well organised and the goalkeeper was rarely called to make difficult interventions.
14' Qala went close to open the score but a header by Rafael Conrado Prudente from a good position following a cross by Manwel Xerri missed the target.
21' (1-0) The Maroons took the lead with a goal that arrived through a header by Rafael Conrado Prudente from a corner kick by Julian Yoiti Suzuki Bicudo.
24' Xewkija replied with an initiative by Matthias Mercieca who passed through Qala's defence and released Jhanluis Hernandez Leal but the latter saw his shot that was well saved by goalie Owen Attard.
29' Xewkija's goalie Nikola Kosanin was well placed and blocked with difficulty to a corner an attempt by Jordi Parnis.
40' (0-2) penalty Qala doubled the score when they were awarded a penalty for handling by Xewkija's Josiah Buttigieg following a cross by Rafael Conrado Prudente and Julian Yoiti Suzuki Bicudo netted his shot from the spot kick.
43' (post) Qala continued to dictate matters and was again dangerous through a personal action by Suzuki Bicudo who passed through Xewkija's defence but the base of the post stopped his low shot.
45+1' The Maroons missed another excellent opportunity to increase their lead when Suzuki Bicudo delivered a cross inside Xewkija's area, Jordi Parnis prolonged with a header but Joshua Buttigieg hit badly from an ideal position and the defence cleared the danger.
HT (2-0)
Second Half
Xewkija were not demoralised and for the second period, they tried to re-open the issue.  Qala, however, were well deployed and managed to protect their lead and at the same time, they operated sporadic break which could have been converted into more goals.
11' Qala's Suzuki Bicudo once again created a potential scoring opportunity but from his cross, Shaun Attard saw his shot that ended wide.
15' Xewkija's Johnny Camilleri had an opportunity to re-open the issue but his shot from close distance missed the target.
19' The Maroons went again close to score another goal but a lob from close distance by Rafael Conrado Prudente following a personal action ended over the crossbar.
20' Qala's goalie Owen Attard was called to make a good save to deny Xewkija from scoring and blocked a shot by Chris Camilleri.
36' Xewkija's goalie Nikola Kosanin was again at the right place and save to a corner with some difficulty and a low shot by Rafael Conrado Prudente.
FT (QS 2 – XT 0)
Referee: Slawomir Olucha