2 April 2023
BOV GFA Cup S/final 2 Gozo Stadium
Nadur Youngsters FC : 3
Qala Saints FC: 1
34' (1-0) Lucas Baretto Da Silva
45+2' (2-0) penalty Marcelo Jr Barbosa
72' (2-1) Emanuel Buttigieg
77' (3-1) Igor Nedeljkovic
Nadur Y:
S. Sultana, L.B. Da Silva, M. Tabone, I. Xuereb, J. Zammit (J.M. Vella), M.Jr. Barbosa, S. Cassar (G. Farrugia), G. Hili, G. Dourado Ferreira, G. Muscat (M.P. Camilleri), I. Nedeljkovic.
Qala S:
O. Attard, L. Grima, Jsph. Buttigieg, J.V. Ferrari Silva (L. Attard), Jsh. Buttigieg (N.C. Njoku), A. Carvalho, S. Attard, E. Buttigieg, J. Parnis, R.C. Prudente, M. Xerri (M. Buttigieg).
Nadur Youngsters remain in contention to repeat the success registered last season by winning the three mina competition in local football as they earned qualification to the BOV GFA Cup final with a 3-1 win over Qala Saints in the second semi-final of the competition.
This was a match between the two main challengers for the title this season.  Nadur became mathematically champions for the second consecutive season the previous weekend, while Qala was aiming to contest another honour to Nadur as they are already finalists in the GFA Knock Out competition for the first division.  The match was a typical cup tie where the two sides confirmed their strong potential expressed in the championship.  Qala held territorial supremacy for most of the first half but they failed to convert their play into scoring opportunities so they were punished by their more experienced opponents and conceded two goals before halftime.  Qala continued to show determination after the break and re-opened the issue for some minutes but Nadur recovered and score the third goal that made sure of the win.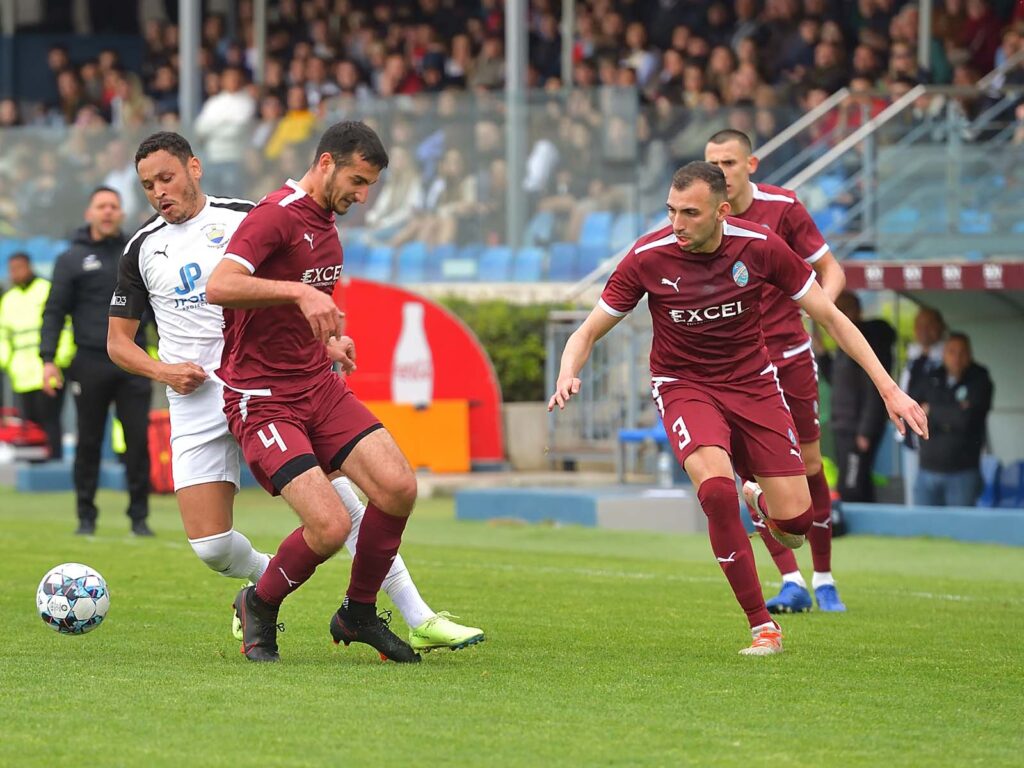 Timeline:
Qala was the better side for most of the first period but Nadur managed to resist and as time passed by they came out of the defence with dangerous breaks.  Nadur capitalised from a corner action and a penalty so that they entered the break with a two-goal lead.
4' Nadur could have scored an early goal but an attempt directly from a free kick by Marcelo Barbosa was turned to a corner by Qala's goalie Owen Attard.
17' Qala could have created more danger when Jordi Parnis unmarked Shaun Attard inside Nadur's area but the latter saw his effort that was saved without difficulty by Nadur's keeper Steve Sultana.
22' (post) The Maroons were unlucky when a header by Joao Vitor Ferrari Silva from a cross by Jordi Parnis defeated the goalkeeper but the ball was stopped by the post.
25' Qala were again dangerous through a header by Joshua Buttigieg from a corner kick by Ayesller Carvalho but the ball ended over the crossbar.
34' (1-0) Nadur took the lead through a header from close distance by Lucas Baretto Da Silva from a free kick by Marcelo Barbosa.
41' Qala replied with a strike by Ayesller Carvalho that was saved to a corner by goalie Steve Sultana
45+2' (2-0) penalty Nadur won a penalty on the stroke of half-time when a cross by Stefan Cassar was handled inside the area by defender Emanuel Buttigieg and Marcelo Jr Barbosa made no mistake with his shot from the penalty spot to put his side in a comfortable lead.
HT (2-0)
Second Half
After the resumption, Qala increased their efforts in an attempt to re-open the issues but Nadur consolidated their defensive department and the actions on goal during the first part of the second half became rare.  As time passed by the Maroons pushed more players forward and reduced the deficit but they also conceded more space at their defence so that Nadur soon re-established their two-goal difference.
18' Nadur's goalie Steve Sultana had good timing to block a cross-shot from the right by Jordi Parnis.
20' Nadur replied with a low drive by Marcelo Barbosa aimed towards the far post that ended wide.
24' (crossbar) Nadur went very close to adding another goal but an attempt directly from a free kick by Igor Nedeljkovic hit the crossbar.
27' (2-1) Qala re-opened the issue with a goal that arrived through a header by skipper Emanuel Buttigieg following a free kick by Ayesller Carvalho.
32' (3-1) Nadur had an immediate reaction and regained the two-goal lead when Qala's rear guard failed to clear a through ball by Marcelo Barbosa and Igor Nedeljkovic won the possession, entered Qala's area, turned around the goalkeeper and deposited the ball into an open goal.
35' Qala went closest to reducing the deficit for the second time through an attempt by Ayesller Carvalho but the ball ended away from Nadur's goal.
37' (protests for penalty) Qala protested for a penalty when Joseph Buttigieg ended up on the floor inside Nadur's area when he tried to hit the ball in a challenge with Ian Xuereb.
FT (NY 3 – QS 1)
Referee: Slobodan Petrovic