23 April 2023
BOV GFA Cup Final Gozo Stadium
Nadur Youngsters FC : 6
Ghajnsielem FC : 0
7' (1-0) Marcelo Jr Barbosa
21' (2-0) Stefan Cassar
23' (3-0) Marcelo Jr Barbosa
28' (4-0) Igor Nedeljkovic
47' (penalty missed – wide) Patrick Dos Santos Cruz (GHJ)
55' (5-0) penalty Marcelo Jr Barbosa
61' (6-0) Igor Nedeljkovic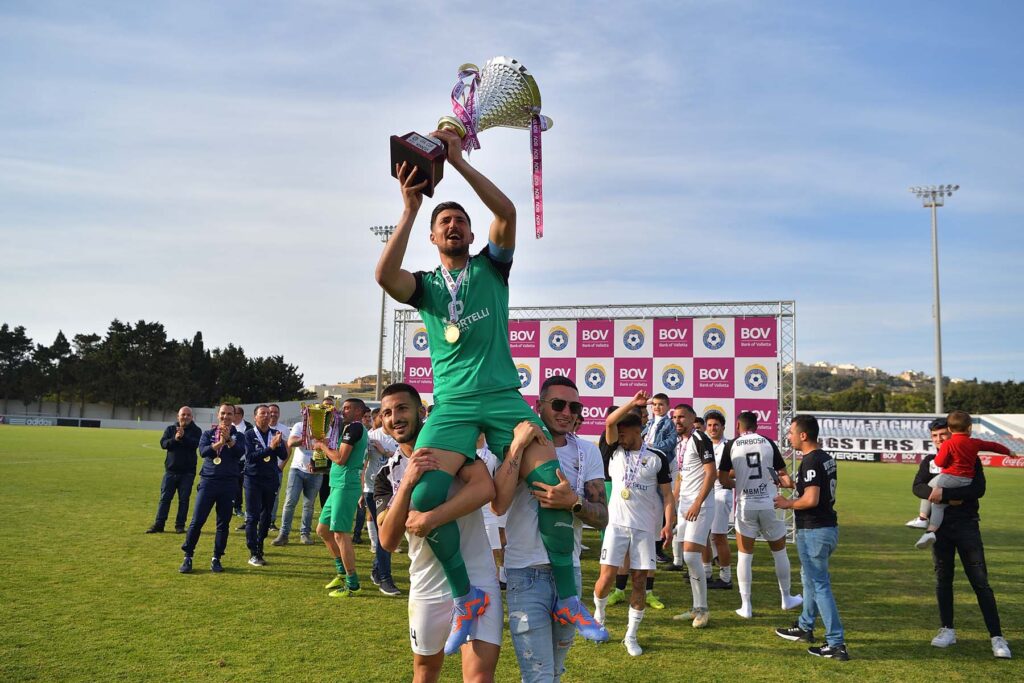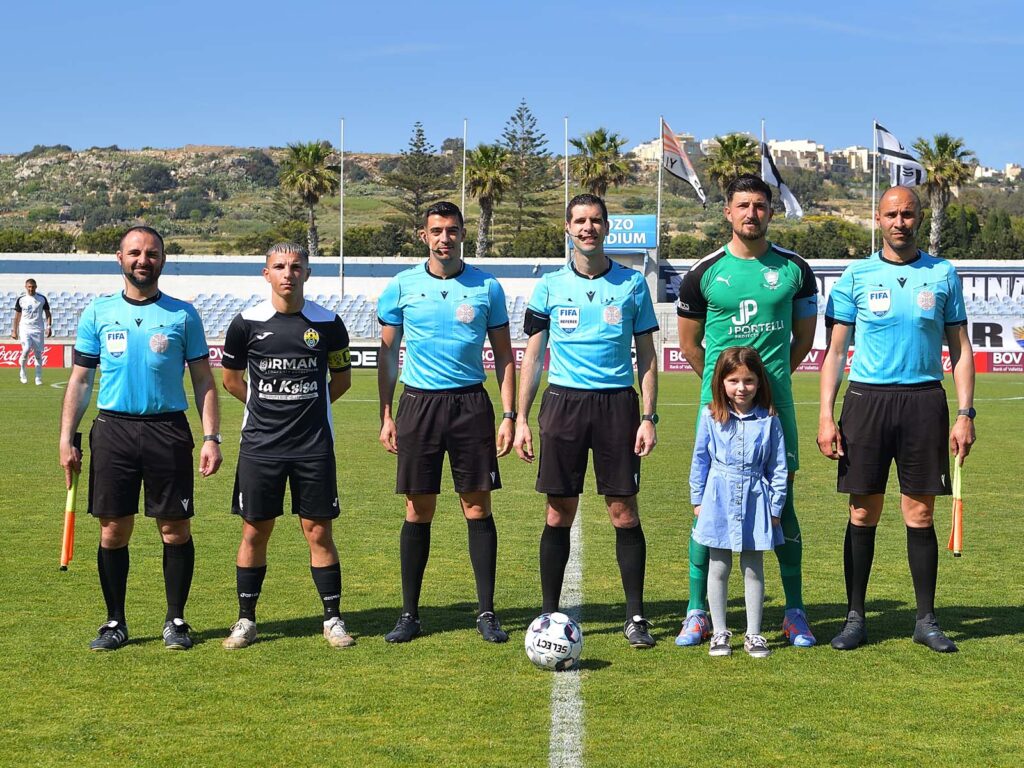 Nadur Y:
S. Sultana, L.B. Da Silva, M. Tabone (J.M. Vella), I. Xuereb, J. Zammit (J. Xerri), M.Jr. Barbosa, S. Cassar (G. Farrugia), G. Hili, G. Muscat (M.P. Camilleri 59), I. Nedeljkovic (M. Said), P. Dordevic.
Ghajnsielem:
A. Parnis, K. Borg, A. Xuereb, D. Farrugia, J.P. Oliveira Santos, K. Farrugia (K. Bajada), N.I. Belhadj (P. Vella), K. Grima, M.A. Scicluna (J. Micallef), P.A. Mota De Lima, P. Dos Santos Cruz.
Nadur Youngsters ended a second consecutive memorable season with a convincing win over Ghajnsielem in the final of the BOV GFA Cup. This was the tenth time that Nadur lifted this second most important honour in Gozitan football.
Nadur Youngsters were favourites to end this season by winning this honour, but the final was expected to be more contested as Ghajnsielem, who finished in first place in the Play-Out phase of the championship, earned the qualification with an impressive win over Kercem Ajax in the semi-final and the same Blacks started this season by defeating the same Nadur in the Super Cup final.  However, in this match, Nadur took revenge for the defeat conceded in the Super Cup and extended their good moment of form during the last part of the season which saw them becoming mathematically champions before the end of the championship and also winners of the KO competition.
Ghajnsielem had their regular central defender Junior Valdeci Candido missing due to a suspension and they had to re-organise a defensive department which failed to meet the expectations so that they compromised their chances to challenge for the hour by conceding four goals in the first half hour of the encounter. Nadur scored an early goal and took full command of play so that they created continuous danger within Ghajnsielem's territory and denied their opponents from producing a reaction.  Nadur reduced their pressure during the last part of the match when they had a comfortable six-goal cushion but they still managed to end the final with a clean sheet.
After the match, Nadur Youngsters were presented with medals and the BOV GFA Cup by Ms Charmaine Borg, the Regional Manager for the Bank of Valletta for Gozo, together with the Vice-President of the Gozo Football Association Mr Charlie Zammit and the General Secretary of the Association Mr Tony Grech.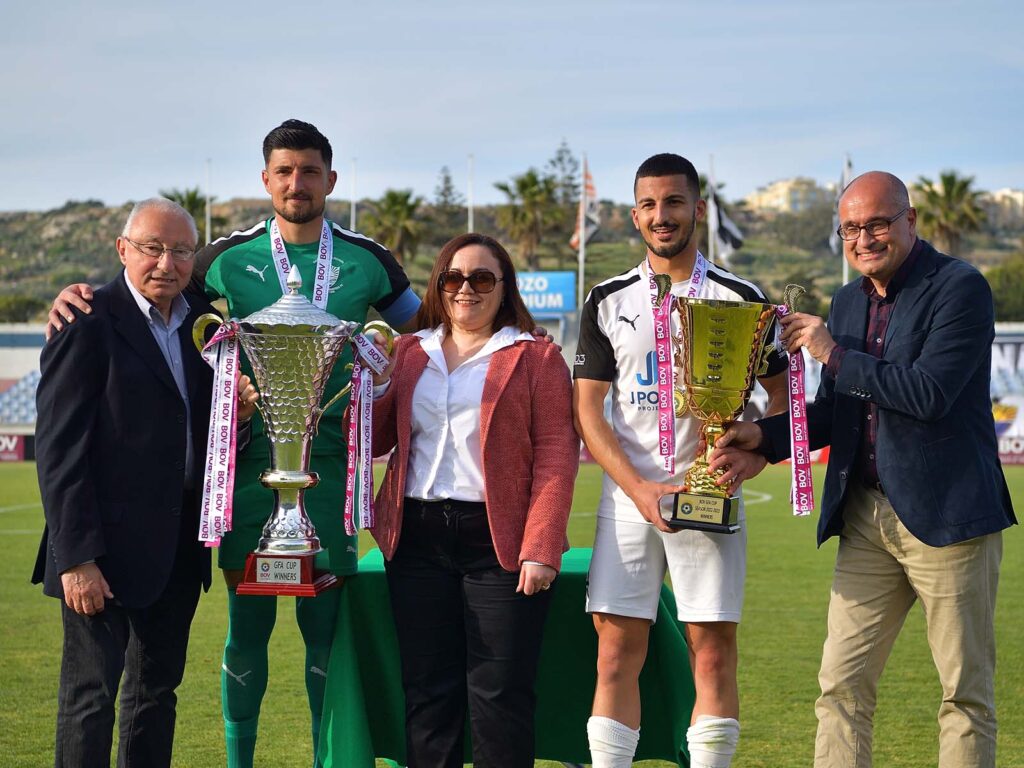 Timeline:
Nadur took command of play from the first minutes of the encounter and took full advantage of a series of mistakes by Ghajnsielem's defence so that the champions paved the way to the win by scoring four goals within the opening half an hour of play.  Ghajnsielem were demoralised and only managed to threaten Nadur's rear guard on a few occasions from set pieces.
7' (1-0) Nadur opened the score when Marcelo Jr Barbosa won the ball from Ghansielem's defence following a personal initiative, exchange with his colleague Joseph Zammit and the Brazilian striker netted with a fine shot from close distance.
15' (goal disallowed) Ghajnsielem tried to produce an immediate reaction and Joao Pedro Mota De Lima netted with a tap-in but the goal was disallowed for an offside infringement.
21' (2-0) Nadur once again punished their opponents when the defence failed to clear a low pass by Marcelo Barbosa and the ball arrived to an unmarked Stefan Cassar who fired in goal from an ideal position.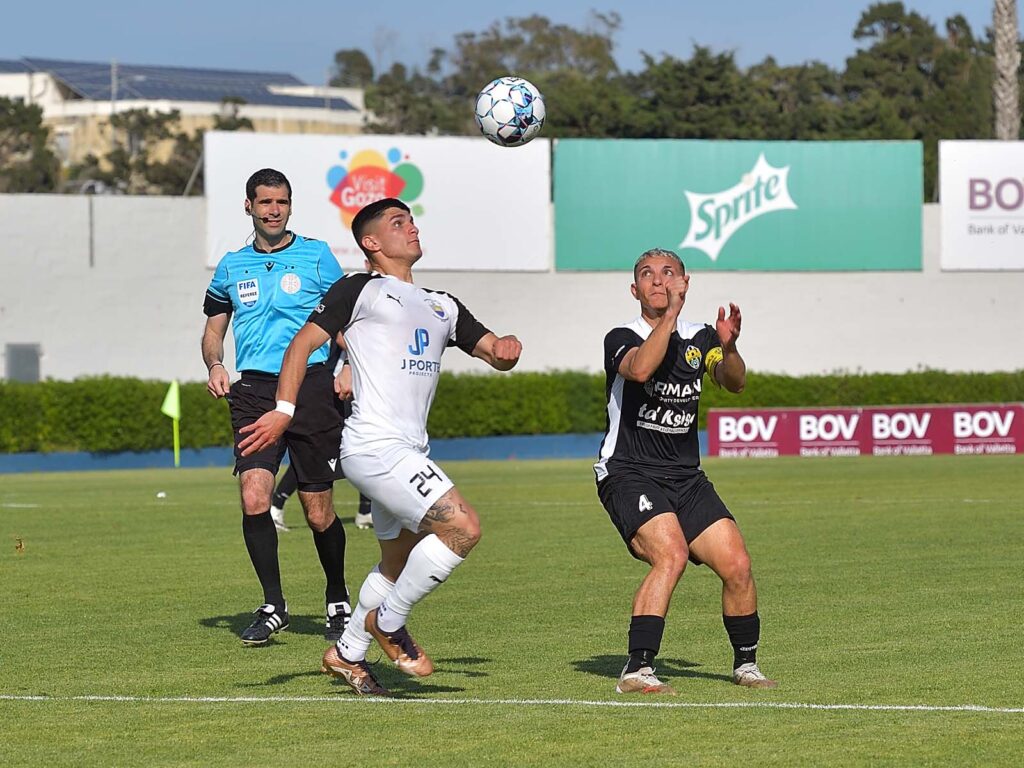 23' (3-0) Nadur kept insisting and added another goal with a low shot by Marcelo Jr Barbosa following a personal action just outside the area.
28' (4-0) Ghajnsielem's defence continued to find it difficult to neutralised Nadur's strikers and the goalkeeper left his position in an attempt to deny Stefan Cassar from meeting a low pass by Marcelo Barbosa but the ball arrived to Igor Nedeljkovic who concluded in the net from close distance.
38' Ghajnsielem's goalie Adrian Parnis was called to make a good save to block an attempt from a free kick by Gennaro Hili.
40' Ghajnsielem replied with an effort from a direct free kick by Joao Pedro Oliveira Santos that was saved with difficulty by Nadur's goalie Steve Sultana.
45' The same goalkeeper was at the right place and neutralised without difficulty another attempt from a free kick by Joao Pedro Oliveira Santos.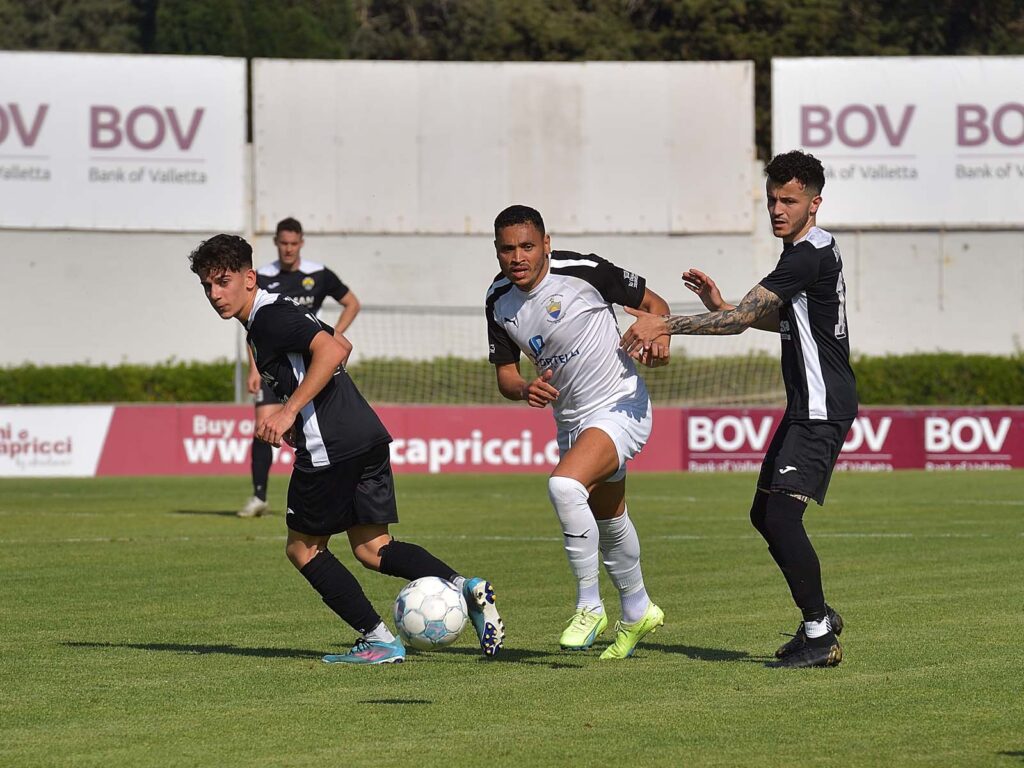 HT (4-0)
Second Half
After the resumption, Ghajnsielem tried to be more adventurous but Nadur was in control of the match so they administered play and added more goals to end up winning the final by a large margin.
1' (penalty missed – wide) Ghajnsielem could have reduced the deficit when they were awarded a penalty after 26 seconds of play into the second period for a foul by Ian Xuereb on Patrick Dis Santos Cruz but the latter saw his shot from the penalty spot that ended wide.
4' Nadur were dangerous through a strike by Igor Nedeljkovic after receiving from Stefan Cassar but the ball ended away from goal.
9' (5-0) penalty Nadur won a penalty for a foul by Ghajnsielem's Mark Anthony Scicluna on Marcelo Jr Barbosa and the striker increased the lead for his side by converting the shot from the penalty spot.
16' (6-0) Nadur scored the sixth goal when Marcelo Barbosa released Igor Nedeljkovic and the Serbian striker surprised Ghajnsielem's goalie with a low shot.
Nadur took their foot off the pedal and Ghajnsielem increased their efforts in an attempt to make the score more respectable.
23' Ghajnsielem went close to score but a header by Daniel Farrugia from a corner kick by Joao Pedro Oliveira Santos ended wide.
25' The same Oliveira Santos delivered an inviting cross from the left-hand side of Nadur's area but the header by substitute Kurt Bajada ended high.
29' Ghajnsielem were again dangerous through a strike by Joao Pedro Oliveira Santos that was saved to a corner with difficulty by Nadur's goalie Steve Sultana.
FT (NY 6 – GHJ 0)
Referee: Matthew De Gabriele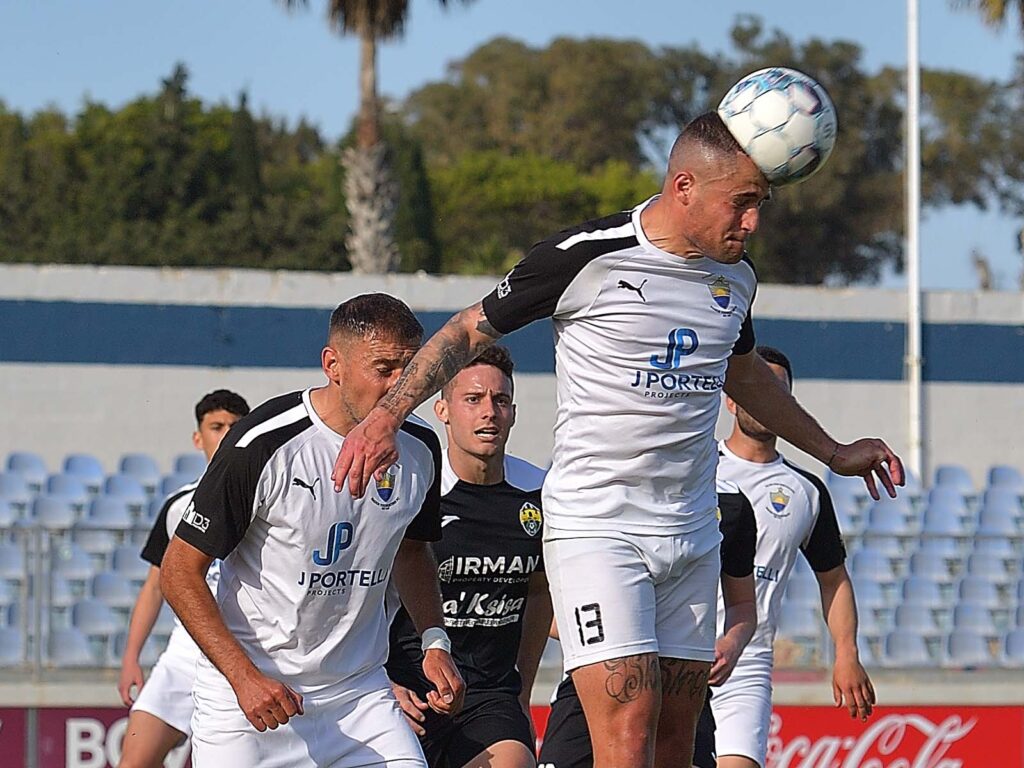 | | | | | | | | |
| --- | --- | --- | --- | --- | --- | --- | --- |
| Final Standings | | | | | | | |
| 16/04/2023 | P | W | D | L | F | A | PTS |
| Top 4 | | | | | | | |
| NADUR Y** | 20 | 13 | 4 | 3 | 47 | 21 | 43 |
| QALA S | 20 | 11 | 6 | 3 | 42 | 25 | 39 |
| KERCEM A | 20 | 9 | 5 | 6 | 36 | 26 | 32 |
| XEWKIJA T | 20 | 7 | 6 | 7 | 26 | 19 | 27 |
| Play-Out | | | | | | | |
| GHAJNSIELEM | 20 | 8 | 3 | 9 | 39 | 36 | 27 |
| ORATORY Y | 20 | 6 | 5 | 9 | 24 | 33 | 23 |
| VICTORIA H *** | 20 | 4 | 4 | 12 | 32 | 45 | 16 |
| SANNAT L* | 20 | 4 | 3 | 13 | 21 | 62 | 15 |
| ** Nadur Y Champions | | | | | | | |
| * Sannat L Relegated | | | | | | | |
| DIVISION II | | | | | | | |
| Final Standings | | | | | | | |
| 19/03/2023 | P | W | D | L | F | A | PTS |
| SK VICTORIA W** | 15 | 11 | 2 | 2 | 38 | 13 | 35 |
| XAGHRA U *** | 15 | 9 | 2 | 4 | 29 | 17 | 29 |
| ZEBBUG R | 15 | 7 | 1 | 7 | 29 | 24 | 22 |
| MUNXAR F | 15 | 5 | 4 | 6 | 21 | 31 | 19 |
| ST LAWRENCE S | 15 | 4 | 4 | 7 | 18 | 24 | 16 |
| GHARB R | 15 | 0 | 5 | 10 | 18 | 44 | 5 |
| ** SK Victoria W champions | | | | | | | |
*** Xaghra United was promoted, and Victoria Hotspurs relegated in Play Off