9 September 2023
GFA 2nd Division Challenge Cup (MD 1) Kercem Stadium
Sannat Lions : 2
Gharb Rangers : 1
30' (1-0) Joseph Bonnici
67' (1-1) Carlos Cutajar
72' (2-1) Nicholas Grima
Sannat L:
F. Portelli, G. Portelli, G. Debrincat (P. Said 54), E. Gauci (D. Borg 82), N. Grima, J. Bonnici, C. Dingli (J. Cassar 71), M. Mifsud, B. Kanta, A. Azzopardi, C. Buttigieg (T. Agius 82).
Gharb R:
A. Micallef, R. Portelli, C. Cutajar, T. Axiak (S. Azzopardi 89), M. Grech (G. Sillato 74), J. Xerri (S. Farrugia 83), S. Sillato, M. Perisic, D. Galea, F. Xuereb (D. Vella 83), S. Gauci.
In the first match from the second edition of the GFA 2nd Division Challenge Cup, Sannat Lions obtained a deserved 2-1 win over Gharb Rangers so that they may aim to be among the challengers of this competition. Sannat were the better side for most of the encounter but they failed to open a comfortable lead so they allowed their opponents to level the score and also to remain in contention until the end of the match.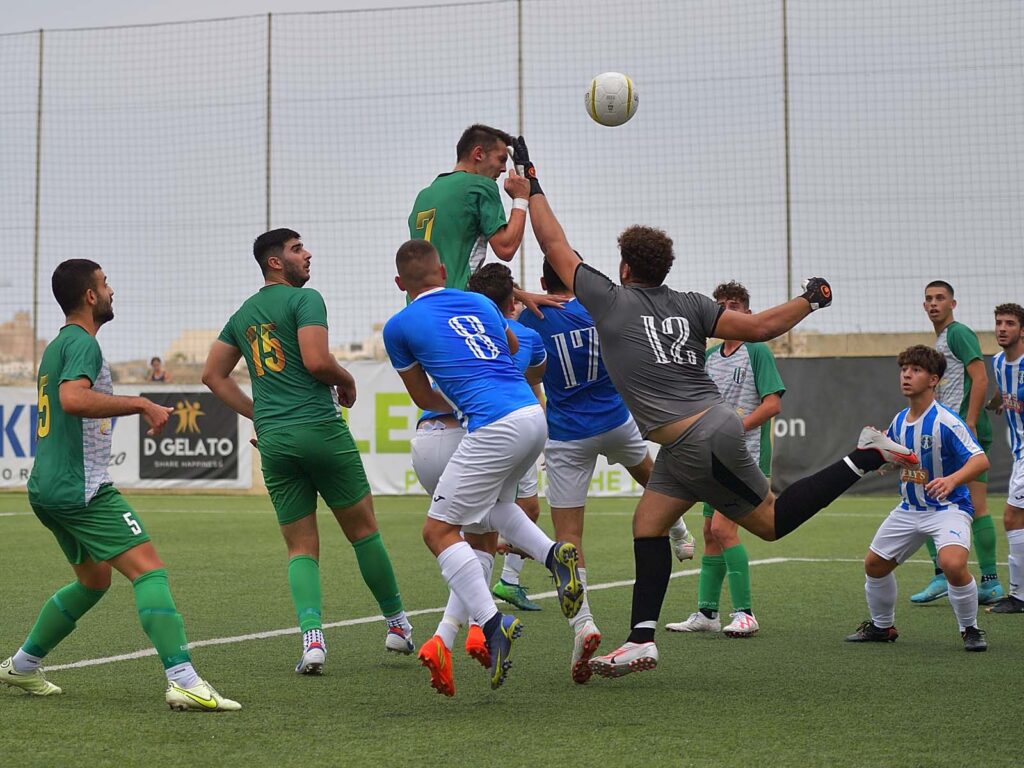 Timeline:
Sannat came out more aggressive and for most of the first period they produced pressure on Gharb's rear guard.
14' Sannat's Aaron Azzopardi had a shot from outside the area that ended just high.
30' (1-0) Sannat opened the score when a header by Gabriel Debrincat from a free kick hit the crossbar and from the rebound, Joseph Bonnici headed in goal despite the pressure of a defender.
32' Sannat were again dangerous through a strike by Boubacar Kanta that missed the target.
HT (1-0)
Second Half
Sannat tried to control the play after the break but Gharb came out determined and tried to threaten Sannat's defence in an attempt to recover the deficit. Sannat however regained territorial supremacy, regained the lead and defended the result until the final whistle.
9' Gharb created their first serious scoring opportunity through a shot from a long distance by Francesco Xuereb that ended wide.
18' Sannat went very close to add another goal when Boubacar Kanta entered Gharb's area with a personal action but his low shot aimed towards the far post ended just wide.
22' (1-1) Gharb levelled the score through a shot by Carlos Cutajar, following a cross from the left flank, that surprised Sannat's goalie
27' (2-1) Sannat regained the lead when Boubacar Kanta headed towards Nicholas Grima who concluded in goal with a low drive.
FT (SL 2 – GR 1)
Referee: Ezekiel Barbara
Asst. Ref: Max-Lee Muscat Robert Curtis