7 September 2023
GFA BOV Gozo Football League 1st Division (MD 1) Gozo Stadium
Oratory Youths : 0
SK Victoria Wanderers : 4
2' (0-1) Gabriel Farrugia
12' (0-2) Caique Silvio Souza Da Silva
57' (0-3) Junior Conceicao Cabral
63' (0-4) Caique Silvio Souza Da Silva
90+4' (red card) Nichols Grech (SKVW)
Oratory Y:
A. Brignoli, A. Sultana, J. Buttigieg (D. Atzori 74), L.B. Coca, O. Curmi (N. Said 59), A. Azzopardi, A.G. Castro Martins, Ju. Attard (P. Rapa 59), H. Muscat, L.G. Santos Silva, R. Almeida Lopes (K. Saliba 90+1).
SK Victoria W:
A. Parnis, A. Galiano Lazarini, N. Camilleri (A. Refalo 84), M.V. Claudino Ramos, J. Conceicao Cabral (M. Gafa 89), E. Zammit, C.S. Souza Da Silva, N. Grech, G. Farrugia, A. Touarha (J. Saliba 67), L. Fenech.
In the opening match of the BOV Gozo Football League of the 1st division 2023/2024 newly promoted side SK Victoria Wanderers had an excellent return to the top flight and earned three points from a 4-0 win over Oratory Youths.  The Wanderers, who are aiming to be competitive in the championship took the driving seat from the first minutes of play and they rarely conceded any opportunities to their opponents to recover.
Victoria's coach Mark Buttigieg deployed an effective formation as the newly signed players provided a strong midfield which gave protection to the defence and also the necessary support to the strikers.  As a result, the Wanderers held command of play in this derby match throughout the ninety minutes.  On the other hand, Oratory was disappointed in this match as they compromised the result during the first minutes of play.  Their coach Darko Stojanovic had many changes in his squad from that of the last season and most of the new players would probably need more time to find their best form to keep their team away from the red zone.
Victoria's win matured with two goals scored in each half, with goals scored by three of their debutants. Midfielder Caique Silvio Souza Da Silva also marked his positive performance by scoring two personal goals.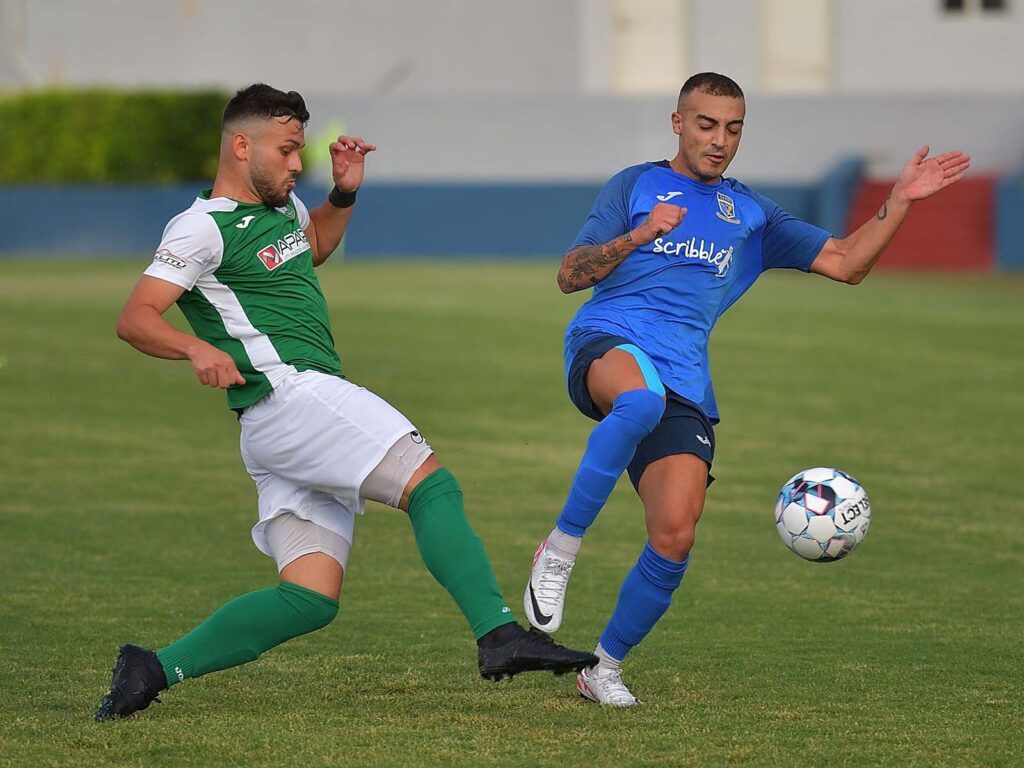 Timeline:
SK Victoria Wanderers came out more aggressive and managed to open a two-goal lead during the opening minutes of the encounter so they continued to administer play until the break.  Oratory tried to recover from the early shock and for some time they also pushed their opponents within their territory but the Youths rarely created serious attempts towards Victoria's goal.
2' (0-1) The Wanderers opened the score when Conceicao Cabral won the ball inside the area following a low cross by Souza Da Silva and Gabriel Farrugia took the opportunity to conclude from close distance with the ball hitting a defender before ending in the net.
12' (0-2) Victoria Wanderers doubled the lead through a low shot by Caique Silvio Souza Da Silva following a cross from the right flank by Emerson Zammit.
16' The Youths replied with an effort by Andre Gabriel Castro Martins that was neutralised by goalie Adrian Parnis.
18' Oratory once again threatened Victoria's defence but a shot by Rian Almeida Lopes ended high.
24' (protests for penalty) SK Victoria Wanderers protested for a penalty when Conceicao Cabral tried to turn around Luis Gabriel Santos Silva but the former ended up on the floor inside Oratory's area.
27' The Wanderers went very close to double the score but Conceicao Cabral was denied from scoring a spectacular goal when his overhead kick was saved with difficulty by Oratory's keeper Angelo Brignoli.
HT (0-2)
Second Half
Oratory came out more determined for the second period and produced pressure on Victoria's rear guard in an attempt to recover the deficit.  The Youths failed to capitalise on their chances and practically they threw the towel when they conceded the third goal from a counterbreak just before the hour mark.
5' Oratory's Castro Martins had a shot from the edge of the area following a corner action but the ball ended away from goal.
7' (protests for penalty) Oratory protested for a penalty as they claimed that the foul by Nicholas Grech on Castro Martins was committed inside the area.
12' (0-3) The Wanderers increased their lead when Souza Da Silva entered Oratory's territory in a counter break and from his low pass Junior Conceicao Cabral controlled easily and netted with a low drive.
18' (0-4) SK Victoria Wanderers added another goal that arrived from a direct free kick from an angled position by Caique Silvio Souza Da Silva that ended in goal despite the attempt of the goalkeeper to clear the danger.
41' Oratory had their best opportunity to score a consolation goal but a low shot by Rain Almeida Lopes was well saved by goalie Adrian Parnis.
45+4' (red card) The Wanderers ended the match on a negative note as they had defender Nicholas Grech was sent off for a second bookable offence committed on substitute Daniel Atzori.
FT (OY 0 – SKVW 4)
Referee: Slobodan Petrovic
Asst. Ref: Kurt Saliba, David Castillo