10 September 2023
GFA BOV Gozo Football League 1st Division (MD 1) Gozo Stadium
Kercem Ajax FC : 0
Xewkija Tigers FC : 1
31' (0-1) Damir Andelovic
87' (red card) Jason Theuma (KA)
Kercem A:
D. Spiteri, J. Tabone (D. Cassar 73), E. Caetano Pena, J. Theuma, O.G. Fernandes, C. Attard (O.P. Bugeja 56), P. Vinicius De Moraes Ferreira, A. Mizzi, G. Cardona, S. Azzopardi, E. Peters.
Xewkija T:
N. Kosanin, J. Axiak, D. Bogdanovic, M. Mercieca (J. Vella 86), R. Buttigieg, K. Farrugia, A. Bozovic, S. Xuereb, M. Bonnici (S. Tesic 72), D. Andelovic, H. Bonnici.
In the main match from Match-Day 1 of the BOV Gozo Football League of the 1st division, Xewkija Tigers registered a close win over Kercem Ajax so that the former achieved the objective of starting the championship with a win.
This match was considered as a direct clash between two teams who are aiming to be among the top teams in the category and therefore both Xewkija and Kercem were aiming to take the full points at stake. Xewkija's win was deserved as they created more scoring opportunities than their opponents and they could have obtained the win with a larger margin.
For this match, Xewkija's coach Daniel Bogdanovic had some established players who were missing due to injuries and suspensions but the young players who were introduced in the starting line-up delivered above the expectations and as a result the match turned out to be well contested.  Kercem's coach Michael Vella was undoubtedly disappointed with the performance as his side seemed to have the potential to produce better play.  The Ajax may have been overconfident in their approach to this encounter and as a result, they found it extremely difficult to recover a goal that they conceded on the half-hour mark.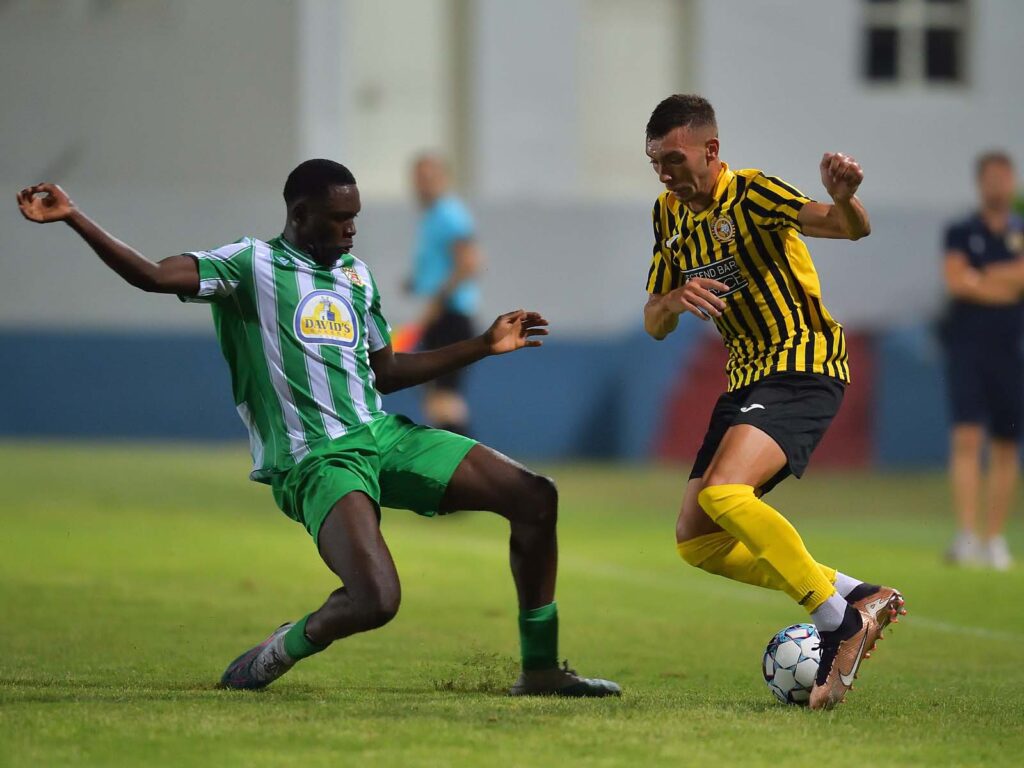 Timeline:
Play was rather balanced as the two sides had a prudent approach as they tried to avoid compromising the match at the early stages. As time passed by Xewkija's play became more effective and created potential scoring opportunities.
18' (protests for penalty) Xewkija protested for a penalty when Hayden Bonnici ended on the floor inside Kercem's area following a challenge with his direct opponent.
26' Kercem's goalie Daniel Spiteri was in the right place and blocked with difficulty a fine strike from an angled position by Matthias Mercieca.
31' (0-1) Xewkija opened the score when Kercem's defence cleared badly from the territory and Damir Andelovic won possession at the edge of the area and fired towards goal with the ball ending in the net following a deflection by a defender.
34' Kercem replied through a shot by Pablo Vinicius De Moraes Ferreira that missed the target.
42' The Ajax were denied from scoring the equaliser with two consecutive saves by goalie Nikola Kosanin.  On the first occasion, the goalkeeper blocked to a corner a shot from angled position by Jason Theuma and from the resultant corner kick an attempt by James Tabone was also saved to another corner by Xewkija's keeper.
45' Xewkija's Rodney Buttigieg had a shot from a good position that ended away from goal.
45+2' (goal disallowed) Xewkija could have added another goal when Hayden Bonnici took the ball just outside Kercem's area but instead of concluding towards goal the young striker passed to Matthias Mercieca and the latter placed it in the net from an offside position so that the goal was disallowed.
HT (0-1)
Second Half
The match continued to be quite interesting after the break but Kercem found it difficult to create dangerous actions, while Xewkija failed to increase their lead so the outcome remained uncertain until the final whistle.
7' Kercem had their best opportunity to recover the deficit when Gabriel Cardona released Andrew Mizzi inside Xewkija's area but the latter concluded wide from an ideal position.
31' Kercem's goalie Daniel Spiteri made a good save to block an attempt directly from a free kick by Xewkija's Damir Andelovic.
32' Xewkija were again dangerous when substitute Stefan Tesic entered Kercem's territory but hesitate to conclude as he arrived at the edge of th area and the goalkeeper managed to clear the danger.
42' (red card) Kercem were reduced to ten players when Jason Theuma received a second yellow card for a foul in the midfield and was sent off.
43' (crossbar) Xewkija almost took immediate advantage of the extra player on the field of play when a header by Stefan Tesic hit the crossbar and from the rebound, the header by Hayden Bonnici was saved in two attempts by goalie Daniel Spiteri.
44' The same goalkeeper denied Xewkija from scoring a second goal when he took th ball from Stefan Tesic who entered alone inside Kercem's area.
FT (KA 0 – XT 1)
Referee: Slobodan Petrovic
Asst Ref: James Muscat, Shaun Calleja