BOV Gozo Football League Play-off
Gozo Stadium – 5 May 2018
MATCH DETAILS
SK Victoria W : 2 (A.G. Attard 37', N. Vella 45+2')
Ratto, N.J. Guerrero, A.G. Attard (A. Touarha), M. Vasiljevic, C. Sciortino, I. Xuereb, N. Vella, R. Grech, D.U.Monday, A. Ige, A. Adesina (S. Harland).
Sannat L : 0
Attard, F. Xuereb, F. Camilleri, M. Portelli, M. Muscat, J. Buttigieg, E. Gauci (J.Bonnici), O. Farrugia, J. Zammit, A. Camilleri, F. Kosova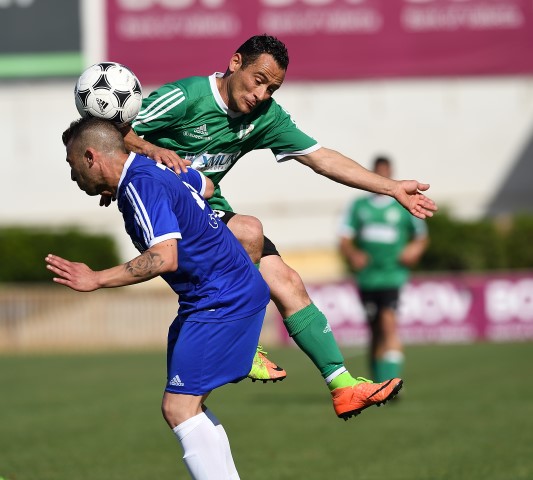 MATCH REPORT
SK Victoria Wanderers defended their division I status for another season with a 2-0 win over the runners up of the second division Sannat Lions in the play-off for a place in the top flight next season.  The match was characterized by a player sent off from each side, in separate actions, during eh opening stages of the first half and with two decisive goals that arrived during eh final stages of the first half.  The Wanderers as expected produced more dangerous play and could have added more goals during the second period but in more than one occasion the striker were erratic or found Sannat's substitute goalkeeper at the right place to block the danger.
Sannat seemed more determined during the opening minutes of the encounter and produced the better scoring opportunities.  In the fourth minute of play a header by Franci Kosova following a cross by Oliver Farrugia ended high and one minute later a shot by Joseph Zammit ended away from Victoria's goal.  The Wanderers replied on 10 minutes with a personal action by Ajibade Adesina who was floored outside the area by Sannat's goalie Owen Attard. Sannat's keeper was sent off for his action and from the resultant free kick Abdullahi Ige's attempt ended high.  The Wanderers tried to take advantage of the extra player on the field of play but failed to create danger on Sannat's goal. On 25 minutes the Wanderers were also reduced to ten players when Ian Xuereb was sent off by the referee for foul language. However, the Wanderers continued to enjoy more possession and on 25 minutes a direct corner kick by Anthony George Attard ended on the roof of Sannat's goal.  Two minutes later a low shot by Victoria's Ajibade Adesina who was released inside Sannat's area by Nicholas Vella ended wide and on 28 minutes a strike by skipper Chris Sciortino following a short clearance by Sannat's defense from a corner action, was well saved by Sannat's substitute goalkeeper Leonard Camilleri. The Wanderers opened the score on 37 minutes when Abdullahi Ige won a ball from Sannat's defense and from his low cross Anthony George Attard fired in goal with a low shot.  In the first minute of stoppage time before half time Victoria's Jesus Guerrero had a header from a good position ended wide.  The Wanderers scored their second goal one minute later through a spectacular strike by Nicholas Vella from outside the area, after receiving from Abdullahi Ige, that surprised Sannat's goalie.
Sannat's reaction after the break was sterile and then Wanderers controlled their lead with authority and on more than one occasion they went close to add more goals.  On 49 minutes an attempt by Abdullahi Ige following a good action by Chris Sciortino ended high ad two minutes later the same Abdullahi Ige had a shot form a good position that was partially saved by goalie Leonard Camilleri and from the rebound Ajibade Adesina concluded in goal but the referee disallowed for an offside infringement.  Sannat's keeper Leonard Camilleri was again well placed on 55 minutes to block a good effort by Abdullahi Ige following a personal action and same Victoria's striker was unlucky two minutes later when his attempt from a good position was stopped by the post. Victoria's Abdullahi Ige continued to be a continuous threat to Sannat's defense and on 63 minutes the striker had a shot from a good position that ended high.  Victoria could have scored the third goal on 73 minutes but a close ranged shot by Ajibade Adesina was neutralized by Sannat's keeper Leonard Camilleri. The same goalkeeper was again called to make a good save one minute later to block a shot by Milos Vasiljevic and on 80 minutes Sannat had their best opportunity to reduce the deficit but a header by Franci Kosova following a cross by Joseph Zammit ended wide. On 90 minutes the Wanderers lost another good scoring opportunity when Abdullahi Ige exchanged the ball inside Sannat's area with Nicholas Vella but the former saw his attempt that ended just wide.
Referee: Trustin Farrugia Cann