GFA BOV GFL Division II                                                                            Sannat Ground

Munxar F                    :           0
Xuereb, O. Saliba, P. Parnis, M. Debrincat, F. Azzopardi (G. Muscat), F. Cini, O. Curmi, J. Parnis, K. Mizzi (A. Sacco), M.M. Uzor (M. Bajada).
St Lawrence S           :           2          (M.S. Telessi 34'; C. Tabone 38')
Fenech, L. Buttigieg, S. Mizzi, M.S. Telessi (M. Mamo), C. Cauchi (S. Sultana), J. Grima, J. Portelli (J. Theuma), D. Micallef, C. Mercieca, C. Tabone, L. Attard.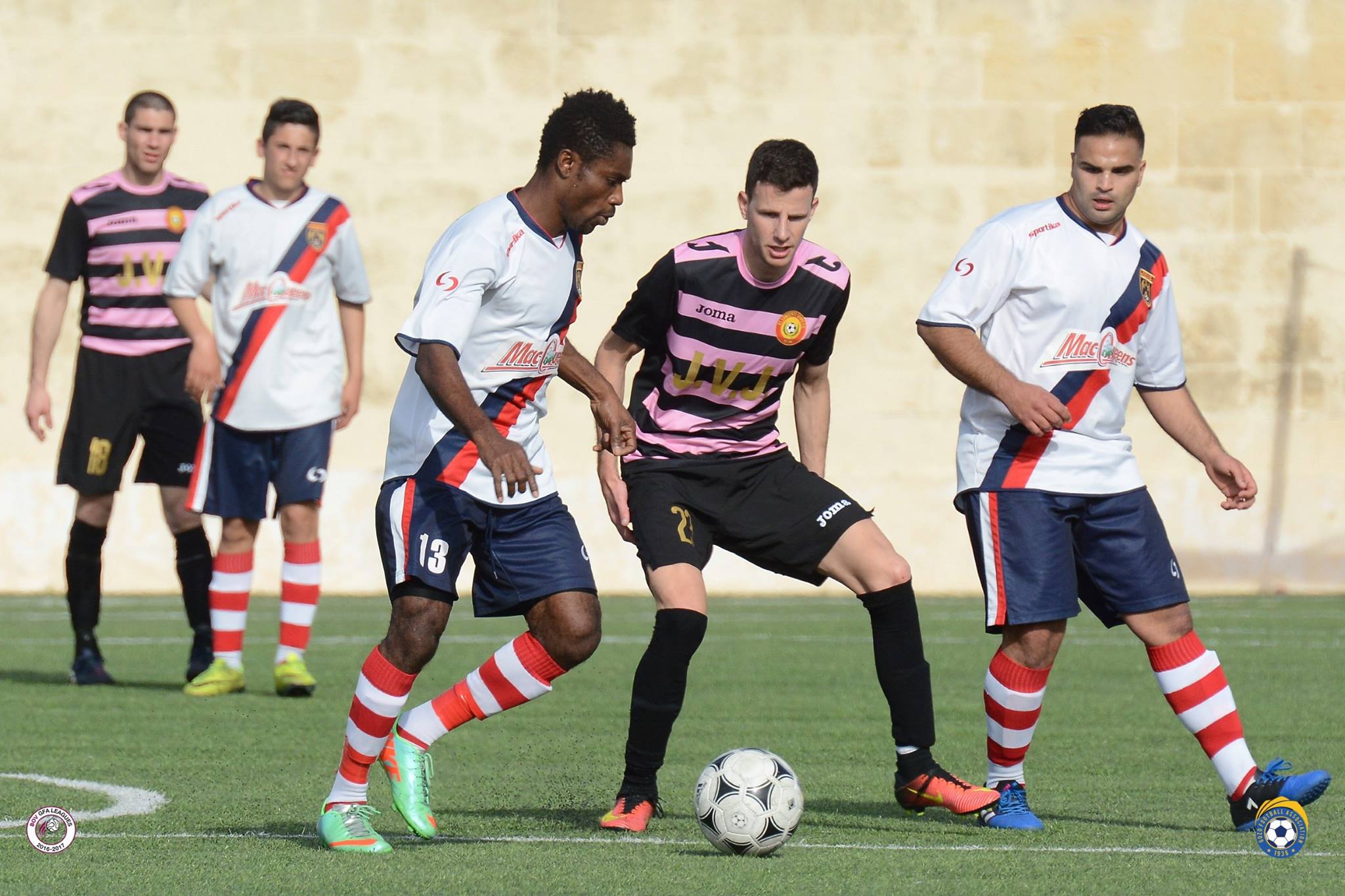 St Lawrence Spurs obtained a victory over Munxar Falcons with the least possible effort and with the points obtained they remain at the top of the table and serious challengers for promotion.  For this match Munxar were in a depleted side as they had a number of players who were not utilized as a precaution due to their important commitment in the final of the Knock Out competition.  St Lawrence took advantage and held command of play for most of the encounter but they only scored two goals, in the space of five minutes, during the last part of the first half.
The Spurs created a good scoring opportunity in the third minute but Munxar's goalie Lorjean Xuereb saved a header by Mohammed Senussi Telessi following a corner kick by James Grima.  Three minutes later Munxar's goalie Lorjean Xuereb was called to make the best save of the afternoon to turn into a corner a half volley by Mohammed Senussi Telessi following a cross by Christopher Cauchi.  On 10 minutes Munxar's Jordi Parnis had a good shot that ended wide and two minutes later Munxar's goalie Lorjean Xuereb was once again at the right place to save a first timer by Jason Portelli.  In the following minutes the Spurs continued to dictate matters and on two separate occasions Mohammed Senussi Telessi had attempts that ended wide.  On 33 minutes a good shot by Charlon Tabone after receiving from Jason Portelli was again neutralized by goalie Lorjean Xuereb.  St Lawrence opened the score on 34 minutes when Mohammed Senussi Telessi took the ball from a short clearance by Munxar's defense and concluded easily in goal when the goalkeeper was out of his position.  The Spurs doubled the score five minutes later through a tap-in by Charlon Tabone following a low cross from the left flank by Mohammed Senussi Telessi.  Munxar could have reduced the score near the end of the first half but Michael Mattias Uzor had his shot from a good position that ended wide.
In the second minute of play of the second period St Lawrence could have increased the score but a lob Mohammed Senussi Telessi when the goalkeeper left his goal unattended ended over the crossbar.  The match lost much of the interest as time passed by.  Munxar went close to reduce the score on 70 minutes when Elijah Xuereb was released by Jordi Parnis but the former had his attempt well saved by goalie Elliott Fenech.  Two minutes later St Lawrence's substitute Jason Theuma had a curling shot that ended high and on 85 minutes St Lawrence's other substitute Marlon Mamo produced a personal action inside Munxar's area but his attempt was well saved by goalie Lorjean Xuereb.  St Lawrence's last opportunity to score their third goal arrived in the first minute of stoppage time when a shot by Jason Theuma from a good position ended just wide.
Referee: Joseph Scerri