28 April 2019
GFA BOV Gozo Football League Division I Gozo Stadium
Xewkija T FC : 2 (D. Krstic 1', C. Antunes Pavlidis 77')
Camilleri, J. Azzopardi, M. Tabone (R. Buttigieg), D. Krstic, C. Antunes Pavlidis (C. Pace Stellini), G. Hili, J. Cefai Bonnici (T. Grech), L. Cilia, M. Stojanovic, M. Xerri, D. Bogdanovic.
Ghajnsielem FC : 5 (K. Mercieca 36'pen, L.A. De Melo Lima 63', 79', 83', 85')
Xuereb, J. Tabone (W. Hili), L. Silva Lopes, K. Mercieca, C. Hili, D. Mercieca, K. Grima (Al. Xuereb), A. Oularbi, L.A. De Melo Lima, I.N. Belhadj (D. Hili), J. Sato.

MATCH REPORT
Ghajnsielem obtained a 5-2 win over Xewkija Tigers in the last match of the championship for the two sides so that the Blacks managed to ended a disappointing season on a positive note.  The match did not have any impact on the final standings as the two sides were already sure of the final placing but they still aimed to obtain a positive result. The match was also well contested for the first eighty minutes of play but the Blacks took full control of play during the final stages and ended up obtaining a win with a large score.  The protagonist in this win was Ghajnsielem's striker Luis Andre De Melo Lima who scored four of the five goals for his side. This match was also the fifth encounter between Ghajnsielem and Xewkija this seasons. The previous two matches of the championship ended in a win for Ghajnsielem and a draw, the match from the first round of the FA Trophy ended with a win for Xewkija while he match from the semi-0finals of the GFA KO competition ended in a draw of four goals after extra time but Xewkija qualified for the final after a penalty shoot-out.
Xewkija had an excellent start and opened the score after just 45 seconds of play when Milos Stojanovic released Darko Krstic and the latter placed in goal with a low shot.  Ghajnsielem were not demoralised and as time passed by they produced a good reaction.  On 17 minutes a free kick by Ali Oularbi was blocked by the defence but from the resultant action, an effort by Kurt Grima was neutralised by Xewkija's keeper Leonard Camilleri.  On 27 minutes the Blacks went very close to scoring but a shot from an angled position by Ibrahim Maim Belhadj was saved by Xewkija's keeper with the aid of the post and form the rebound Luis Andre De Melo Lima hit badly and missed the opportunity to push the ball into an open goal.  On 34 minutes Ghajnsielem were awarded a penalty for handling by Manwel Xerri following a cross by Ali Oularbi but Luis Andre De Melo Lima had his shot from the spot kick that was partially saved by goalie Leonard Camilleri. The same De Melo Lima tried to take the ball from the rebound but was floored by two defenders so that the referee awarded another penalty, with the assistance of the assistant referee.  In the second penalty kick, taken on 36 minutes, skipper Kenneth Mercieca converted from the spot kick and made it 1-1.  Xewkija replied one minute later through a curling shot by Gennaro Hili that ended just wide and on 39 minutes Ghajnsielem could have capitalised better when Ali Oularbi crossed inside Xewkija's area but attempts by Luis Andre De Melo Lima and Ibrahim Naim Belhadj were both blocked by the defence.  On 41 minutes Ghajnsielem's Charles Hili had a good attempt following a cross by Belhadj that ended just wide so that the first half ended in a draw of two goals.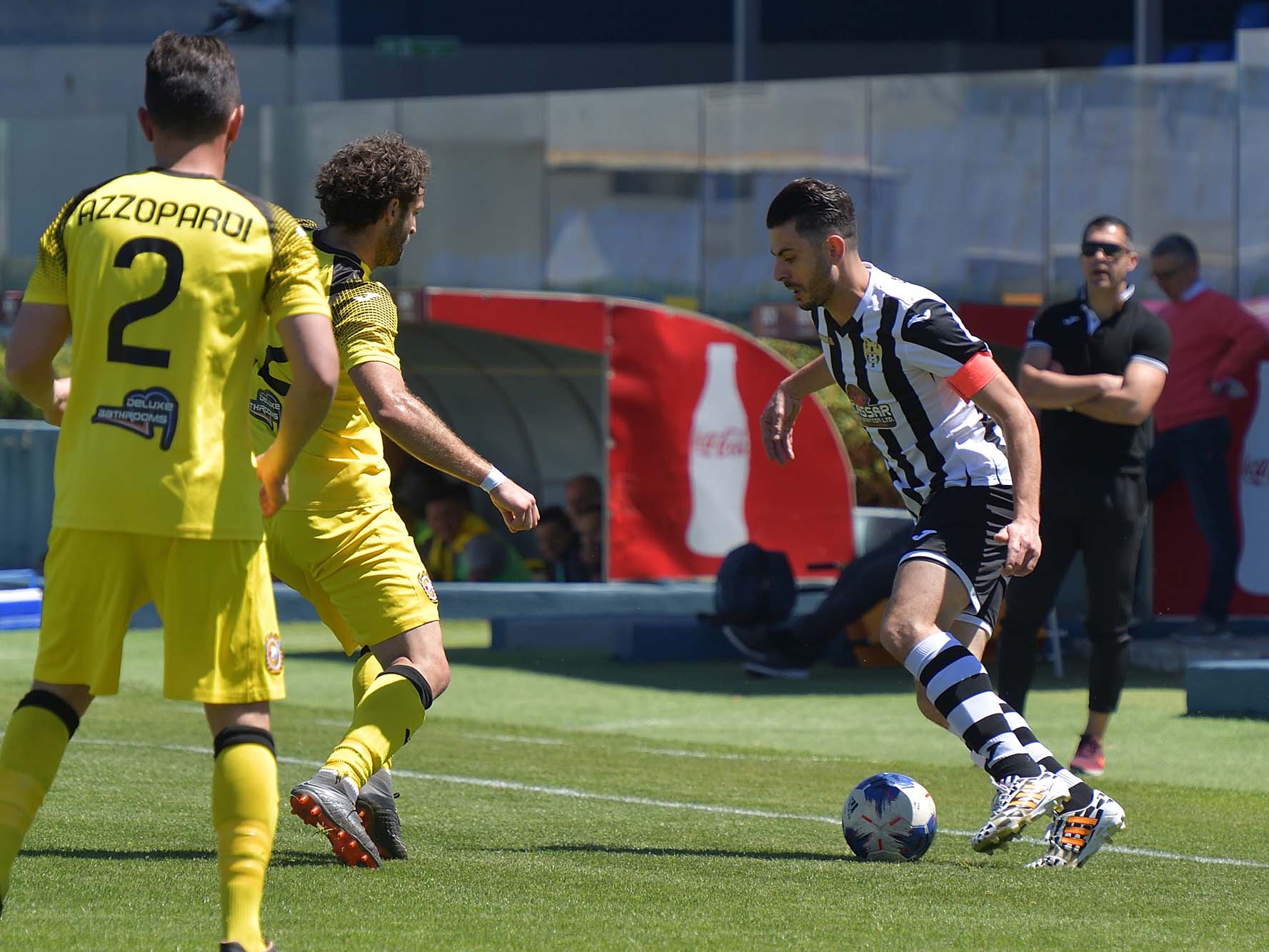 Play continued to be quite interesting during the opening stages of the second half.  On 56 minutes a shot on the run by Xewkija's Claudio Antunes after receiving form Milos Stojanovic was saved with difficulty to a corner by Ghajnsielem's keeper Lorjean Xuereb and two minutes later Ghajnsielem's Luis Andre De Melo Lima unmarked Kurt Grima who had his first attempt that was blocked by goalie Leonard Camilleri and from the rebound the same Grima saw his shot cleared off the fatal line by Daniel Bogdanovic.  Xewkija's keeper was again called to make a good intervention on the hour mark to turn to a corner with some difficulty a shot from an angled position by Junki Sato. Three minutes later the Blacks took the lead when Luis Andre De Melo Lima received inside Xewkija's area from Ali Oularbi and the former placed in goal with a shot towards the far post.  On 76 minutes the same striker had a good attempt that was neutralised by Xewkija's keeper and one minute later Xewkija made it 2-2 with a fine strike by Claudio Antunes following a personal action.  Ghajnsielem regained the lead on 79 minutes when substitute Wayne Hili unmarked Luis Andre De Melo Lima inside Xewkija's area and the latter placed easily in goal from close distance.  Xewkija's reply arrived on 81 minutes through a strike by Gennaro Hili that was saved by goalie Lorjean Xuereb and on 83 minutes Ghajnsielem increased their lead with another goal by Luis Andre De Melo Lima who was once again inside Xewkija's area without any pressure from an opponent.  The score became 5-2 for Ghajnsielem on 85 minutes when Luis Andre De Melo Lima conclude in goal from an angled position a personal initiative.  The Blacks could have scored another goal in the first minute of stoppage time but a free kick by Ali Oularbi was stopped by the crossbar.
Referee: Jo-Anna Vassallo