MATCH DETAILS
GFA BOV Gozo Football League Division I
Gozo Stadium – 31 March 2019
Munxar F FC : 1 (V. Tosic 88')
J.P. Cassar, P. Parnis (M. Bajada), B. Meilak, J. Grima, S. Dimech (C. Debono), O. Curmi, D. Martins De Souza, M. Debrincat, V. Tosic, J.J. Sandobal Guarin, S. Muscat.
Nadur Y FC : 7 (L. Tabone 5', M. Barbosa 6', 50', 84'; J. De Assis 32', 51'; J.O. Borg 81')
Vella, L.B. Da Silva, D. Farrugia, L. Tabone, I. Xuereb, J. De Assis (J.O. Borg), M.J. Barbosa, J. Buttiogieg (Sa. Attard), L. Garcia Panesso, M.P. Camilleri (O.P. Bugeja), J. Parnis.

MATCH REPORT
Nadur Youngsters registered a large win in their match against Munxar Falcons so that they extended their intentions to keep pressure on the current leaders of the table.  The two teams needed a win from this match for different reasons but Nadur imposed their superiority from the early stages and Munxar never managed to find a way how to make it difficult for Nadur's strikers to conclude their offensive play.  At the end Nadur inflicted another heavy defeat in the match against Munxar as they did already in the match between the two sides of the previous two rounds. In this match Badur's striker Marcelo Barbosa scored a hat-trick and with these goals the Brazilian striker remain in contention for the honour of top scorer of the season.
For this match Nadur had Daniel Mateo Bustos missing due to suspension while Shaun Attard started the match from the reserves bench.  Nadur opened the score in the fifth minute of play through a header by Luke Tabone following a corner kick by Jordi Parnis.  One minute later Nadur doubled the score when Marcelo Barbosa defended a ball inside Munxar's area and placed in goal with a low drive.  On 10 minutes Nadur's Lucas Baretto Da Silva had a shot from outside the area that ended just wide and four minutes later a shot by Leiner Garcia Panesso ended away from Munxar's goal.  On 16 minutes Nadur's Marcelo Barbosa released Leiner Garcia Panesso but the later had his lob over the goalkeeper that almost ended into an empty goal but defender Oliver Curmi recovered in time and headed the ball off the line to clear the ball into a corner.  On 20 minutes a curling shot by Marcelo Barbosa after receiving from Jefferson De Assis ended just wide form Munxar's goal and on 32 minutes Nadur scored the third goal when Jordi Parnis passed to Jefferson De Assis at the edge of the area and the Brazilian striker turned around his direct opponent and concluded in goal with a low shot.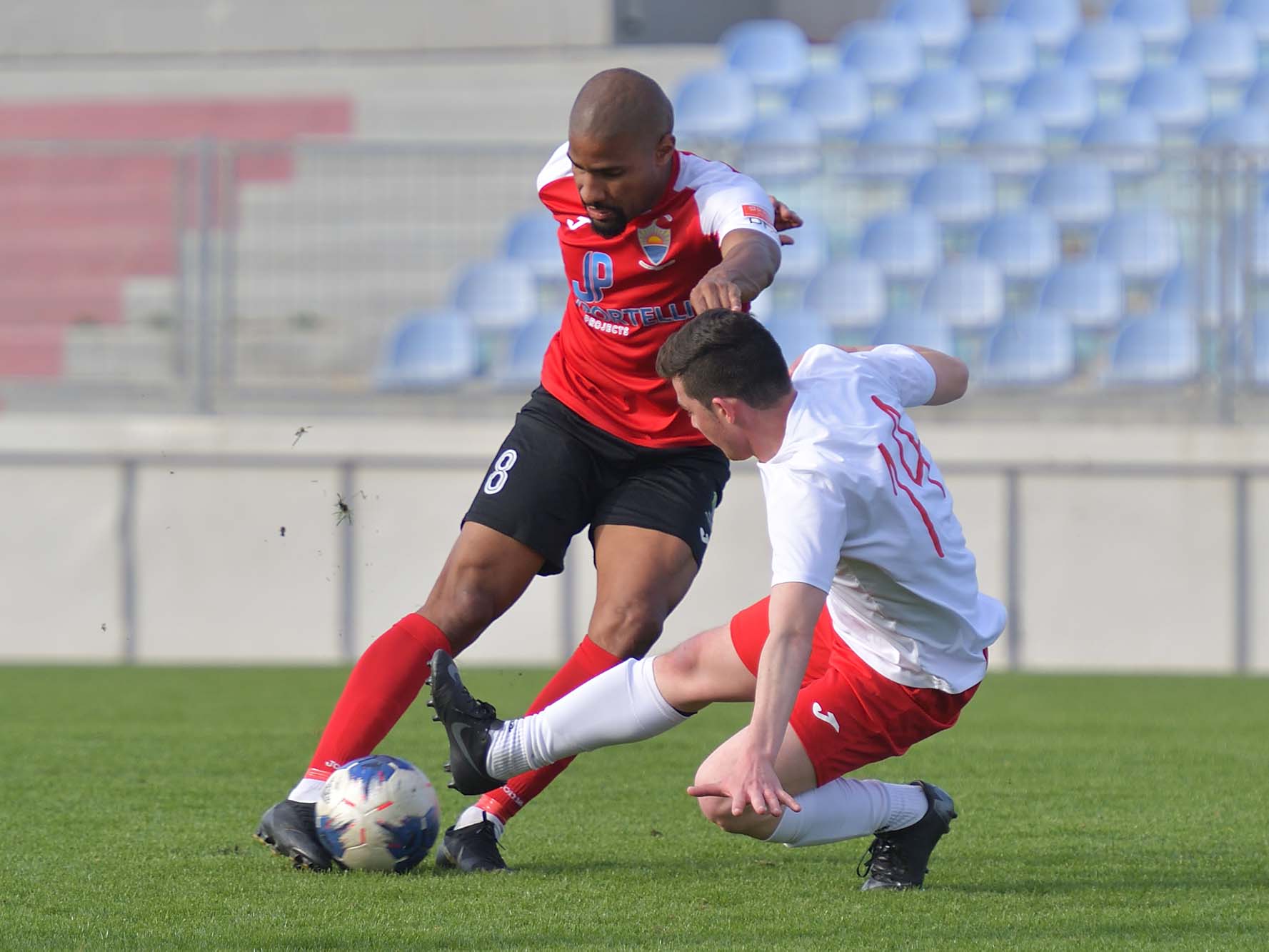 Nadur continued to dominate over their opponents from the early stages of the second half.  On 47 minutes a free kick by Leiner Garcia Panesso ended wide and on 50 minutes the Youngsters added another goal through a direct free kick by Marcelo Barbosa that surprised goalie John Paul Cassar.  One minute later Nadur scored the fifth goal when Jefferson De Assis received the ball inside Munxar's area, passed his direct opponent and placed easily in goal with a low drive.  Nadur reduced their pressure on Munxar's defence as time passed by and the Falcons took advantage and tried to threaten Nadur's rear guard.  On 55 minutes a shot by Munxar's Diego Martins De Souza from outside the area missed the target and on 66 minutes an overhead kick by Jhon Jario Sandobal Guarin from a free kick ended just wide from Nadur's goal.  Munxar went again close to scoring on 71 minutes but a strike by Samwel Muscat from outside the area was saved with difficulty by goalie Franklin Vella. Munxar were punished for the missed chances and on 81 minutes Nadur increased their lead with a goal scored by substitute Joseph Owen Borg who was released by Marcelo Barbosa and the young striker netted with a low shot.  On 84 minutes Nadur scored the seventh goal through Marcelo Barbosa who concluded a personal action with a good shot from an angled position.  Munxar's consolation goal arrived on 88 minutes when Nadur's defence failed to clear the ball from the area following a free kick, an effort by Munxar's substitute Christian Debono was partially saved by goalie Franklin Vella and from the rebound Vladimir Tosic concluded in goal from close distance.
Referee: Mario Apap