MUNXAR FALCONS
GFA BOV Gozo Football League Division I
Gozo Stadium – 26 April 2019
SK Victoria W : 1 (A. Touarha 54')
Rybicki, A.G. Attard, A.J. Obaje, P. Dordevic, E. Zammit (N. Vella), N. Camilleri, M. Bamba, R. Grech, D.U. Monday, G. Cardona (A. Touarha), A. Adesina (O. Fenech).
Munxar F FC : 2 (D.Martins De Souza 75à, A.G. Attard o.g. 90+2')
J.P. Cassar, C. Debono (S. Dimech), J. Grima, O. Curmi, D. Martins De Souza, M. Debrincat (P. Parnis), J.J. Sandobal Guarin, G. Muscat, S. Muscat, B. Polo Longarela, A. Ademilua.

MATCH REPORT
Munxar Falcons turned a defeat into a win with the odd goal from three in the match against SK Victoria Wanderers but they still ended up relegated to the lower division as their rivals in the relegation zone Gharb Rangers saved their status with a point obtained in their respective match from the last Match-Day of the championship.  For this last match of the championship for the two sides SK Victoria Wanderers did not have any particular pressure to achieve a positive result as they were already secure of a place in the top flight next season but could have challenge the four place on the final standings with a win. On the other hand Munxar were aiming to obtain a win to reach Gharb Rangers at the bottom of the table and hoped that Gharb could not win any point form their match against Kercem Ajax.  At the end Munxar managed to achieve their objective through an own goal scored second away from the final whistle
The Wanderers seemed more confident during the opening stages but the first serious attempts at goal arrived from Munxar through a header by Christian Debono from a free kick by Joseph Grima in the third minute that ended wide and a shot by Samwel Muscat on 5 minutes that was neutralised by goalie Jacob Rybicki.  The Wanderers replied on 13 minutes through a shot by Audgustine James Obaje following a free kick that was blocked by the defence to a corner. Four minutes later Victoria's Predrag Dordevic had a shot that ended wide and the Wanderers could have opened the score one minute later when Gabriel Cardona entered Munxar's area with a personal action but his shot ended just over Munxar's goal.  The Citizens continued to be more offensive and on 23 minutes Ajibade Adesina passed just outside the area towards Ryan Grech who had his shot on the run that was blocked by Munxar's defence. Munxar operated a good move on 27 minutes when Joseph Grima passed towards Diego Martins De Souza who deflected the ball but Victoria's keeper Jacob Rybicki managed to save the danger. Munxar's goalkeeper John Paul Cassar was well placed two minutes later to neutralise a free kick by Predrag Dordevic and in an immediate reply by Munxar a free kick by Jhon Jario Sandobal Guarin was blocked to a corner by Victoria's defence.  The Wanderers created their best scoring opportunity of the first half on 37 minutes when Audgustine James Obaje entered Munxar's territory from the right flank but form his low inviting cross Gabriel Cardona incredibly concluded just wide from an ideal position.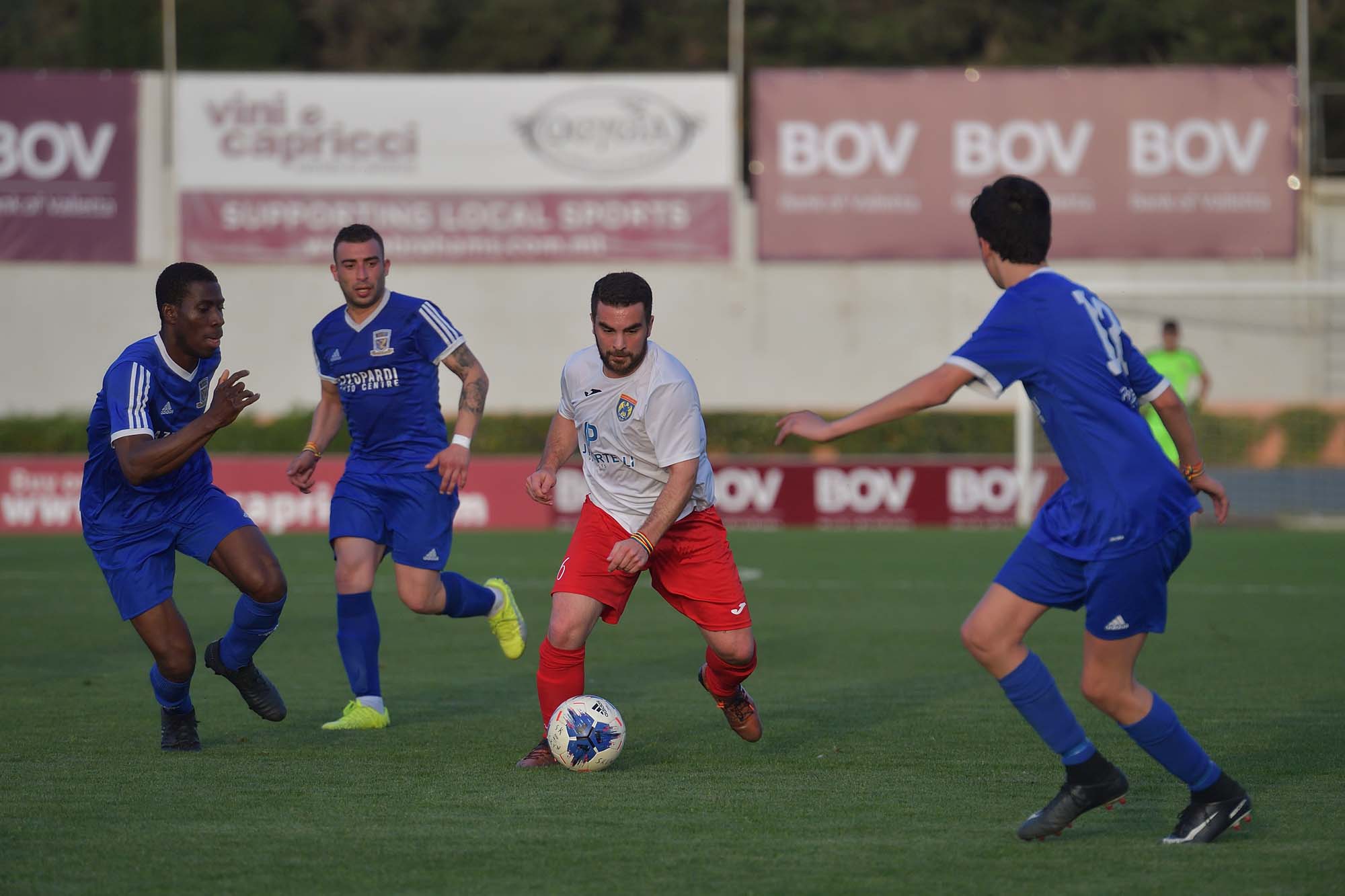 The Wanderers continued to be in a better shape after the break and on 50 minutes a shot by Ryan Grech missed the target.  Two minutes later Munxar's keeper saved in two attempts and avoided to commit an own goal when he stopped a low cross by Audgustine James Obaje aimed towards an unmarked Gabriel Cardona.  Victoria Wanderers opened the score on 54 minutes when Audgustie James Obaje passed to substitute Aaron Touarha following a counter break and the latter placed in goal with a low drive as the goalkeeper left his position in an attempt to clear the danger.  On 57 minutes a good shot by Victoria's Audgustine James Obaje was well saved by Munxar's keeper and two minutes later Victoria's goalie neutralised with authority a free kick by Joseph Grima.  Munxar tried to increase their efforts in an attempt to recover the score and on the hour mark a shot by Borja Polo Longarela from outside the area hit Victoria's crossbar with the goalkeeper beaten.  Victoria's keeper Jacob Rybicki was again called to make a good intervention on 67 minutes following another attempt by Munxar's Borja Polo Longarela and less than a minute later the same Rybicki was well placed to hold a shot by Munxar's Samwel Muscat following a personal action.  Munxar kept insisting and on 72 minutes an effort by substitute Steve Dimech following a cross by Borja Polo Longarela was saved with difficulty to a corner by goalie Jacob Rybicki. Munxar were rewarded for their efforts three minutes later when Borja Polo Longarela produced a counter break and released Diego Martins De Souza who entered Victoria's area and concluded in goal with a fine shot.  The match became much more exciting as the two sides tried to take the lead.  On 78 minutes a shot by Victoria's Audgustine James Obaje had a shot following a personal action that ended inches wide and two minutes later Munxar's Diego Martine De Souza passed inside Victoria's area to Borja Polo Longarela who had his first shot that was blocked by the defence and from the rebound the same player incredibly lifted over the crossbar from an ideal position.  Munxar tried to put more pressure on their opponents during the final stages and on 87 minutes a shot by Joseph Grima ended high. Less than a minute later a header by Oliver Curmi from a corner action ended over Victoria's goal and on the second minute of stoppage time Munxar turned the result in their favour when Steve Dimech tried to address the ball towards Victoria's goal and defender Anthony George Attard committed an own goal in an attempt to clear the ball from the goalmouth.
Referee:  Daniel Portelli