MATCH DETAILS
GFA BOV Gozo Football League Play Off
Gozo Stadium – 30 April 2019
Gharb R FC : 1 (R. Zammit 16')
Spiteri, A. Sultana, J.P. Grima, P.P. Camilleri, M. Gauci, C. Attard (J. Portelli), J.E. Batista Da Conceicao, P. Nunez Del Castillo, N. Stojanovic, H. Santa Rosa Cruz, R. Zammit (J. Xuereb).
Sannat L FC : 0
Mercieca, S. Mizzi (A. Azzopardi), F. Camilleri, J. Buttigieg, J. Zammit, E.R. Okpokwu, D. Borg, E. Gauci, B. Said, M. Mifsud, F.J. Xuereb.

MATCH REPORT
Gharb Rangers obtained a 1-0 win over Sannat Lions in the play-off for a place in the top flight next season.  Gharb ended at the second place from the bottom of the first division championship, while Sannat Lions ended up runners-up of the second division campaign.  Gharb prevailed over the second division side mainly because they were in a position to field four foreign players, while Sannat could field only one foreign player in their starting line-up.  Gharb as expected held territorial supremacy but found it more difficult than expected to make sure of the win at an early stage of the encounter. Gharb scored an early goal but conceded Sannat's reaction mainly near the end of the first half.  Moreover, Gharb did not capitalise form an extra player on the field as Sannat were reduced to ten players at the early stages of the second period. As a result the match turned out to be an interesting encounter since Sannat remained in contention for a positive result despite playing all of the second period with a player less on the field.
Gharb came out more aggressive and on 11 minutes they could have opened the score but a close ranged shot by Junior Elisio Batista Da Conceicao was saved in two attempts by goalie Courtney Mercieca.  The same goalkeeper was well placed three minutes later to neutralise a shot from an angled position by Hugo Santa Rosa Cruz and on 16 minutes the Rangers opened the score when Christian Attard released Reuben Zammit inside Sannat's area and the latter concluded easily in goal as he was face to face with the goalkeeper.  Sannat replied on 24 minutes through a shot by Joseph Zammit that ended just high and on 27 minutes Gharb almost doubled the score when Sannat's Ebube Ralph Okpokwu headed badly in an attempt to clear a corner kick by Nemaja Stojanovic but Sannat's goalie Courtney Mercieca saved the danger to avoid an own goal.  From the resultant clearance, Gharb's Hugo Santa Rosa Cruz crossed form the left flank but Junior Elisio Batista Da Conceicao's header ended just wide. Sannat replied on 31 minutes through a shot by Mario Mifsud when the goalkeeper was out of his position that ended wide and on 44 minutes Sannat were again dangerous but a shot form outside the area by Frankie Camilleri ended high.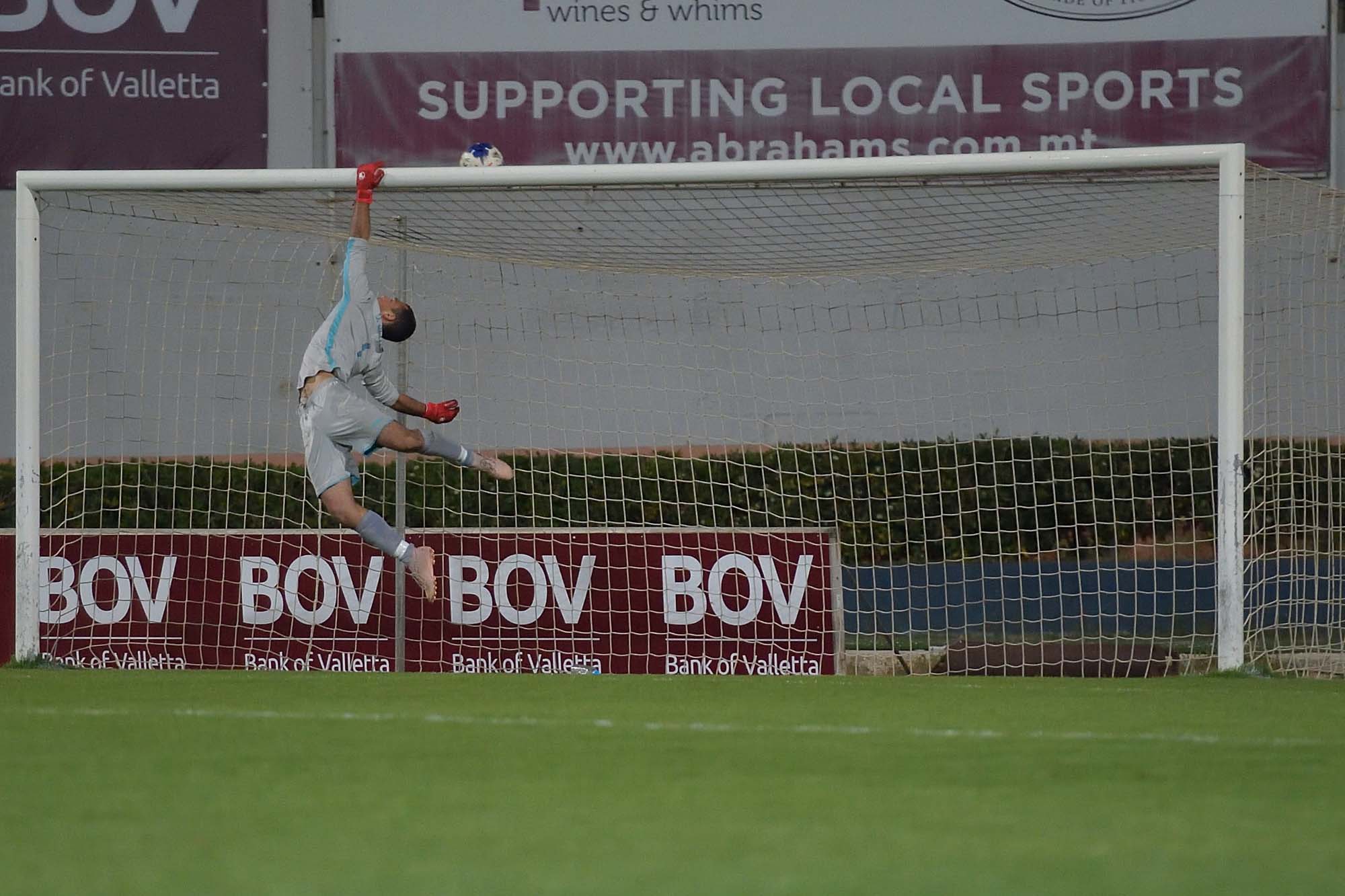 In the second minute of play of the second period Sannat were reduced to ten players as the referee showed the red card to Fabian Xuereb for foul language.  Gharb did not manage to take advantage of the extra player and found it very difficult to create serious danger within Sannat's area. On 55 minutes Sannat's goalie Courtney Mercieca saved well a shot from an angled position by John Paul Grima and two minutes later Sannat replied through a free kick by Josiah Buttigieg that ended high.  Sannat gained confidence as time passed by despite the fact they had a player less on the field and continued to be well organised so that goalie Courtney Mercieca was not called to make difficult interventions. Gharb threatened Sannat's rear guard on 65 minutes but John Paul Grima's shot from outside the area missed the target and on 74 minutes a strike by Gharb's Hugo Santa Rosa Cruz from outside the area ended high and on 80 minutes Sannat had their best scoring opportunity when a free kick by Joseph Zammit ended just over Gharb's crossbar.  Gharb could have sealed the win in the first minute of stoppage time but an overhead kick by Junior Elisio Batista Da Conceicao ended away from goal. One minute later a shot by substitute Joel Xuereb ended high and until the end of the encounter the score remained unchanged so that Sannat's players left the field of play with their heads up high convinced that they produced an excellent performance against a more quoted side..
Referee: Sandro Spiteri