29 November 2020
GFA BOV Gozo Football League Division II – Match Day 2 Kercem Ajax Stadium
St Lawrence Spurs FC : 0
Qala Saints FC : 3
45' (0-1) Ebube Ralph Okpokwu
64' (0-2) Ebube Ralph Okpokwu
80' (0-3) Ebube Ralph Okpokwu
St Lawrence S:
J. Grima, F. Grima, J. Grech, C. Grima, C. Cauchi, A. Ademilua, W. Hili (M. Cauchi), J. Grima (W. Portelli), C. Azzopardi, K. Formosa (M. Terribile), L. Buttigieg.
Qala S:
M. Muscat, J. Portelli, S. Sillato, J. Buhagiar (R. Meilak), M. Buttigieg (S. Farrugia), S. Muscat (K. Mifsud),  C. Farrugia (N.C. Njoku), E. Buttigieg, F. Mumford (E. Galea), E.R. Okpokwu, M. Xerri.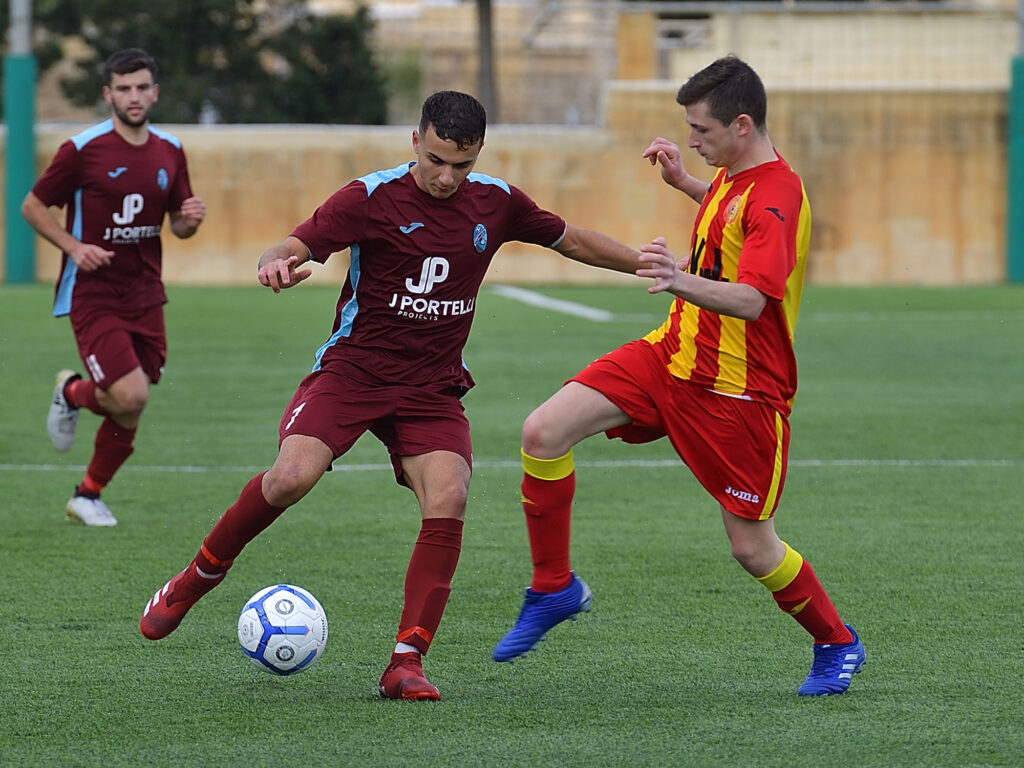 Qala Saints confirmed their excellent start in the campaign and obtained their second consecutive win from as many matches by defeating St Lawrence Spurs.  Qala, as expected, dictated matters for long stretches but during the first half they found it very difficult to create serious danger towards St Lawrence's goal.  The latter came out for this match determined to make up for the heavy defeat conceded in their opening match of the league but they only managed to resist to Qala's superiority for almost half of the match as they ended up conceding the first goal seconds from the end of the first half and failed to produce a reaction after the break.  In this match, Qala held territorial supremacy and for the second consecutive match their hero was striker Ebube Ralph Okpokwu who scored another hat-trick so that the same player scored all the six goals scored by Qala in two matches.
Timeline
St Lawrence came out for this match with the intention to share play with their opponent but as time passed by Qala took command of play in the midfield and held the initiative of play.
7' Qala had their first attempt at St Lawrence's goal through a shot by Charlon Farrugia ended just high.
21' St Lawrence's goalie Justin Grima was well placed to neutralised a shot from long distance by Samuel Muscat.
28' Qala could have opened the score but a header by Ebube Ralph Okpokwu from a corner kick by Manwel Xerri ended just wide.
42' In another offensive action by Qala a low shot by Charlon Farrugia was well saved by St Lawrence's keeper Justin Grima.
45' (0-1) Qala took the lead when Charlon Farrugia passed to Ebube Ralph Okpokwu inside St Lawrence's area and the latter controlled well and placed in goal with a low drive.
HT (0-1)
For the second period St Lawrence failed to produce a reaction as the Maroons continued to dictate matters.
1' Qala produced a dangerous action after just 23 seconds of play when Charlon Farrugia released Ebube Ralph Okpokwu but the latter saw his close ranged attempt that was partially saved by goalie Justin Grima and from the rebound Qala's Joseph Buhagiar saw his attempt towards an open goal that was cleared off the line by defender James Grech.
6' Qala lost another good scoring opportunity but a close ranged attempt by Joseph Buhagiar following a cross by Samuel Muscat ended wide.
9' St Lawrence replied through a free kick by Karl Formosa that was saved without difficulty by Qala's keeper Matthew Muscat.
19' (0-2) Qala doubled the score when substitute Stefan Farrugia delivered a cross from the right flank and Ebube Ralph Okpokwu fired in goal with a low shot.
24' St Lawrence's keeper Justin Grima was called to make a good intervention to save a free kick by Charlon Farrugia.
25' The same goalkeeper made another good save when he turned to a corner with some difficulty another attempt by Charlon Farrugia.
30' Qala's Charlon Farrugia had a corner kick that arrived to Ebube Ralph Okpokwu but the latter concluded wide from close distance.
35' (0-3) Qala sealed the win by scoring the third goal as substitute Stefan Farrugia released Ebube Ralph Okpokwu with a header and the latter entered the area and placed in goal with a low shot.
FT (SLS 0 – QS 3)
Referee: Patrick Falzon