13 February 2021
BOV GFA Cup Q/finals Kercem Ajax Stadium
Munxar Falcons FC : 0
Gharb Rangers FC : 2
65' (0-1) Frank Attard
90+4' (0-2) Luke Attard
Munxar F:
D.C. Spiteri, C. Gafa, A. Buttigieg (B. Meilak), S. Dimech, N. Haber (L. Meilak), N. Attard, F. Azzopardi,  A. Carvalho, R. Grima, D.P. Borg, K. Mizzi.
Gharb R:
J.P. Cassar, J. Cefai Farrugia, P. Djorovic (G. Sillato), L. Dimech (C. Cutajar), S. Azzopardi (M. Farrugia), F. Attard, J. Muscat (M. Grima), M. Stojanovic, M. Grech, M. Theuma, A. Tabone (L. Attard).
The first match from the quarter finals stage of the second most important competition in Gozitan football was between two sides from the lower category and therefore they both were aiming to earn qualification to the semi-finals. At the end the match between Munxar Falcons and Gharb Rangers failed to produce exciting moments although the qualification was only decided with a second goal scored by Gharb seconds form the final whistle. Gharb's qualification was however deserved as they produced more scoring opportunities than their opponents. In the semi-final stage, the Rangers will meet the winner of the match between Xaghra United and Nadur Youngsters.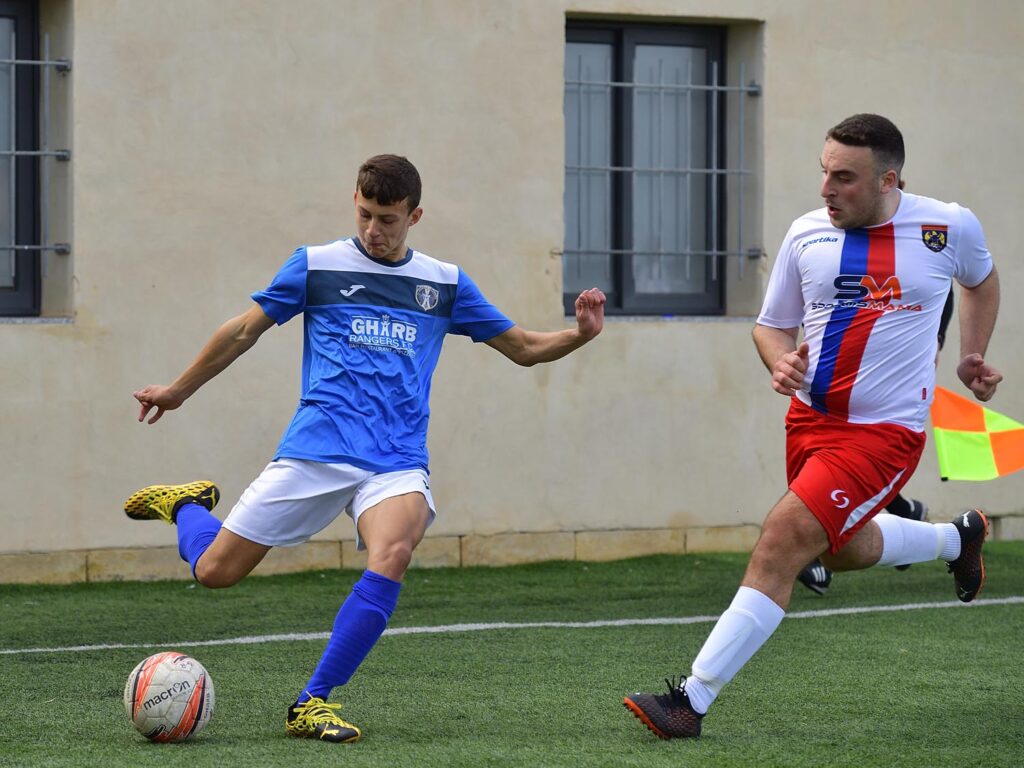 Timeline
Play during the opening minutes was quite balanced and took place in the midfield but as time passed by Gharb became more dangerous and created the best opportunities to take the lead.
12' Gharb's Frank Attard hit badly from a good position so that Munxar's keeper Damien Spiteri neutralised without difficulty.
26' Gharb lost a good scoring opportunity when Stefan Azzopardi delivered a cross inside Munxar's are but Frank Attard incredibly concluded wide from close distance.
29' In another offensive action by Gharb, Lauran Dimech had a shot that ended over the crossbar.
33' Munxar replied through a free kick by Robert Grima that was easily saved by Gharb's keeper John Paul Cassar
36' Gharb produced another dangerous action but a header by Milos Stojanovic following a free kick by Stefan Azzopardi ended high.
HT (0-0)
Play continued to take place mainly in the midfield during the second period.
2' Gharb's substitute Luke Attard could have capitalised better when he received the ball inside Munxar's area but his low shot form close distance ended wide.
5' Munxar replied through an attempt from a free kick by Ayesller Carvalho that ended just over the crossbar.
18' Gharb's goalie John Paul Cassar was called to make the best save of the afternoon to turn to a corner a good effort by Steve Dimech.
19' In the following action Gharb' Mario Theuma released substitute Carlos Cutajar inside Munxar's area but the latter hit badly form a good position and the ball ended wide.
20' (0-1) Gharb opened the score and paved the way to the qualification when Carlos Cutajar delivered a low cross towards the goalmouth from the right flank and Frank Attard followed the action and guided the ball in goal from close distance.
26' Munxar had an attempt directly from a free kick by Ayesller Carvalho that was well saved by Gharb's keeper John Paul Cassar.
38' Munxar could have levelled the score when substitute Luke Meilak passed to Kenneth Mizzi but the latter had his low shot that was saved in two attempts by goalie John Paul Cassar.
45+4' (0-2) Gharb made sure of the win with a second goal that arrived through a personal action by Luke Attard, who entered the area, turned around the goalkeeper and placed in goal with a low shot.
FT (MF 0 – GR 2)
Referee: Sandro Spiteri