25 February 2021
GFA BOV Gozo Football League Division I – Match Day 9 Gozo Stadium
Sannat Lions FC : 2
Kercem Ajax FC : 4
4' (1-0) Damon Hili
24' (1-1) Joshua Buttigieg
26' (1-2) Andrew Mizzi
47' (1-3) Nathaniel Mercieca
78' (1-4) Andrew Mizzi
86' (2-4) Damon Hili
Sannat L:
L. Xuereb, F.J. Xuereb, L.B. Da Silva, J. Zammit, D. Hili, D. Borg, C. Vella, M. Mifsud, J. Buttigieg, B. Said, H. Santa Rosa Cruz (A. Azzopardi).
Kercem A:
G. Bugeja (O. Xuereb), J. Theuma, A. Xiberras, J. Buttigieg (P. Parnis), A. Mizzi, S. Saldanha, N. Mercieca, S. Attard (D. Cassar), A. Zammit, J.P. Mizzi (C. Briffa), M. Potezica.
Kercem Ajax recovered from an early shock and turned a defeat into a 4-1 win over Sannat Lions so that they consolidated their position in the upper part of the table. The match between Sannat Lions and Kercem Ajax was the last commitment for the two sides in the first round of the championship and the two teams were aiming for the win in their attempt to avoid the risk of ending up in the relegation zone. Sannat were coming from two disappointing results, while Kercem earned four points from their previous two matches against more quoted opponents.
In this match the Ajax confirmed the improvement expressed during the last weeks and held supremacy over their opponents for most of the ninety minutes. Kercem took the initiative of play immediately after conceding an early goal, turned the result in their favour by scoring two goals midway through the first half and made sure of the win by scoring two more goals after the break.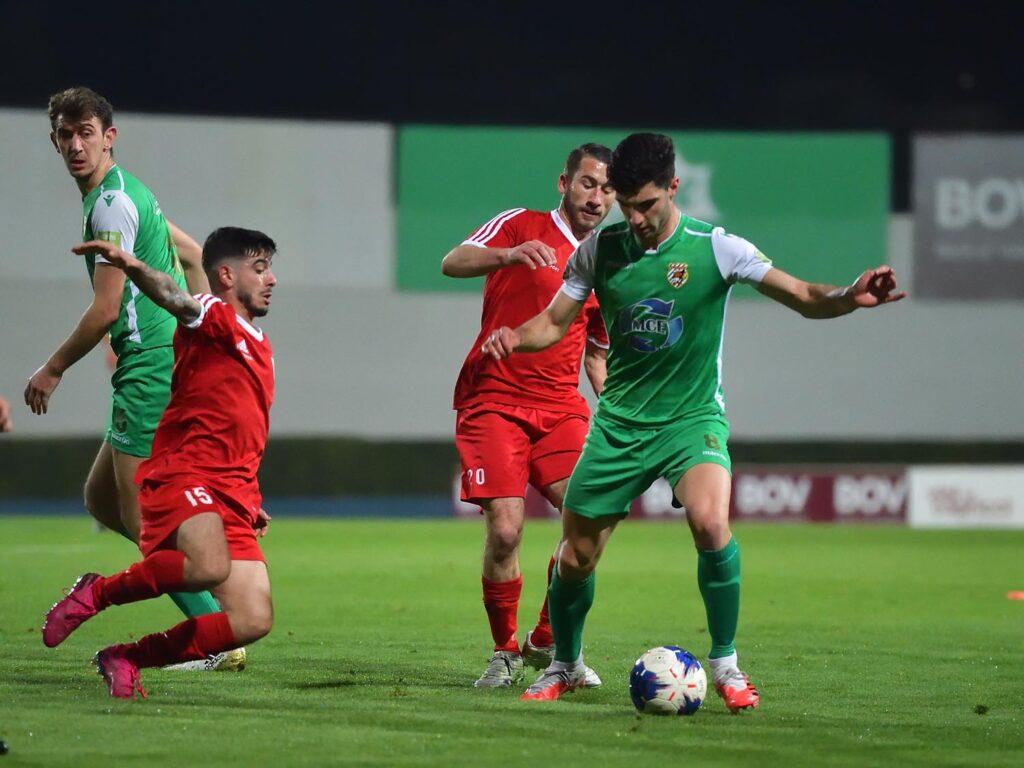 Timeline
Sannat came out in a better shape and managed to score an early goal but the Ajax had an immediate reaction and as time passed by they took command of play.
4' (1-0) Sannat opened the score when Joseph Zammit produced a personal move on the left flank and from his cross Damon Hili headed in goal from close distance.
5' Kercem replied through a low shot by Nathaniel Mercieca that was blocked by the defence to a corner and from the same corner action Kercem produced pressure on Sannat's defence and at the end a shot by Anthony Zammit was saved to another corner by goalie Lorjean Xuereb.
9' Sannat operated a break through Hugo Santa Rosa Cruz who entered the area but ended on the floor following a challenge with Kercem's central defender Marko Potezika among protests for a penalty but the referee allowed play to go on.
24' (1-1) Kercem levelled the score when Samuel Saldanha defended well the ball within Sannat's area and passed to Joshua Buttigieg who fired in goal form an ideal position.
26' (1-2) Kercem kept insisting and turned the result in their favour through a shot from long distance by Andrew Mizzi that surprised Sannat's keeper.
31' Sannat replied through a free kick by Joseph Zammit that was turned to a corner with some difficulty by Kercem's keeper Gaetano Bugeja.
Until the end of the first half Kercem administered play so that Sannat found it very difficult to produce a reaction in an attempt to level the score.
HT (1-2)
Kercem continued to maintain control of play while Sannat struggled to create dangerous actions.
2' (1-3) Kercem increased their lead when Nathaniel Mercieca regained possession at an angled position following a corner kick and surprised Sannat's keeper with a curling shot that ended at the upper corner of the far post and with the ball hitting the post before ending ion the net.
9' Kercem could have added another goal when Andrew Mizzi won the ball from the defence, entered the area but had his shot form a good position that ended wide.
11' Sannat's goalie Lorjean Xuereb saved with some difficulty to a corner a low shot by Kercem's Adrian Xiberras.
19' In another good action by the Ajax, Andrew Mizzi, delivered a low cross inside Sannat's area from the right flank but Joshua Buttigieg's attempt was blocked by the defence.
24' Sannat's goalie was called to make a good save to turn to a corner a close ranged header by Andrew Mizzi following a cross from the right flank by Joshua Buttigieg.
27' Sannat's Lucas Baretto Da Silva operated a personal action where he entered Kercem's territory but his shot from outside the area was deflected to a corner by the defence.
31' Sannat could have capitalised better when they created a dangerous move inside Kercem's area but Christian Vella was noted in an offside position when his attempt was blocked by goalie Gaetano Bugeja and from the resultant melee Damon Hili placed in the net but the goal was disallowed.
33' (1-4) Kercem added another goal when Samuel Saldanha passed through Sannat's defence from the left flank and from his low cross Andrew Mizzi netted easily with a shot on the run.
38' Sannat risked to commit an own goal in an attempt to clear a cross from the left flank by Andrew Mizzi but the ball passed in front of an open goal and ended in a corner.
41' (2-4) Sannat made the score more respectable by scoring the second goal that arrived through Damon Hili who exchanged the ball with Joseph Zammit, turned past his direct opponent inside Kercem's area and placed behind substitute goalkeeper Owen Xuereb with a low shot.
FT (SL 2 – KA 4)
Referee: Ezekiel Barbara