26 February 2021
GFA BOV Gozo Football League Division I – Match Day 9 Gozo Stadium
Oratory Youths FC : 1
Nadur Youngsters FC : 6
11' (0-1) Ederson Bruno Domingos
25' (0-2) Marcelo Barbosa
44' (0-3) Ederson Bruno Domingos
61' (1-3) penalty Diego Steven Gomez Maldonado
76' (1-4) Marcelo Barbosa
80' (1-5) Stefan Cassar
82' (1-6) Marcelo Barbosa
Oratory Y:
A. Brignoli, P. Nunez Del Castillo, P. Rapa (G. Vella), D.S. Gomez Maldonado, D. Atzori, S. Azzopardi, C. Borg (J.M. Portelli), Ju. Attard, D. Galea, J. Grima (K, Farrugia), J. Xerri.
Nadur Youngsters:
S. Sultana, M. Tabone, I. Xuereb, M. Barbosa, C. Camilleri, A. Debrincat (O.P. Bugeja), G. Farrugia (M.P. Camilleri), S. Cassar (J. Buttigieg), G. Muscat (P.P. Camilleri), E. Bruno Domingos, G. Hili.
Nadur Youngsters extended their good moment of form with a handsome 6-1 win over Oratory Youths. With the points obtained Nadur retained their status as defenders of the title that they won the last season and will therefore face the next matches from the second round of the championship with more confidence in their potential.
In this match Nadur as expected dictated matters and created pressure over Oratory's defence for most of the time of the encounter. The Youngsters were very effective in the ball possession and were often dangerous whenever they entered Oratory's territory. Nadur's striker Marcelo Barbosa, who re-joined the reigning champions in January, marked his fine performance by scoring three personal goals. The Brazilian striker has now scored six goals in the last three matches and has joined the group of strikers who are challenging for the Top-Scorer honour this season. On the other hand Oratory struggled to limit the danger within their area and at the same time they found it very difficult to create the opportunities where their striker Diego Steven Gomez Maldonado could create trouble to Nadur's rear guard.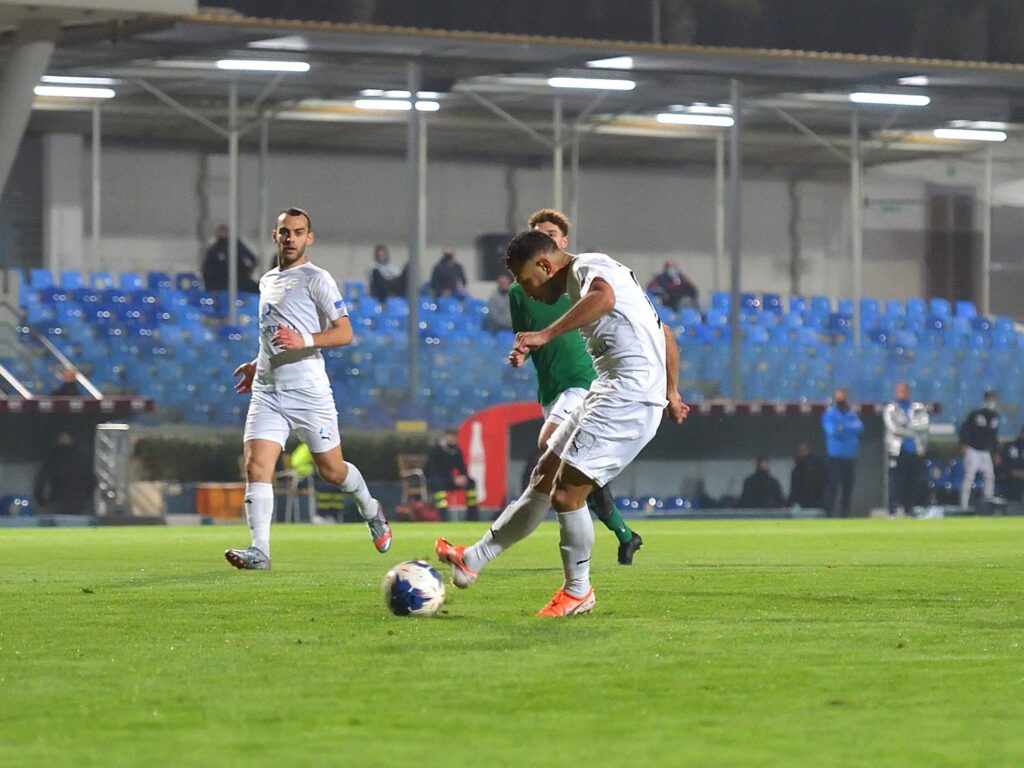 Timeline
Nadur took command of play from the first minutes of play and created pressure on Oratory's defence.
11' (0-1) Nadur opened the score when Chris Camilleri released Ederson Bruno Domingos who entered the area form the left flank and the Brazilian striker placed in goal with a low shot.
21' Nadur were dangerous from a free kick by Ederson Bruno Domingos but a header by Manwel Tabone got a deflection by the defence and the goalkeeper saved without difficulty.
24' Oratory's keeper Angelo Brignoli was called to make a good save to block the ball from a direct free kick by Chris Camilleri.
25' (0-2) Nadur doubled the score when Stefan Cassar operated a personal move from the right flank and from his low cross Marcelo Barbosa concluded in goal from close distance. This goal was followed by at least two minutes of suspension as the referee requested that club officials of Oratory Youths who were on the stands were escorted out of the Stadium for calling offensive remarks towards the officials of the encounter.
41' Nadur's Stefan Cassar took the ball following a clearance by the goalkeeper from a corner action, but the ball ended wide.
43' Oratory had their first attempt towards Nadur's goal through a free kick by Diego Steven Gomez Maldonado was neutralised by Nadur's keeper Steve Sultana.
44' (0-3) The Youngsters scored their third goal when Marcelo Barbosa passed through Oratory's defence and entered the area so that from his low pass Ederson Bruno Domingos concluded easily into an open goal.
HT (0-3)
Nadur continued to keep control of play from the early stages of the second period.
1' Nadur could have scored another goal when Stefan Cassar delivered a cross inside Oratory's area but the first timer by Marcelo Barbosa was partially saved by goalie Angelo Brignoli and the defence continued to clear the danger form the goalmouth.
15' (1-3) penalty – Oratory managed to reduce the deficit when they were awarded a penalty for a foul by Gianluca Muscat on Diego Steven Gomez Maldonado and the same Columbian striker converted his shot from the spot kick.
18' In another offensive action by Nadur, Chris Camilleri delivered a cross inside Oratory's area, Marcelo Barbosa left the ball to Andrea Debrincat who was unmarked but the latter saw his close ranged shot that was blocked by Oratory's keeper.
21' The same goalkeeper Angelo Brignoli partially saved a shot from outside the area by Chris Camilleri and from the following action Nadur's Stefan Cassar passed to the same Chris Camilleri but the latter saw his shot on the ruin ended over the crossbar.
29' Oratory protested for a penalty when Diego Steven Gomez Maldonado ended on the floor inside the area when challenged by Manwel Tabone.
31' (1-4) Nadur regained a three-goal lead when Marcelo Barbosa exchanged the ball with Ederson Bruno Domingos, and the former placed easily in goal.
34' Oratory's keeper Angelo Brignoli was called to make a good intervention to turn to a corner a shot by substitute Owen Peter Bugeja.
35' (1-5) Nadur added another goal when the goalkeeper cleared the ball following a corner action but Nadur regained possession, a shot by Ederson Bruno Domingos was blocked by the defence and the ball arrived to Stefan Cassar who placed in goal with a ,low shot.
37' (1-6) Nadur scored their sixth goal when Ederson Bruno Domingos delivered a cross inside Oratory's area and Marcelo Barbosa controlled the ball, turned around a defender and concluded easily in goal.
41' In another action by Nadur a header by Manwel Tabone was blocked by Oratory's goalie.
42' The last scoring opportunity for Nadur arrived through a low shot by Chris Camilleri from a good position that ended wide.
FT (OY 1 – NY 6)
Referee: Trustin Farrugia Cann