27 February 2021
GFA BOV 2nd Division Cup – Qualifying Round Kercem Ajax Stadium
St Lawrence Spurs FC : 2
Gharb Rangers FC : 2
45+2' (0-1) Joseph Cefai Farrugia
48' (0-2) Luke Attard
70' (penalty missed – high) Milos Stojanovic (GR)
73' (1-2) Wayne Hili
45+3' (2-2) Daniel Micallef
St Lawrence S:
Co. Mercieca, R. Grech, G. Portelli, C. Grima (F. Grima), M.S. Telessi (M. Terribile), C. Cauchi, W. Hili (W. Portelli), C. Attard, D. Micallef, K. Formosa, L. Buttigieg.
Gharb R:
J.P. Cassar, C. Hili (A. Tabone), G. Sillato, O. Saliba, J. Cefai Farrugia, L. Attard, S. Azzopardi (F. Attard), M. Grima, M. Stojanovic, M. Theuma, M. Farrugia.
St Lawrence started their commitments in the qualifying round of the BOV 2nd Division Cup on a positive note as they earned a point form a draw of four goals against Gharb Rangers. The match between St Lawrence and Gharb was well contested as the two sides prevailed over their opponents for a half each but both teams conceded the goals against the run of play.
Gharb seemed heading towards their second win in this competition as they opened a two-goal lead and also missed a golden scoring opportunity to score a third goal but they failed to capitalise from a penalty kick that arrived midway through the second period. St Lawrence held the initiative of play mainly during the first period but near the end of the match they managed to produce a strong reaction and saved the result with an equaliser that arrived seconds away from the final whistle.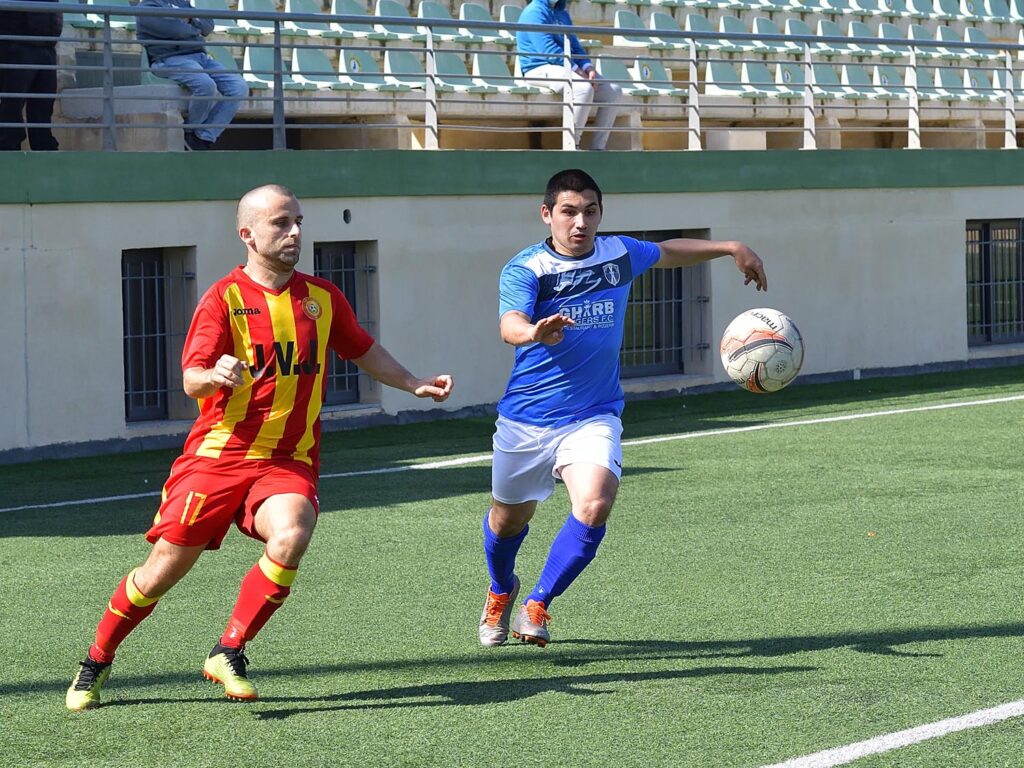 Timeline
St Lawrence saw more of the ball during the first period but they found it difficult to pass through Gharb's defence so that the latter remained in contention and also took the lead with a goal scored seconds from the break.
13' The Spurs could have opened the score when Christian Grima delivered a cross inside Gharb's area, Mohammed Senussi Telessi controlled well, turned around his direct opponent but his attempt was well saved by goalie John Paul Cassar.
25' In another offensive action by St Lawrence a shot by Christian Grima ended high.
30' St Lawrence were again dangerous when Mohammed Senussi Telessi crossed from the flank but defender Gabriel Sillato cleared the ball in time before St Lawrence's Karl Formosa could hiot towards goal from close distance.
32' Gharb replied through a shot cross by Mario Theuma that ended on the crossbar and the ball ended high.
45+2' (0-1) Gharb opened the score through a header by Joseph Cefai Farrugia following a cross by Stefan Azzopardi.
HT (0-1)
Gharb came out more aggressive for the second period and made it difficult for the Spurs to produce a reaction.
3' (0-2) Gharb doubled the score when St Lawrence's keeper failed to hold the ba;ll following a cross by Mario Theuma so that Luke Attard took the opportunity and headed easily into an open goal.
5' Gharb lost a good opportunity to add another goal when Stefan Azzopardi passed to Luke Attard inside St Lawrence's area but the latter concluded wide form an ideal position.
8' The Spurs replied through an attempt by Ryan Grech that was neutralised by Gharb's keeper.
16' St Lawrence's keeper Courtney Mercieca was well placed and saved a good shot by Luke Attard.
24' (penalty –missed high) – Gharb were awarded a penalty for a foul by Christian Grima on Joseph Cefai Farrugia, but Milos Stojanovic missed the opportunity to increase the lead for his side as hios shot form the spot kick ended over the crossbar.
28' (1-2) St Lawrence re-opened the issue when they reduced the deficit to one goal when Gharb's keeper John Paul Cassar partially saved a free kick by Karl Formosa and from the resultant melee Wayne Hili concluded in goal among protests from Gharb alleging handling during the same action.
37' Gharb could have regained the two-goal lead but a shot but a shot by Luke Attard ended on the side of the net.
45+3' (2-2) Gharb were punished for the missed chances as St Lawrence levelled the score through a header by Daniel Micallef following a corner kick by Karl Formosa.
FT (SLS 2 – GR 2)
Referee: Raymond Tabone